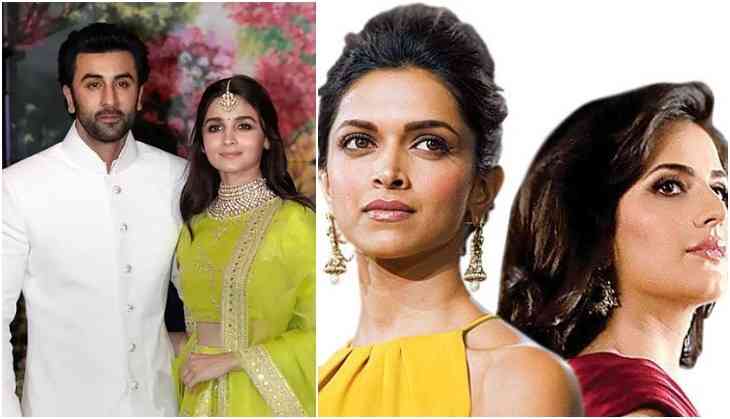 Ranbir Alia Deepika Katrina
Ranbir Kapoor has always been criticized for having an image of Casanova, the fans have seen his name attaching with several actresses and his relationship with actresses like Deepika Padukone, Katrina Kaif and Alia Bhatt is open to all. After being in two serious relationships with Deepika Padukone and Katrina Kaif, currently, Ranbir is dating Alia Bhatt.
Even when Alia Bhatt came into the relationship with Ranbir Kapoor, the fans beware her to stay away from Ranbir as he is a serious Casanova. Recently, Alia Bhatt was in an interview with a leading magazine revealed what she feels for Ranbir's past. She said, "How does it matter? It's part of someone's life and who cares? Aur main thodi na kam hoon!"
Then Alia was asked how she deals with a difficult personality like Ranbir to which she immediately replied, "He's not difficult. He's a gem." Currently, Ranbir and Alia both are on top of their success and their personal lives as well as going good. "It's not a relationship. It's a friendship. I'm saying this with all genuineness and honesty. It's beautiful. I'm walking on stars and clouds right now," she said.
"The best part is that we're two individuals, who are living our own professional lives in its full form right now. He's shooting continuously. So am I. It's not a situation where you'll see us constantly together. That's the true mark of a comfortable relationship. Nazar na lage," Alia told the magazine.
Let us tell you that on the professional front Ranbir Kapoor and Alia Bhatt are going to be seen together in Ayan Mukerji's next film Brahmastra. Brahmastra also stars Amitabh Bachchan, Mouni Roy, Nagarjuna and others in the leading role. The film will release on Christmas 2019.
Also Read - RX100 actress Payal Rajput takes jibe at Tara Sutaria says, 'nobody can do this role better than me'