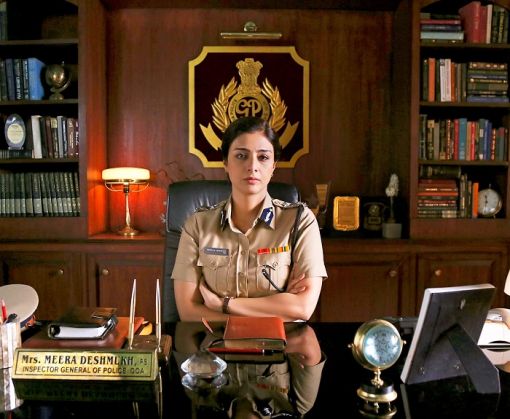 Tabu looks tired when she enters the room for this interview. It's been an exhausting day for the actress, spinning the Drishyam publicity machine. But she isn't too tired to talk to us about her role in the film and much more.
Excerpts from the interview:
Q. What challenges did you face in playing a cop with negative shades in Drishyam?
Tabu. To play a cop is always very exciting for any actor. My character in Drishyam is fantastic. I have not played something like this since a really long time. It is nice to play a powerful person and the violence was necessary in the film.
Q. Any changes in your character from the original film?
Tabu. No. The original script was so gripping that we didn't consider it necessary to make any changes.
Q. Why did it take you so long to work with Ajay Devgn again?
Tabu. Ajay and I have been growing in our own directions. Our paths did not cross but that does not mean that we were not friends. Ajay is the same as he was during Vijaypath. As far as Drishyam is concerned, Ajay Devgn is the hero. Without him the film would have been impossible. He is a huge star and he is the reason why people are talking about the film.
Q. Did you attend any acting workshops for the role?
Tabu. Fortunately or unfortunately, I did not do any training for the role as I am not doing any action. But I did work out.
Q. Is it a conscious decision to take up only powerful female characters?
Tabu. Yes, because I gravitate towards characters that have something about them. All characters I play should have something edgy about them and should have a significant impact on the story.
Q. How do you rate Nishikant Kamat as a director?
Tabu. He is fantastic. He is a very easy-going person which made it easy for me to communicate with him. He has no ego or baggage. He knows his work and he knows how to finish a film in a certain number of days. He has a lot of experience and he knows Goa well. So we all had great fun shooting for Drishyam.
Q. Are you apprehensive about the comparison of Drishyam with other versions of the film?
Tabu. Not at all. In fact I was very excited to take up this character. So many films are remade in Bollywood. That does not mean I should not be part of a film that is a remake.
Q. What made you sign Jai Ho?
Tabu. My reasons for doing Jai Ho were very clear and I knew exactly what I was getting into. I really wanted to do the film because I wanted to spend time with Salman, Sohail and the entire family. I knew how the film would be positioned. There were no surprises that the film was marketed around Salman Khan as he the character on which the film is based.
Q. What are your expectations from Drishyam?
Tabu. You never know what audiences will like. I don't know numbers but I am hopeful that people will like it. I am confident that people will have a different experience while watching Drishyam.