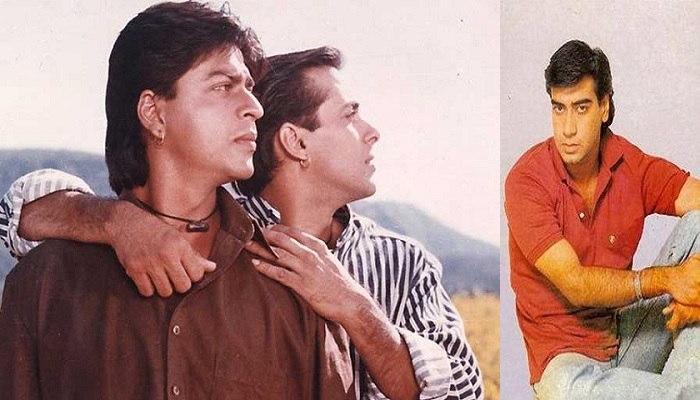 Who are Bollywood's Karan and Arjun? Salman Khan and Shah Rukh Khan, right? Wrong. Few fans of this 1995 Rakesh Roshan directed melodrama know that Ajay Devgn was initially offered the role of Karan.
A plum role, sure. But Ajay wasn't too pleased. He wanted the role of Arjun instead - as he felt it was a meatier one.
Also Read: #FlashBack: Salman Khan-Sanjay Dutt starrer Dus was never completed. But what was it about?
While Shah Rukh Khan was more than happy to take up Karan's character, Rakesh Roshan held his ground and refused to compromise on his casting choice. The creative differences grew and Ajay decided to walk out of the film.
Karan Arjun was nearly shelved after Ajay's exit - with even Shah Rukh deciding to drop the project.
That's when Salman Khan came to Rakesh Roshan's rescue. The actor did not just sign the film as Karan, but also reportedly got Shah Rukh Khan back on board.
Also Read: #CatchFlashBack: When Yash Chopra sidelined Sunny Deol for Shah Rukh Khan
On its release, Karan Arjun opened to negative critic reviews. However, the audience response was terrific and the film went on to run for over 75 weeks at the theatres.
Today, Karan Arjun is considered a classic in the reincarnation genre. And rarely a week goes by without someone you know making a Karan Arjun reference. Well, we have Salman Khan to thank for that.