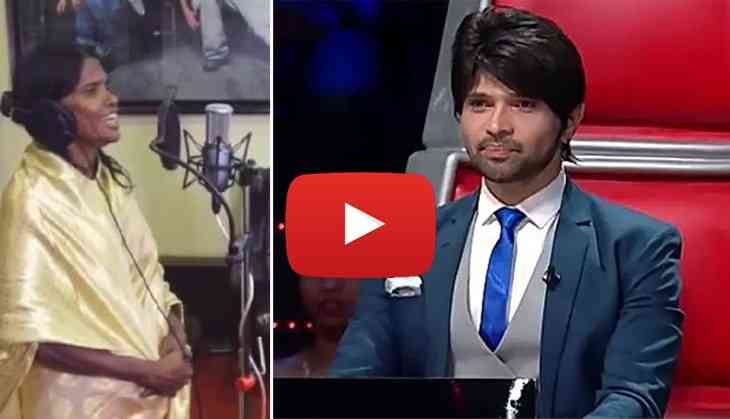 Remember Ranu Maria Mondal, the Kolkata's train station singer, who hit the headlines for her melodious voice and broke the Internet, has recorded her first song with a Bollywood music composer and singer Himesh Reshammiya.
What a turn of destiny for Ranu! She got famous all across the nation after her rendition of a Lata Mangeskar song went viral on the social media platform.
It's the impact of Ranu's voice that blows Reshammiya away and, hence, he gave a big break to her for his next film Happy Hardy and Heer.
Himesh Reshammiya also shared the video of Ranu's singing song in the studio on his official Insta account and captioned, "Recorded teri meri kahani my new song from happy hardy and heer with the very talented ranu mondal who has a divine voice, all your our dreams can come true if we have the courage to peruse them, a positive attitude can really make dreams come true , thanks for all your love and support"
See video:
It must be a fairytale story of Ranu as she has never thought that her two-minute video clip of singing Lata Mangeshkar's Ek Pyar Ka Nagma Hai at Kolkata station would turn her destiny in such way.
Interestingly, Ranu is 59-year-old and she is perfectly hitting every notes that could give goosebumps!
It's a magic of her voice that made everyone to applaud her and also bring the fortune to her doorstep.
"Where there's a will, there's a way !!"#Ranu_Mandal#Himesh_Reshammiya#Atindra vai !! 🙏#Pride_Of_Ranaghat#Pride_Of_WestBengal pic.twitter.com/A7X64DH0jY

— Debangsu Mukherjee (@JoyDbg) August 22, 2019
She has become a rage ever since she was spotted singing at Ranaghat Railway Station in West Bengal. Now, Ranu Mondal is recording a song with #HimeshReshammiya for an upcoming movie. @IndiaAheadNews pic.twitter.com/tVBGMLiwYS

— Sourav Sanyal (@SSanyal) August 22, 2019
The lady Ranu Mondal singing Lata ji's song outside Kolkata railway station. Today she recorded her first song with Himesh sir for his film #HappyHardyAndHeer pic.twitter.com/3mqNUkXDhM

— Team Himesh (@TeamHimesh) August 22, 2019
Wow! #RanuMondal .. beggar from West Bengal ...... who sang Lata Mangeshkar song .... has been given opportunity by music director Himesh Reshmiya .... pic.twitter.com/lqhsHoExLB

— Jyoti Jaiswal (@JyotiiJaiswal) August 22, 2019
Weeks back, I tweeted hoping that there would be a future for the gifted #RanuMondal, spotted on a train platform in #Bengal.#HimeshReshammiya gives her a new fairy tale life by getting her to sing in his upcoming movie.

What a moment it would be, if @mangeshkarlata met her!❤ pic.twitter.com/F2imC5RZva

— TANUJ GARG (@tanuj_garg) August 23, 2019
We must say Ranu's voice is going to be a big competition for other playback singers in B-Town.
What do you think? Comment..