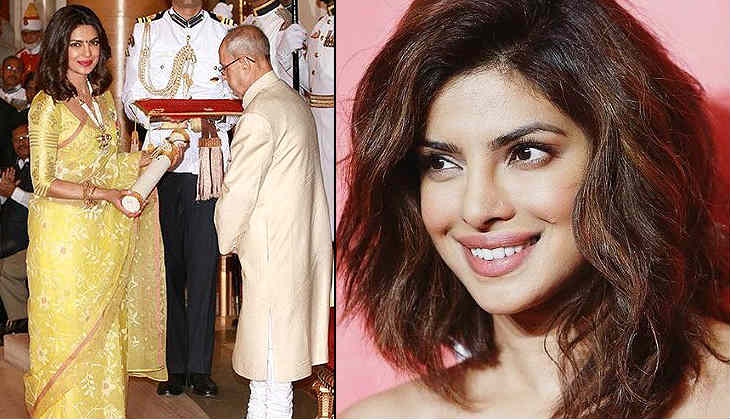 Bollywood actress Priyanka Chopra on Tuesday received the Padma Shri, India's third highest civilian honour, from President Pranab Mukherjee at a glittering function at the Rashtrapati Bhavan in New Delhi. 
The former Miss World has been a part of Hindi cinema for more than a decade and has made her country proud with her lead role in the American TV series Quantico.
Her performance in last year's Bollywood release, Bajirao Mastani won her many accolades. On the work front, Priyanka is currently busy with her Hollywood film Baywatch, alongside actors Dwayne Johnson and Zac Efron. 
Expressing her happiness over the honour, Priyanka took to Twitter and wrote: 
Something about coming back home. Just a few days but I need to feel home this time.been too long.. Padmashri time. Family time..India bound

— PRIYANKA (@priyankachopra) April 9, 2016
Her fans couldn't seem to be happier and wishes have been pouring in on Twitter.
Miss World✔ National Award ✔ PCA ✔ Padmashri Award ✔ Dada Saheb Phalke ✔ Next target OSCARS @priyankachopra 13yrs Of PadmaShri Priyanka

— SambiT 👑 (@TheSambitsamal) April 12, 2016
OMG! Is this for real! 13yrs Of PadmaShri Priyanka is trending worldwide ! Love !
13yrs Of PadmaShri Priyanka , 13yrs Of PadmaShri Priyanka

— Tabish Naushad (@tabish_naushad) April 12, 2016
A woman in a league of her own @priyankachopra 🙌
13yrs Of PadmaShri Priyanka

— Ayo ღ (@Pariobsessed) April 12, 2016
From her 1st Bollywood film Hero to know @priyankachopra your contributions to the industry is legendary 🙌🏻 13yrs Of PadmaShri Priyanka"

— QUANTICO MONDAYS 🔤 (@PriyankaDaily) April 12, 2016
Meet our very own #PadmaShriPriyankaChopra! She always ready to slay 😗💪👏
"13yrs of PadmaShri Priyanka" pic.twitter.com/kEAVwOGNI8

— PRIYANKA CHOPRA LAND (@PriyankaLands) April 12, 2016
Accurate

13yrs of PadmaShri Priyanka pic.twitter.com/tMk47QKDKB

— QUANTICO MONDAYS (@iiffiy) April 12, 2016
Like a boss!!!
13yrs of PadmaShri Priyanka pic.twitter.com/9F4V2sqjGf

— Bhupendra Singh (@ibhupendra) April 12, 2016