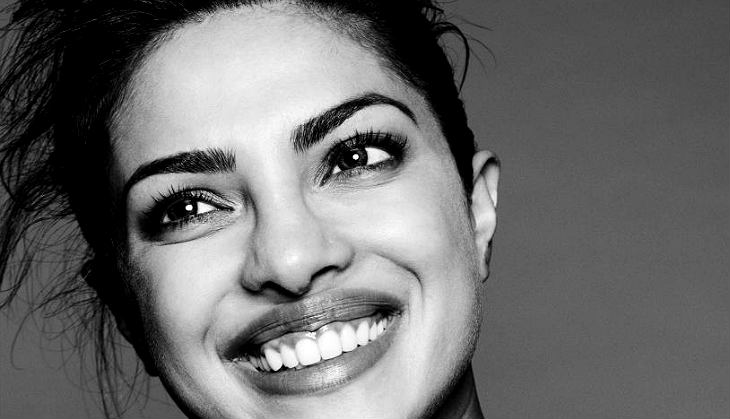 Indian actor and international star, Priyanka Chopra, is on the cover of TIME magazine's May edition. The magazine has released six different covers with seven prominent faces featuring on the covers. This includes Leonardo DiCaprio, Nicki Minaj, Mark Zuckerberg and wife Priscilla Chan, Hamilton' star Lin-Manuel Miranda, International Monetary Fund Managing Director Christina Lagarde and actress-singer Priyanka Chopra.
Announcing the news on Twitter, an ecstatic Priyanka wrote: 
What a way to start the day! #Time100's list of achievers! Humbled, overwhelmed and feeling so blessed! pic.twitter.com/oFp9pGlHLI

— PRIYANKA (@priyankachopra) April 21, 2016
The popular magazine has a compilation of articles written by people associated with the artists featuring on the list. 
For Priyanka, her Baywatch producer and co-star, Dwayne Johnsson penned down a short testimony, praising her strong work ethic. Titled A star rising higher, here's what the article read:
Also read: On Baywatch, army dad, and Quantico: Priyanka Chopra post Padma Shri win is her honest best
"Before ever meeting Priyanka Chopra, I had heard her name coming out of Bollywood and was impressed: she was beautiful, talented, had made nearly 50 movies, earned multiple awards-a massive star. When we connected around the time she started Quantico, we immediately hit it off. She has drive, ambition, self-respect, and she knows there's no substitute for hard work. We always quote the saying "Wear your success like a T-shirt, not like a tuxedo," and she really does-as big a star as she is, as global as she is, as beautiful as she is, there's this interesting quality of relatability.
Now I'm lucky enough to be working with her on Baywatch. It's an amazing time to watch as she pierces the U.S. market. She has an ability to inspire people to do more and achieve more. When I look at her success from the 50,000-ft. view and see everything that Priyanka has already done, is currently doing and has the desire and the bandwidth to do, I can see that her impact is going to be invaluable."
Johnson is an actor and producer and co-founder of Seven Bucks Productions.
Also read: Priyanka Chopra & Shah Rukh Khan on why the world now looks at Bollywood differently
Cheers to Priyanka Chopra, a star who makes it tough to keep track of her numerous milestones.