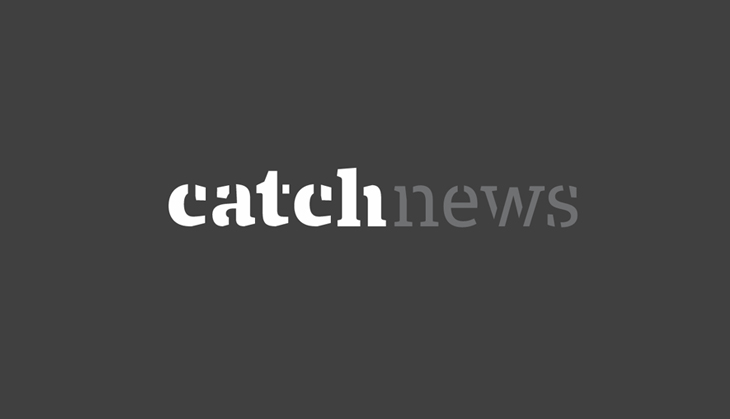 Bollywood celebrities often face the ire of haters who are opinionated about most of the things. Women in the tinsel town are major targets for gross trollers and self-proclaimed guardians of 'traditions and culture'. These so called guardians leave no chance to comment on the celebs' appearance, relationships and the pictures they post. Actresses like
Deepika Padukone
,
Priyanka Chopra
,
Sunny Leone
, or Esha Gupta, none of them have been spared of slut-shaming. Being a celebrity certainly comes for a price, and sometimes the price is too exasperating. Hats off to the Bollywood women who take such things in their stride. Some of them like Priyanka Chopra and Deepika Padukone know how to take 'no-shit' and give it right back to their haters if required.
We share 8 such incidents in the last one year when the 'Padmavat' actress who celebrated her 32nd birthday yesterday, was trolled, slut shamed, and criticised by the fashion police. She battled all this and much more and has always come out like the 'Lady in shining armour'.
Why this Kolavari?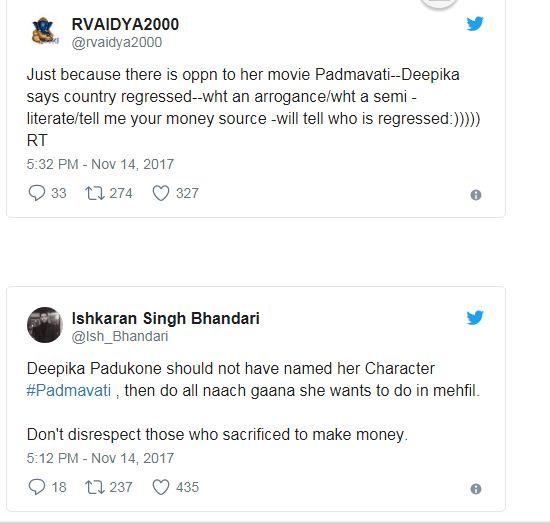 Referring to attacks on the sets of Padmavati and demands that it should be screened for approval, Deepika had said, "Where have we reached as a nation? We have regressed. The only people we are answerable to is the censor board, and I know and I believe that nothing can stop the release of this film." A hater replied, "Just because there is oppn to her movie Padmavati--Deepika says country regressed--wht an arrogance/wht a semi -literate/tell me your money source -will tell who is regressed:)))))
Internet 'Kou-Sin' Laga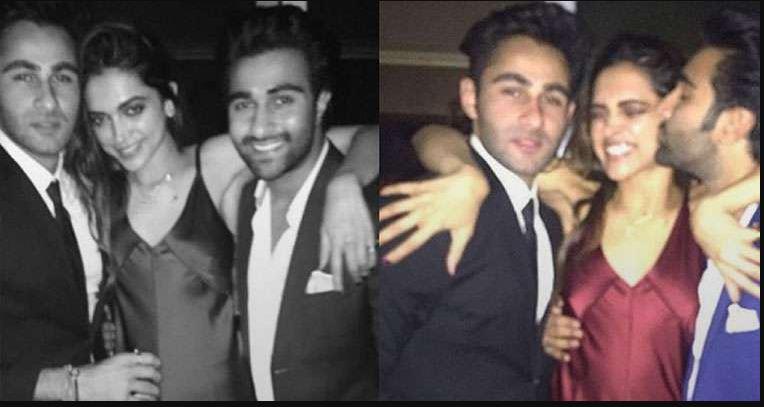 The dimpled beauty was trolled for her pictuers with
Ranbir Kapoor
's Cousins.
Shameful comments like 'despo', 'cheap' and 'drunk' were howled at the actress when at the Padmavati trailer success party Deepika got pictures clicked with Ranbir Kapoor's cousins Armaan and Adaar Jain. Some even went on to say "She is totally drunk and looking so weird".
'Forever Offence';A Blast for the past
How bizzare can the netizens get? When Padukone shared a picture from her childhood and captioned it 'Forever Friend' the internet ignored the childlike innocence and the childhood pleasures of having a true friend, instead went on to bad mouth the actress. Deepika anyway remained unaffected by the trolls. In fact, she gave an 'I-care-a-hoot' attitude and shared one more cute photo with her childhood friend Aditya Narayan.
Be(y)headd Batameez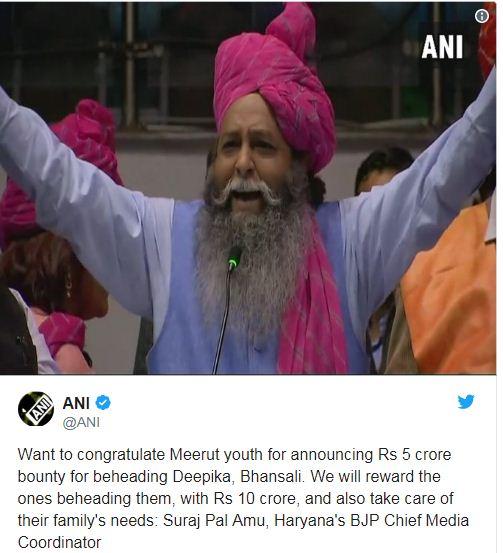 Deepika Padukone was threatened of serious consequences for promoting her film Padmavati, now Padmawat. The film is based on the life of 13th-century Indian queen Rani Padmini, also known as Padmavati. ANI reported that Haryana Bharatiya Janata Party (BJP) leader Kunwar Surajpal Singh Ammu had even offered a reward of Rs 10 crore to anyone who would "behead" Deepika and director Sanjay Leela Bhansal.
For Going Green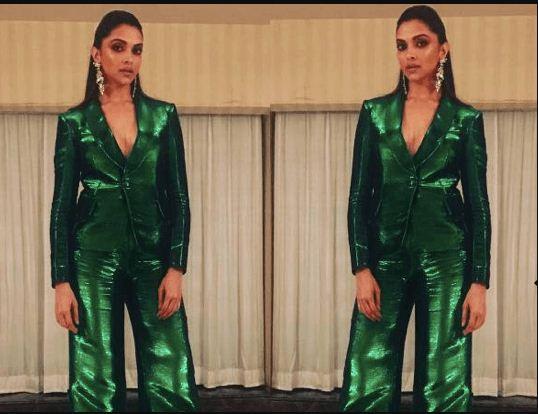 At the Closing Ceremony Of MAMI Film Festival 2017 In Mumbai, the actress wore a blingy green pant suit. This time the haters targeted deepika for wearing a shiny outfit, calling her a 'Joker'. According to many it was a sever fashion faux pas.
Skin (ny) Deep(ika)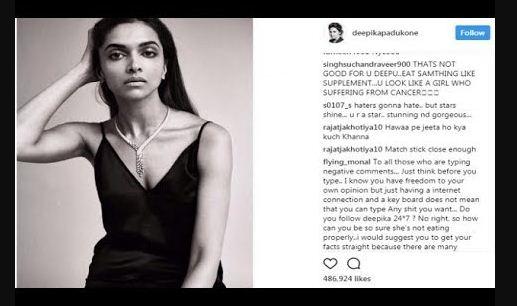 Sometime last year the ravishing diva shared a black and white photo of herself on Instagram. The photo was from the Vanity Fair photoshoot. No sooner had she posted the pictuer than the trolls began to flow. People gave her tips to gain weight while they kept calling her skinny, 'starved', 'malnourished' and 'anorexic' et el.
Too hot to handle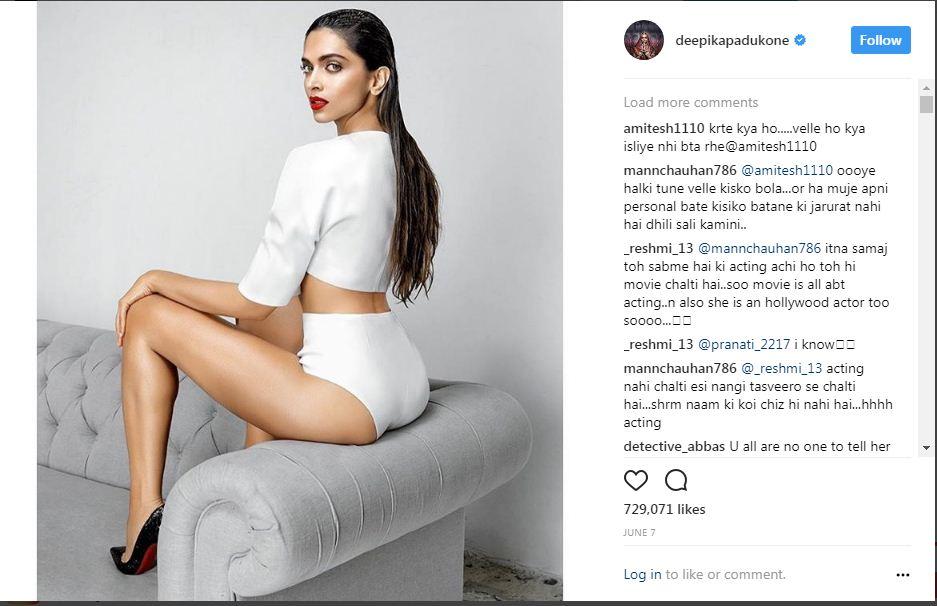 Judging women by the length of their clothes is nothing new to our society and Bollywood actressess are the worst victims. Deepika Padukone wasn't spared either. Last year she posted a picture of herself on Instagram and yet again received huge flak for the her dressing sense. In fact one of her followers said, "Dp we don't expect this from you have some respect atleast for indian culture hollywood jakr ye mat bhulo k ap ek indian ho shame on you dp". Not that the damsel gave a hoot to it, she rather posted another photo from the shoot.
Lift Karade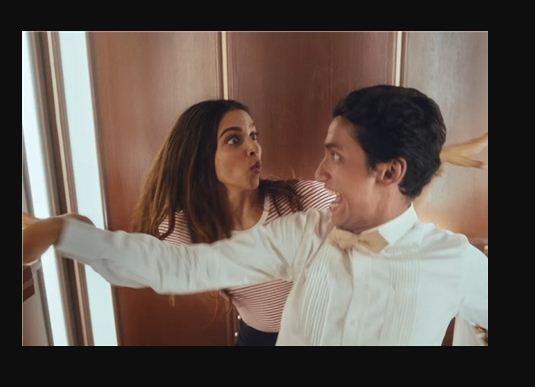 Then there was this time when she endorsed a Coca-Cola advertisement sometime last year. Though few loved the ad, some voluntarily subscribed themselves to criticism saying the actress should know that aerated drinks are unhealthy for consumption and that she should refrain from endorsing it to mint money.