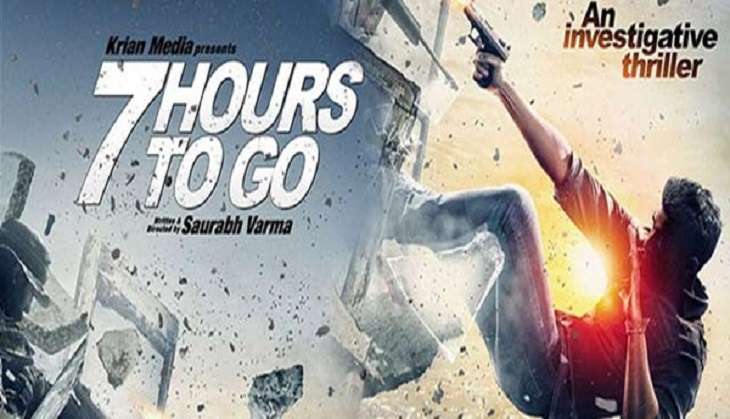 Director Saurabh Varma\'s third feature film
Stars Shiv Pandit (Shaitaan) and Sandeepa Dhar (Isi Life Mein)
An evenly-paced thriller that overdoses on genre tropes
Rating: 2.5 stars
In Asger Leth's 'Man On A Ledge', Sam Worthington plays a troubled ex-cop who enthralls a New York crowd by threatening to jump from his high-rise hotel ledge. As soon as he summons a particular negotiator (Elizabeth Banks), it's clear that he is more than just a suicidal nutcase; that this distraction is perhaps a ruse for a "well-intentioned" heist happening simultaneously.
The undeniable similarities with Saurabh Varma's Mumbai-based thriller '7 Hours To Go' may or may not be coincidental - ranging from the identical diversion tropes (Shiv Pandit as Arjun, an ex-cop holding 7 hostages in a High Court building) to the spunky lady officer (Sandeepa Dhar; loud as hell) being used as a pawn in a seemingly complex (and unnecessarily) elaborate plan. It's obvious throughout this saga, especially when the ominous name of businessman Kabeer Khemka (Rohit Vir) is repeatedly mentioned, that his state-of-the-art building next door may have something to do with this extensive whataboutery. For what he hides there, and why it's hidden, insults the collective intelligence of India's many evil and shady industrialists.
Choosing the Ganpati Visarjan phase to make news is logistically logical, but it would have perhaps been more visually compelling if this was a nocturnal white-knuckle drama. That would've probably bumped up the production budget a bit, but one gets the novelty of 'daylight robberies'. It's always a bit weird to see fancy security systems, whimsical self-minded computers and cutting-edge laser beams in Indian environments - more "cute" than intimidating, more wishful than real. At one point, the maker tries to cram in so many faces into the pre-interval split-screen frame that most of them look like compressed dog-eared pages squeezed into a digital book.
But the genre demands some mandatory stylistic indulgences, beginning with how every primary character (and there are too many) is introduced with forcibly quirky sub-action of their own. There's the annoyingly casual Maharastrian ACP (Varun Badola), the overzealous media reporter (D. Santosh), the stone-faced police sniper (Himanshu Malik, who seems to have eaten the previous Himanshu Malik), the shifty hostage (Vipin Sharma) and, most alarmingly, an anti-Bob-Biswas of an eccentric random assassin (Kettan Singh). This chap is one of the most fascinating figures I've seen on screen lately - and not entirely in a good way. Designed as a psychotically verbose Norman Bates-ish caricature, forever relaying his insecurities on a hands-free to a motherly voice, he exists only to throw us off with the usual looks-can-be-deceptive ploy. The director gets carried away with him, and you can almost sense the urge to make a greedy spin-off within the film.
This urge to Indianize the plot and its narrative takes annoying precedence over its dramatic reverb; the buck stops when actual posters of 'the Art of Misdirection' are revealed to remind us how painfully smart everyone is. You don't need to shout out "We bet you didn't see that coming!" while carving out a somewhat suspenseful whodunit; you must let the viewers engage - instead of imposing your twists and turns on them - in a cheeky battle of being one step ahead instead.
Slipping in a pulpy, deafening soundtrack makes it look like more of a derivative Oceans-series-inspired citizen uprising against symbols of corruption (read, 'A Wednesday' without its core emotion). Clearly, the musicians are treating this as a "hatke" audition for future projects. The antsy punkish noise sort of derails Shiv Pandit's fairly intense performance; there's something about his face - always the brooder with more than meets the eye.
There are some wry moments of observational humour: an elevator song betraying the tension of the faces in it, cops getting impatient with a tea-vendor blocking the news screens, and family phone calls interrupting a focused investigation. But there's hardly any motivation, or at least we aren't shown enough effectively, to justify the characters' eventual identities.
Despite being more intriguing and less 'dumbed down' than others in their tonal vicinity (Dhoom series, Ghayal Once Again), 7 Hours To Go is an attention-seeking flashy kid reluctant to seem human. A little more restraint, and one would actually come away with memories of our very own men on ledges.