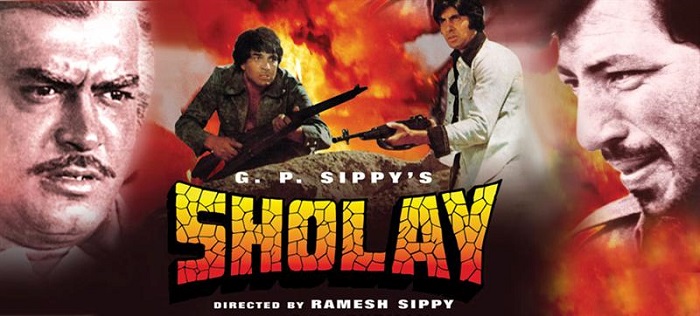 Bollywood is divided into two eras - Pre-Sholay and Post-Sholay. The iconic film which released in 1975 is still relevant and connects with the youth of the nation. Be it the witty dialogues or the songs, everything about Sholay is evergreen.
An interesting point to note is that Sholay is one of the very few films whose independent character name has gone on to become the name of a film - Gabbar is Back. As the film completes 40 years on 15 August, below is some trivia on the film, shared by none other than Amitabh Bachchan, who played Jai in the film:
Sholay was the first film in the history of Indian cinema to be screened on the 70 mm screen. Before Sholay, movies were screened on 35 mm screens. Watching Sholay on the big screen was an all- together a new experience for the audiences which added greatly to the popularity.
The prints of Sholay were stuck at the customs and hence the premiere of Sholay took place on a 35 mm screen, however, after sorting out the issues, the film released on the 70 mm screen.
As Sholay did not find any takers for the first few days, the makers decided to re-shoot the climax and keep the character of Jai (Amitabh Bachchan) alive. By the time the team started planning to re-shoot the climax, the film started picking up due to tremendous word of mouth and thus the makers scrapped the idea of re-shooting the climax.
Sholay is also the first film in Indian cinema to rope in a British action director. Many of the stunts performed by Jai and Veeru were never seen before in Indian cinema, and for the first time, there was a lot of emphasis on safety while performing the stunts.
The theme of widow re-marriage for the character of Radha was inspired from a film called Phool aur Phathar that starred Dharmendra. The sub-plot where Thakur gets two thieves to kill Gabbar is also inspired from a Hollywood film called The Magnificent Seven.
The end scene of Sholay which we have seen only too many times, is not the original end written by the writer duo, Salim-Javed. Initially, Thakur's character in the film kills Gabbar to take his revenge. However, the censor board did not approve the end at that time and advised the makers to change the end by getting Gabbar arrested by the police.
Sholay is the first film for which a dialogue CD had come out along with the music CDs.