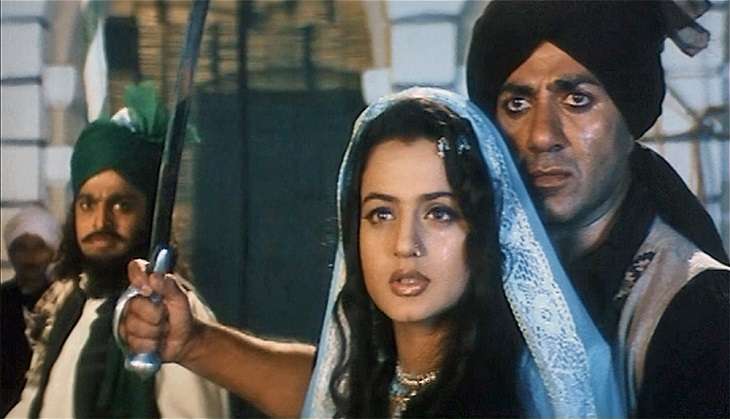 15 June is considered one of the biggest days in Bollywood's history as two blockbusters - Sunny Deol's Gadar: Ek Prem Kathaand Aamir Khan's Lagaan hit the big screen on this day, 15 years ago.
While today Aamir Khan's Lagaan is considered a cult classic, when both the films released, despite being successful at the ticket window Lagaan could not come close to the kind of hysteria Gadar generated.
The Sunny Deol film, which focussed on the India-Pakistan partition, was officially announced in 1999 and was made on a humongous budget of Rs 18.5 crore. When Gadar's shooting wrapped up, the producers, Zee Entertainment, decided to sell it to individual distributors. When they first made an offer to sell the film in different territories, no distributor was ready to pay more than Rs 1.5 crore to Zee.
Also Read: #CatchFlashBack: When Yash Chopra sidelined Sunny Deol for Shah Rukh Khan
Had the film been sold at Rs 1.5 crore, the producers would have entailed losses due to the gigantic budget. Nittin Keni (from Zee Entertainment) was adamant to sell it for at least Rs 3 crore and to make this possible, Keni decided to screen the film exclusively for all the distributors. The gamble worked as all major distributors agreed to Keni's terms and purchased the rights for an unheard of amount at that time.
Movie Still
Upon its release, Gadar did not just open to unprecedented response but also became the highest grossing Hindi film of all time, surpassing the seven year longstanding lifetime record ofHum Aapke Hai Kaun (1994).
Apart from the collections, the audience reactions at theatres had to be seen to be believed. The theatres erupted with Sunny Deol towards the second half. Those who have seen the film with the audience say that such an atmosphere inside a film theatre can never be repeated.
Also Read: #CatchFlashBack: Decoding the rise and fall (and rise) of Sunny Deol in the 90s
Even today, Gadar is the most watched film of this century as it recorded a massive footfall of 5,05,73,000 across India. After Gadar, the second most watched film of this century is Bajrangi Bhaijaan which was watched by 3,54,87,000 Indians. Most of the big blockbusters today don't even come close to the kind of craze Gadar generated.
Here's congratulating the team for completing 15 glorious years.