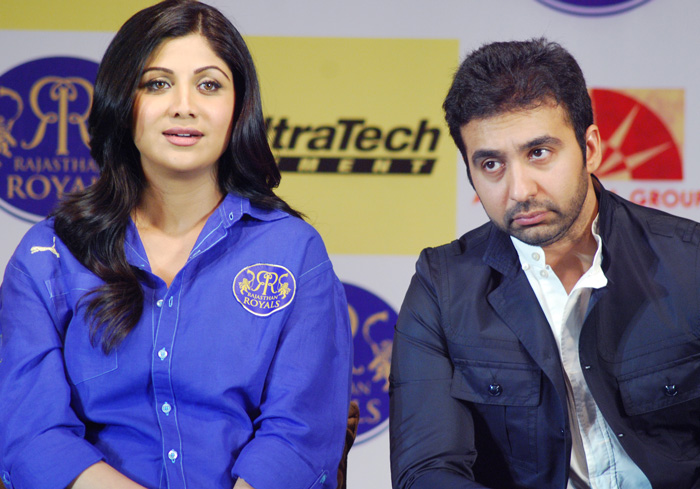 Bollywood actress and entrepreneur Shilpa Shetty and her husband Raj Kundra's association with Indian Premiere League (IPL) dates back to 2008. While the couple gave up their stake in IPL team Rajasthan Royals in 2014, the entire spot fixing controversy has been dragging them both into the limelight time and again.
In the final #IPLVerdict announced by the Supreme Court on 14 July, 2015, Raj Kundra has been suspended from all his cricket associations, following betting charges However, his journey with wife Shilpa Shetty in IPL has remained quite memorable. Here are 10 things that the actress and former co-owner of Rajasthan Royals has said about IPL:
1. "Whether it is an ad or a business, it must be something I believe in. I cannot do something simply for the money. It must connect with me because I want to be a catalyst to make people's lives happier."
2. "I am obsessed with cricket. But to be honest, I prefer the IPL format to test matches."
3. "It's been really distressing for all of us at Rajasthan Royals. It is a sensitive issue so we can't really talk much about it. As far as we as a franchise are concerned, we will do everything possible to get to the bottom of this. It's been heartbreaking because we treat the team like our family, so it comes as shock."
4. "None of us have spoken because we're still recovering from it. There is a lot of work that is underway. But as a franchise, we have zero tolerance for corruption, and anything that takes away from the sanctity of the team will not be tolerated by us. We always went to the field with the intention of wanting to win. We were in it to win it."
5. "It is upsetting to see TV channels running down the IPL, for any silly reason, citing reasons of it giving a bad image to India! How one sided."
6. "A league that has opened up opportunities and a platform for so many young cricketers from all over. Bringing pride, revenue and entertainment to India. While corruption and some politicians have caused so much embarrassment to our country, those instances are forgotten so easily! Strange."
"Hate this trial by media, and sensationalism of trivial issues! Let the law take its course on those issues. Thought of banning IPL is ridiculous!"
7. "To c news misconstrued n misreported. Pls spk 2 the Real officials in charge and get the REAL story rather than ure PAID(unreliable)sources. [sic]" - on Twitter
8. "Also to all the BREAKING NEWS channels 'Don't get into assumptions, we too are most curious to know who the culprit is'!" - On Twitter
9. "Really upset with the media fr casting aspersions without any proof, making derogatory statements..Uncalled for and not to be tolerated. [sic]" - On Twitter
10. "Just to reiterate, will do it all it takes to reach to the bottom of this "spot-fixing case" and be of complete help till that happens!" - On Twitter