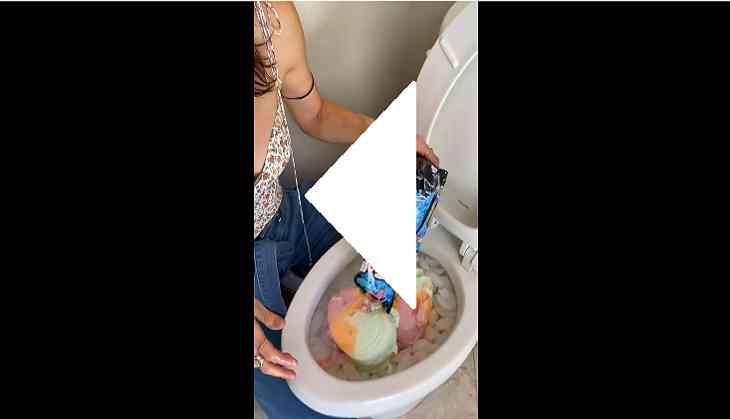 A bizarre video of a woman making a party drink in a toilet bowl is doing the rounds on social media. The video will make you feel uncomfortable, so we advise you to watch at your own risk.
The weird party drink video has been shared by a Facebook user named The Anna Show. In the video, a woman was seen preparing the drink inside the toilet bowl.
The clip shows a woman putting ice cubes in the toilet bowl and then she puts some candies, followed by adding soda drinks and several other sweet treats, and ice cream.
Also Read: Girl loses teeth after having this drink; video will haunt you!
Later, she pressed the lever to mix the drink with all other ingredients in the bowl and stirred it as well.
She then served the drink to her friends.
What happened next will really make you say eww!
"When she flushes it," the video caption reads.
See video:
In the video, one of the guests realized that the drink was prepared in the toilet bowl and then, everyone started abandoning their glasses while one of them went inside a washroom and poured her drink back inside the toilet bowl.
The extremely insane video has gone viral on Facebook and it has received over millions of views, thousands of shares, and comments.
Also Read: Woman warns not to use an eyelash curler after applying mascara; reason will haunt you!