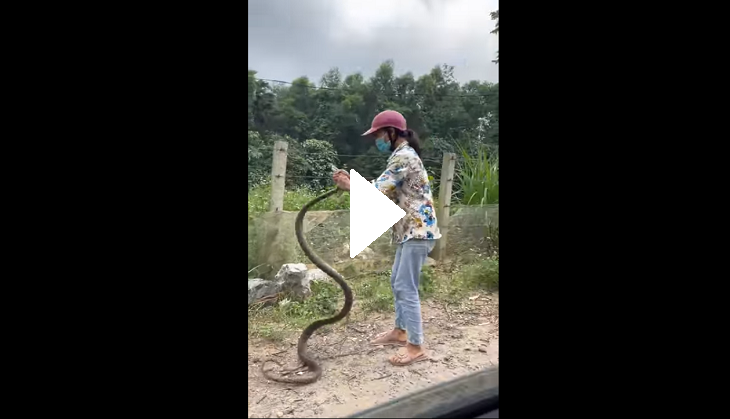 Woman catching a snake with bare hands (Image Source: YouTube)
A creepy video of a snake has gone viral on social media. In the video, a Vietnamese woman can be seen catching a huge snake with bare hands.
Reportedly, the incident took place on May 21, 201. The clip shows a huge snake is squirming and trying to fight the woman who caught it, however, she subdued it.
The whole act was captured by the onlookers, who witnessed the woman catching the snake on the roadside.
Also Read: Venomous snake coils itself around man; know what happens next [VIDEO]
The scary video was shared on the YouTube page i.e. ViralHog along with a caption, "We were on the street when we saw this woman trying to catch a big snake. We decided to stop to record this moment. It looks dangerous."
Watch full video:

In the clip, the face of the woman is not clear as she was wearing a mask and a helmet.
However, the brave woman can be seen without any protection during her fight with the huge reptile. Somehow, she managed to catch it and later walked away with the snake while the snake coiled around her body.
Also Read: Scary! Man finds snake in toilet bowl; know what happens next
The viral video has garnered over 4k views on YouTube and has received several comments from users.
See, I love snakes and I want to do this. I just kinda don't have enough courage to do it yet (sic)," a user commented.
Also Read: Creepy! Doctor pulls out '4-feet-long' snake from woman's mouth; watch hair-raising video