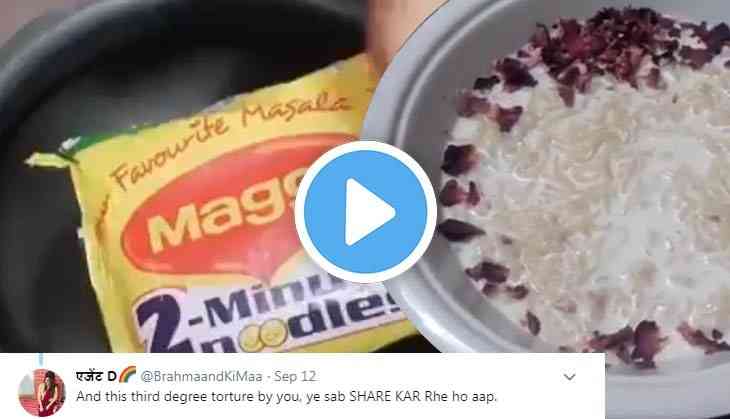 A bizarre video of Maggi recipe has surfaced Internet in which a food blogger can be seen making a Maggi, not in boiled water but milk.
Yes, you read right! A food blogger named Hemanshi added a hilarious flavor to most lovable fast food Maggi. She boiled the Maggi in milk, instead of water. Then, she put the dried rose petals and condensed milk. Surprisingly, she also said that one can also garnish Maggi with dry fruits.
She also revealed that this Maggi recipe is quite loved by her family members.
At the end of the video, Maggi seems to look like 'kheer'.
The video was shared by a Twitter user with a caption, "Best maggi recipe".
See video:
Best maggi recipe pic.twitter.com/foOrc0VjoU

— Desi Gooner (@Sahil_Adhikaari) September 12, 2019
However, the video is old but it went viral now and social media users are trolling her brutally for it.
Check out how Twitterati reacted:
That's just shevai che kheer lol

— out of context mustafi 🔙 🔛 🔝 (@Abhimeyang) September 12, 2019
And this third degree torture by you, ye sab SHARE KAR Rhe ho aap.

— एजेंट D🌈 (@BrahmaandKiMaa) September 12, 2019
Tabhi mein sochu meri maggi ban kyu nahi rahi 😟 pic.twitter.com/qS5eTyYPAW

— Cute Kamina (@bittu7664) September 12, 2019
The best thing about this maggi is, you save on 2 packets of masala. I can use extra masala when i am NOT having this kheer.

— Ajinkya (@Shaitani_Dimag) September 12, 2019
September 12, 2019
To yahi wo kheer hain pic.twitter.com/N0nryJjJvf

— trollpool (@niralsoni) September 12, 2019
Oh Gosh pic.twitter.com/5BfOk9TDZA

— Sushant🇮🇳 (@sushantguptas) September 12, 2019
September 12, 2019
September 12, 2019
Would you like to try this sweet Maggi recipe at your home? Share your views..
Also Read: Thief tried to steal 81-years-old woman bank card; what she did after will make you salute her!