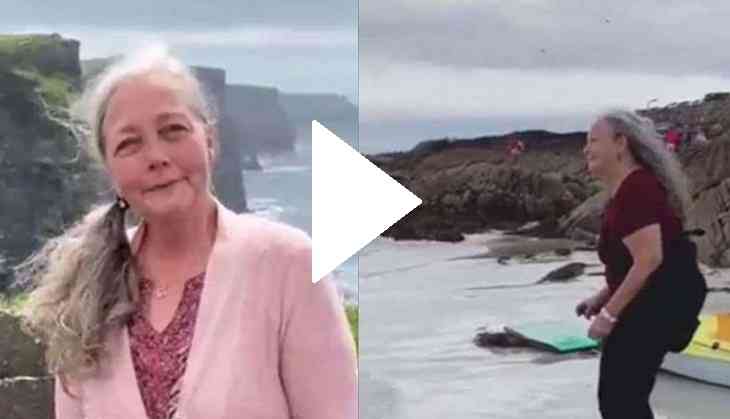 Screenshot from the viral video
A soul-stirring video of mother and daughter has surfaced on the Internet. The video is leaving everyone in tears.
The reason behind this emotional flooding is the mother's disease, who has been diagnosed with frontal temporal dementia.
Due to this, the daughter named Stephanie Martin decided to give all happiness to her mother before she completely lose her memory in the coming days.
Also Read: Elderly woman slips while boarding train; horrific moment caught on camera
Taking her heartwarming story on Instagram, Martin shared a video of her mother who can be seen enjoying the moments.
Stephanie planned to take her mother on a 10-day trip to Ireland to see the Cliffs of Moher. This was the place where her mother always wanted to go.
Watch Video:
From their trip, Martin shared some of her memorable moments on social media. In the 17-second video, Martin's mother is also seen breaking down emotionally.
Stephanie Martin shared the video with a caption, "My sweet momma was diagnosed with frontal temporal dementia a few years ago. The doctors said she had about 6-8 years before she would completely forget who we were. She always wanted to see the Cliffs of Moher, so I got her on a jet plane and made it happen."
Meanwhile, the video has gone viral and it has now garnered over 2 million views, 97,000 likes.
Netizens also left in tears after watching the viral video.
One user said, "This is so sweet! I am sure this was one of the most special moments of her life."
Another wrote, "My heart aches for you and your family. What a very special moment. Cherish every single moment you can with your sweet, sweet mama."
"So sweet of you to make that dream come true for her. She is lucky to have you!" a user commented.
Also Read: Mind-blowing video of 73-year-old man showing off his skateboarding skills goes viral