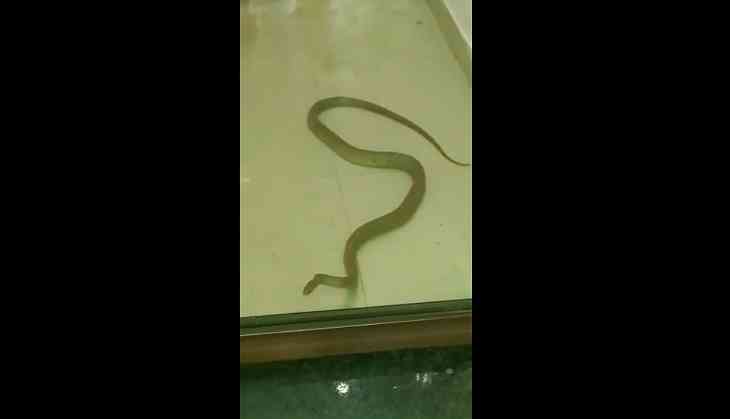 The Internet is full of eerie things that sometimes give us goosebumps or make us scared too. Amid lockdown, a quirky video has surfaced the Internet in which a snake can be seen inside the ATM.
The video was recorded from the ICICI Bank ATM in the J-block market near Dehradun Public School, Govindapuram, Ghaziabad, TOI reported.
People were got perplexed after seeing a venomous snake inside the ATM in Ghaziabad, Uttar Pradesh. The clip was recorded by one of the onlookers. Reportedly, the guard closed the door from outside when a customer saw the reptile inside the ATM.
In the video, the serpent can be seen crawling around the kiosk and also trying to come out of the main door but he failed as the door was closed. Thereafter, he moved towards the cash dispensing machine and found a way to get entered inside the machine. Within a few moments, the snake got itself completely comfortable inside the ATM machine.
#Snake in @ICICIBank #ATM@ICICIBank_Care to keep its business areas safe for people?

Credits: @Whatsapp pic.twitter.com/Vdq40xKSqP

— Deepak Kumar Vasudevan (@lavanyadeepak) May 8, 2020
Meanwhile, the video has gone viral on social media and widely shared by netizens.
Check out some comments on the video:
Can't wait for the inevitable "snake in the atm" account to pop up and grab RTs

— Dushyant Shrikhande (@ShriDushyant) May 8, 2020
Wow..People are as bizarre in fact more bizarre than even the snake who found an abode inside the ATM itself!

— shaelesh (@Shaelesh) May 8, 2020
Snake in ICICI BANK Atm..!! #Covid_19 pic.twitter.com/Qxsey2i7Sq https://t.co/rBX9YifxeR

— 📷 ɱųķęşђ şįŋɠђ 👍 ❗❗ (@ViralOnlineRev) May 8, 2020
A giant snake in ATM.. hardly 50 meters from my home. Must have come for some cash withdrawal. Afterall @ICICIBank ATMs always have money ... pic.twitter.com/qcwzj2CvqZ

— Prakhar Bansal (@prakharbansal) May 8, 2020

After people complaint about the snake inside the ATM, the forest team rushed the spot and rescued the snake, media reports said.
Earlier, a monkey also entered inside ATM in Delhi and broke the machine.
Also Read: Netizens go crazy after IFS officer shares a viral video of crocodile going down a slide; know why