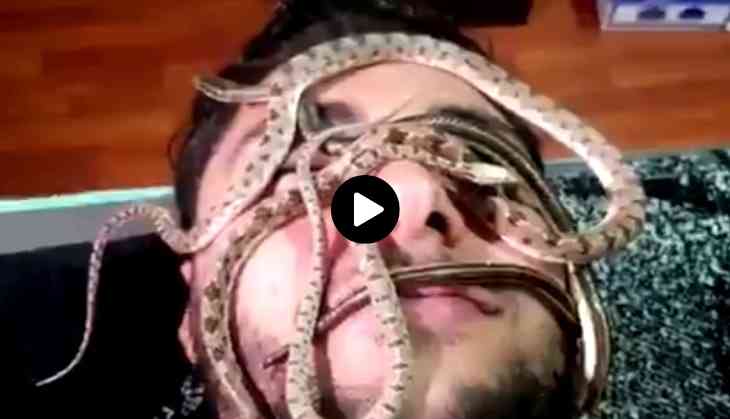 Can you ever imagine a snake can give you relief from pain? If not, then your thinking would be changed if you visit a spa in Egypt where a snake massage is being offered to its customers.
Yes, you read right! This bizarre thing is offered by a spa in Cairo,, here a live snake massage for its visitors and it's not that risky.
People who visit here can select from several types of massages by non-venomous snakes.
According to the spa owner, snake massages can reduce muscle and joint pain. He also claimed that snake massages are proven to improve blood circulation and also release endorphins.
A video of the snake massage has been shared by Reuters on its Twitter page.
"This massage at a Cairo spa is not for the faint-hearted (sic)," the caption reads.
According to the news agency, the spa owner said that with this massage the perception of people about snakes would be changed.
See video:
This massage at a Cairo spa is not for the faint-hearted pic.twitter.com/YWAsHrHn1e

— Reuters (@Reuters) December 29, 2020

As per Reuters, for a 30-minutes massage session, the oil will be slathered on the customer's back and then, the combination of python or different types of non-venomous snakes will be kept on the body in a bid to provide a relaxing time.
Also Read: Venomous snake coils itself around man; know what happens next [VIDEO]
In the viral clip, one of the customers told about the unusual massage, "After the snakes were placed on my back, I felt a sense of relief and rejuvenation. I was nervous at first. Scared of snakes being on my body. But the fear, anxiety, and tension were reduced, and the session gave a sense of relaxation when the snakes went over my back and having them there boosted my self-confidence (sic)."
The video has left netizens scared and the Internet has been flooded with various horrifying reactions.
Check out Twitterati's reaction:
Those are Nope Ropes...therefore that massage is a big nope.

— Patricia Greene (@peagreenenola) December 29, 2020
Yuck. I'd rather have a jackhammer applied to my back.

— kate (@amandak503) December 29, 2020
2021 we all about snakes .🐍🐍

— Chicago March'Eye🌎🌍🌏 (@Chicagomarcheye) December 29, 2020
🤣 oh, come on, you crack me up...it's all fun n games till someone gets bitten in the next three days!

— Uli 🐲 ilU (@ultramarinecd) December 29, 2020
should replace those snakes with leeches. let's see who's faint-hearted and not. hehehe

— Gid Ben Gurion ✈🧳 (@gideon_ding) December 29, 2020
Meanwhile, the video has been viewed over 966k times and received 336 likes, 137 retweets on Twitter.
Also Read: Scary! Man found ferocious snakes under his house; check out the viral video