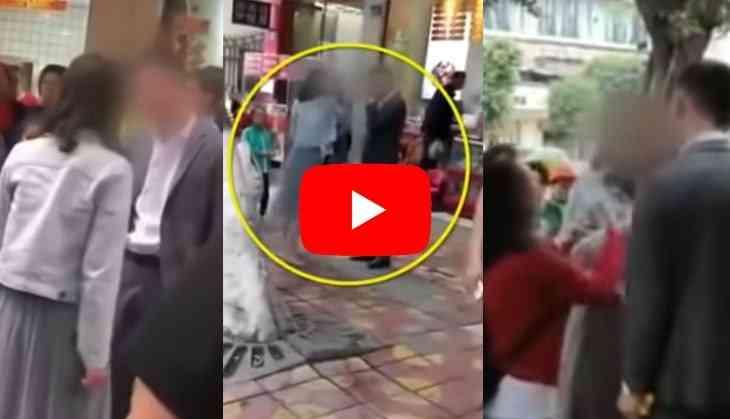 Social media is full of bizarre things that could make anyone smile, laugh, sad or shocked. A video is doing round on social media platform which could make anyone shocked that how a girlfriend could do this thing with her boyfriend.
There is no point of doubt that love never demands anything except love, respect, and loyalty. But, after seeing this video, you will say that these are old things now. As a girl from China become the latest example which proved that love needs money, gifts, and materialist things.
In the viral video, a Chinese girl can be seen slapping her boyfriend 52 times in public place. The reason behind losing her temper was a gift that was not given by her boyfriend.
Yes, you read right! Girl demanded a smartphone from her boyfriend on the occasion of unofficial Chinese Valentine's day, which was on 20th May. For some reason, her lover failed to gift her the smartphone due to which the woman unleashed a flurry of slaps on her boyfriend at a public place.
Interestingly, the man allowed his girlfriend to take her anger out on him as he felt that it was his mistake.
Reports suggested that both were in a relationship since long time and woman was also financially supporting her boyfriend and when he unable to fulfill her wish then, she unable to hold her anger.
The whole incident was recorded in the city of Dazhou which showed that a man standing still and the woman slapped him again and again.
See video:
Later, police interrupted them and tried to take the couple to the police station to sort everything between them. But the boy stopped police from taking the woman along with them as she would get into trouble.
Well, we would like to advise everyone that think before how you're behaving with others because physical abuse for any reason is unacceptable.
Also read: Incredible! Watch how whale helps woman who accidentally drops her iPhone into the sea