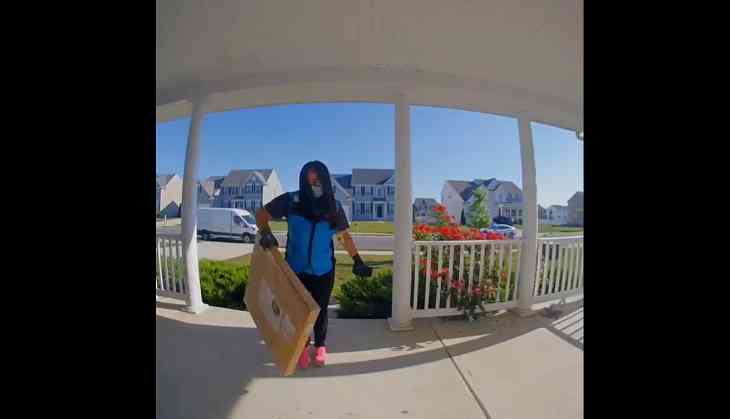 Have you ever written any additional instructions while ordering something online? If not, then what this boy has written on his order will tickle your funny bones!
Interestingly, his bizarre instructions were also followed by a delivery woman who delivered his order.
Know the funny, but an interesting story:
A Facebook post has been posted by a US woman named Lynn Deborah Staffieri who thanked the delivery woman in her post who followed the instructions of her son and her gesture that made her smile.
Lynn has also shared the screenshot of the e-commerce portal wherein her son had asked the delivery agent to follow a particular decree.
Here's what the boy wrote in an additional instruction box: "Knock on the door 3 times and scream abracadabra as loud as you can and run super fast away."
The interesting thing is that the delivery woman followed what the teenage boy wants, as seen in the CCTV footage shared by Lynn.
However, Lynn also apologized to the delivery woman and said that her son shouldn't have done this.
She further added, "Thank you to this great Amazon delivery woman! Apparently, my youngest son, had put some 'additional instructions' for delivery and she went along with it.
It made us smile even though my son should not have done that so I apologize for that. I do appreciate that the driver looked closely enough at the instructions though because I know a lot of people wouldn't."
Check out Lynn's post:
Without any doubt, Lynn's post has gone viral on social media and it has garnered over 21k likes and 27k shares. Even netizens also applauded the delivery woman's gesture.
See video:
Isn't it an interesting story? Write us in the comment box…
Also Read: Ouch! Honey bee stings woman's top lip; what happens next will frighten you