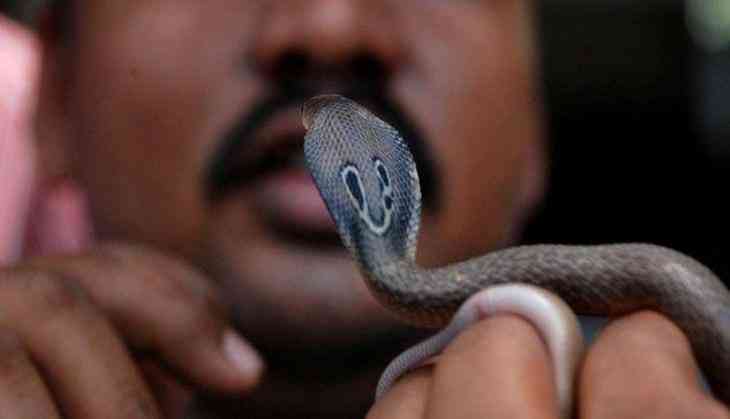 UP man bites snake (Representive image) (F)
You all have heard that when a dog bites a man, that is not news, but, if a man bites a dog, that is news. This statement has proved by a man who bit a snake into pieces after the reptile bit him on Sunday night.
Yes, you read right! This bizarre incident has come to light from Uttar Pradesh where a man identified as Rajkumar, who hails from Etah's Asrauli village was attacked by a snake after the reptile entered into his home.
According to the reports of ANI, Rajkumar was drunk when the serpent bit him. Later, Rajkumar bit the snake and crunched it into pieces.
"My son was drunk. A snake entered into our home and bit him. And later he bit the snake and crunched it into pieces. His condition is serious. We are unable to afford his treatment expenses," Babu Ram, father of Raj Kumar told reporters here.
Rajkumar was rushed to the hospital and his treatment is underway.
A doctor who is treating the patient said, Rajkumar's condition is critical and also added, "A patient came to me and said that he bit a snake. I misunderstood as the snake bit him. His condition is serious. He has been referred to another hospital."
After this horrifying incident, Raj Kumar's family cremated the snake.
-With ANI inputs
Also Read: Believe it or not! Watch how raw chicken jumps out of dish prepared at restaurant; netizens left shocked!