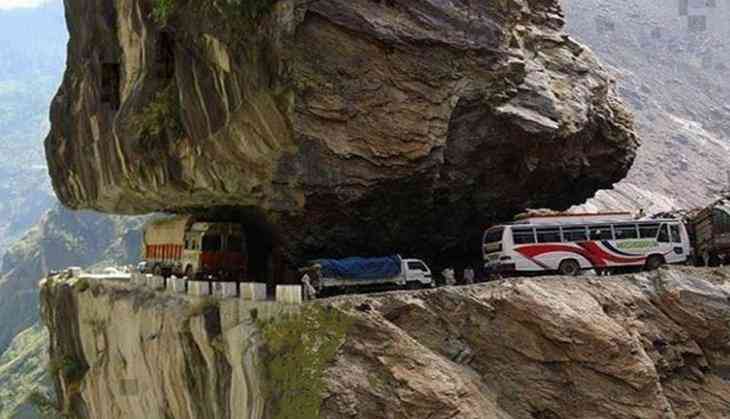 Planning for your Summer vacation trip to hilly areas or Himalayas? If yes, then one should check all the location before visiting such places. Because the path to hilly areas is not as easy as people think.
However, there are many people who love to do some adventurous things in their life like by going for trekking and mountaineering either with their friends' groups or with some other groups.
Well, if you are also planning to go for such locations then we have brought a video which could either change your plan or will motivate you to go for a thrilling ride.
A video is doing round on the social media in which tourists have passed through scary terrain of Himalayas through a minibus.
The video has been uploaded by a Twitter user, Pindu Sherari with a caption, 'Scary bus ride in the Himalayas but what an adrenaline rush.'
Here's the scariest video that will give you goosebumps!
Watch below:
Scary bus ride in Himalayas but what an adrenaline rush. pic.twitter.com/c5rFeQj9dx

— Pendu Shehari (@PenduShehari) April 13, 2019
In the video, man can be heard saying while laughing that 'the drop to the river is approximately 2000 feet.'
Well, there is fear that can be felt in the man's voice while enjoying picturesque with the waterfalls.
Even Twitterati couldn't hold themselves after seeing such a fearful path to the Himalayas.
Check out some reactions:
I have done it on my motorcycle pic.twitter.com/0NNVVnuPQ8

— मैं एक नोमैड हूँ (@NomadBulleteer) April 13, 2019
Well I'll need Mountain Dew then.. Darr ke aage jeet hai! :P

— Tanay (@TeddyWinters_) April 13, 2019
Thrilling ride !

— witch (@witchs_broom) April 13, 2019
So scaryyy😨😨

— Chowkidar sandhya sharma🌹🌹 (@Sindrel79611339) April 15, 2019
Looks like Kishtwar-pangi stretch. One of the dreaded i've Ever watched

— Arora S (@Southpaw0001) April 13, 2019
What do you think about this deadliest road?
Also read: OMG! Man clicks dangerous picture with bikini-clad girlfriend in an infinity pool; here's couple's hair-raising post