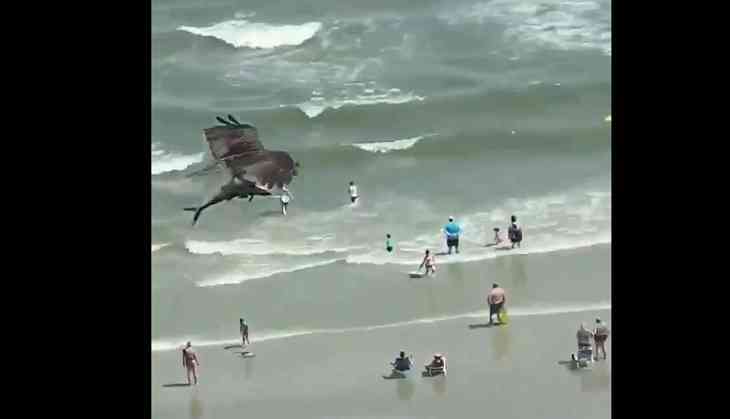 A startling scene has been witnessed by the onlookers on Myrtle Beach, South Carolina, where a bird flying while carrying a huge fish in its claws.
Thankfully, the astonishing visual was recorded on June 22, by Tennessee native Ashley White from the 17th floor of an apartment building where she was staying on vacation, dailymail.co.uk reports said.
In the video, the giant bird can be seen carrying away a large fish.
The hair-raising video was shared by the American Basketball player Rex Chapman on Twitter.
He captioned the video, "Just in case you haven't seen a bird flying around with a shark that it just plucked out of the ocean...(sic)."
Just in case you haven't seen a bird flying around with a shark that it just plucked out of the ocean... pic.twitter.com/ILKqd9wrFG

— Rex Chapman🏇🏼 (@RexChapman) July 2, 2020
Without any doubt, the video went viral and also sparked debate over what type of bird it is and also whether it was carrying a shark or not.
As per dailymail.co.uk, the video was originally shared by Tracking Sharks, a website dedicated to sharing information on a shark. They uploaded the video on social media on June 30.
Also Read: Watch this hair-raising video of a woman who swept away by gigantic wave while posing on a cliff
In the 25-second clip, the bird seems to be an eagle, holding a shark in its claws. The bird took its prey from the ocean and carrying away over the beach filled with people. After a few seconds, the fish wriggle to free itself from the claws of the bird, but, it couldn't do that.
Check out how netizens reacted after seeing the viral video:
*record scratch*

*freeze frame*

Yup, that's me. You're probably wondering how I ended up in this situation. pic.twitter.com/q19tpD4IC3

— Joe (@joesmith628) July 2, 2020
Not a shark. Sorry to be that guy

— Marc Caputo (@MarcACaputo) July 2, 2020
Ospreys turn the fish head-first for less wind resistance. Eagles don't bother doing that because, damn it, they're eagles.

— Brien Lundin (@Brien_Lundin) July 2, 2020
Or an eagle plucking a large snake out of the ocean. They are powerful. Great video! 👍🏽 #BirdsOfPrey pic.twitter.com/118eVFBC1x

— Shirley Adams🌍 (@ShirlAAdams) July 2, 2020
Birds are such great friend to fish: pic.twitter.com/O9303UibVW

— Kimera (@Arialstrasza) July 2, 2020
Flying sharks. What else ya got, 2020?

— BrickmanInGA (@BrickmanInGA) July 2, 2020

After Rex Chapman shared the video, it immediately brought the Internet by storm and garnered over 14.4 million views.
Also Read: Ouch! Honey bee stings woman's top lip; what happens next will frighten you