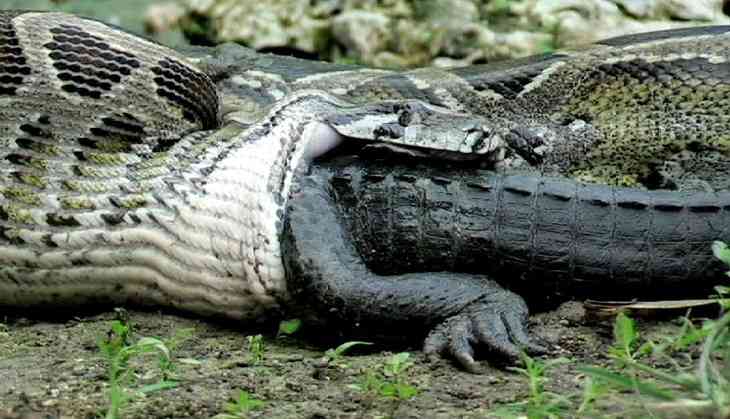 An extremely goose giving video has surfaced the Internet in which an anaconda was trying to swallow an alligator. The visual was recorded in Brazil and it has now been doing rounds on social media.
The video was captured in the Ponta Negra neighbourhood of Manaus, which showed how the ferocious snake wrapped around the alligator in a bid to swallow it.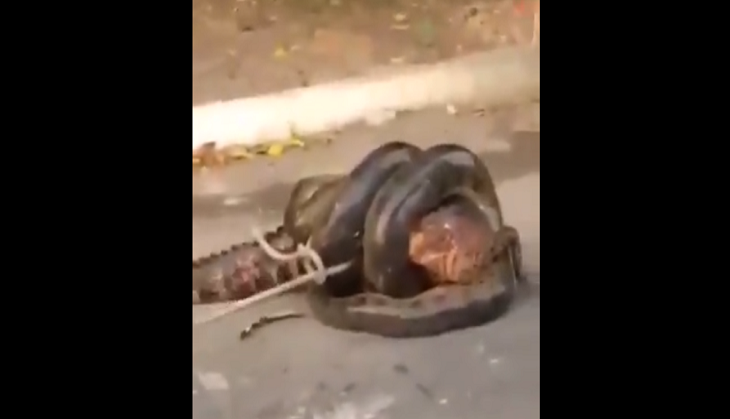 According to a report in Portal Marcos Santos, the incident took place on August 7, however, the video went viral now. The footage showed how the local residents tried to separate the two reptiles by tying a rope around them.
One of the residents of the condominium told in an interview that he was arriving home when he saw the snake tangled up with the gator, reports Socientifica. He also added that people were trying to drag the snake away for the alligator.
Also Read: IFS officer shares disturbing video of snake vomiting a plastic bottle; visual will hit you hard!
Somehow, locals could manage to separate the snake and the alligator. According to the witness, the anaconda was over six-feet in length. Later, the two reptiles returned to the forest from where they have come out.
See video:
Ê CAROÇO! 😳

Uma sucuri foi flagrada tentando engolir um jacaré na área de um condomínio na Ponta Negra. 🐍🐊 pic.twitter.com/d3JlCQm3Ey

— Manaus POP A 911🏳️‍🌈 (@manaus_pop) August 17, 2020

Without any doubt, the horrifying footage has gone viral online and garnered thousands of views and comments.
Also Read: Scary! Man finds snake in toilet bowl; know what happens next