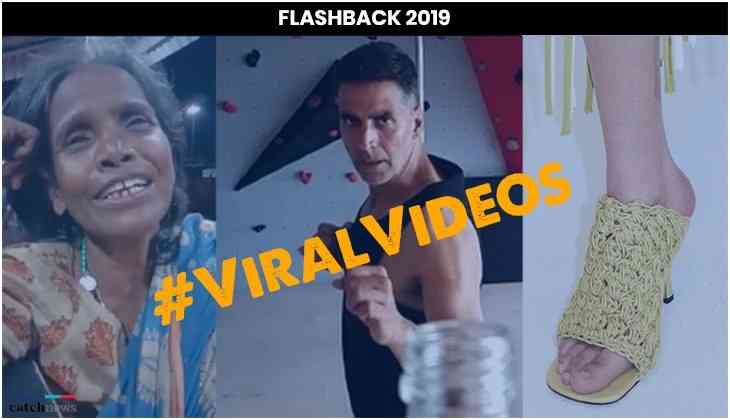 Only 10 days left to bid adieu to the year 2019 and it's time to remind the best moments of the year that have made us laugh, amuse, shock and stunned. Thanks to the Internet which has brought such content that became the reason for our entertainment this year.
Let's take you down the memory lane and recap 2019 viral videos that become the topic of discussion on Twitter, Facebook, YouTube, Instagram, etc...
1. Ranu Mondal- a story from rags to riches
This is definitely the luckiest year for Ranu Mondal as she became an Internet sensation after her video singing Lata Mangeshkar's hit song Ek Pyaar Ka Nagma hai went viral. Once the video surfaced the Internet in July 2019, netizens applauded Ranu for her voice. Even Bollywood music composer Himesh Reshammiya signed her for his film, Happy Hardy and Heer.
Also Read: After 'Pyaar Ka Nagmaa' viral video, Ranu Mondal recorded her first song with Himesh Reshammiya
2. Indian Farmer sings Justin Bieber song:
The video of Karnataka's farmer singing Canadian singer Justin Bieber's superhit song Baby was shared on YouTune by M S Isai Palli. The video has left us stunned because the farmer was singing the lyrics of the English song so perfectly.
Also Read: Indian farmer sings Justin Bieber's superhit song in 'desi' style; video goes viral
3. MBA student turns traffic police:
#WATCH Madhya Pradesh: An MBA student Shubi Jain volunteering to manage traffic on roads in Indore in her unique way, to spread awareness about traffic norms & regulations. pic.twitter.com/hBZd0bt3C5

— ANI (@ANI) November 18, 2019
In a view to spreading traffic awareness among people, an MBA student turned traffic police and controlled the traffic in a unique style.
Also Read: MBA student turns traffic police, spreads awareness in unique style; video goes viral
4. Astronaut on the defective road:
The viral video has amused everyone because an artist was walking on the defective road of Bengaluru. His unique step alarmed BBMP to fix the potholes.
Also Read: Impact of viral video! BBMP fills potholes after man walked on defective road as 'astronaut'
5. Rahul Bose expensive banana bill:
You have to see this to believe it. Who said fruit wasn't harmful to your existence? Ask the wonderful folks at @JWMarriottChd #goingbananas #howtogetfitandgobroke #potassiumforkings pic.twitter.com/SNJvecHvZB

— Rahul Bose (@RahulBose1) July 22, 2019
The video has alarmed netizens about how the hotel charged a hefty amount for two banana. Rahul Bose shared the video on his Twitter handle and showed the bill of banana that he ordered in 5-star hotel JW Marriott in Chandigarh. The price of two banana was Rs 442.50.
Also Read: Taj hotel trolls Marriott after Rahul Bose's video on banana bill goes viral; Netizens say, 'Wah Taaj'
6. Lamborghini car got crushed:
The viral video has left netizens stunned when the brand new Lamborghini car of Rs 2,28,25,369 (£250,000) got crushed when the driver lost his control and smashed the car into a tree and a brick wall.
Also Read: Oh no! Lamborghini sports car driver was left in tears after his expensive car got crashed; here's the viral video
7. An Egg that broke Kylie Jenner's record:
An ordinary brown egg on Instagram has garnered millions of likes and broke the record of Kylie Jenner for getting 18 million likes.
Also Read: Meet this brown egg which has broken all the records of Kylie Jenner on Instagram; see viral post
8. Man records video of himself while paragliding

A bizarre video has surfaced the Internet in which a man was seen perplexed while paragliding. Because of fear, he even asked the instructor to reduce the wind speed- 'Hawa kam karo na.'
9. Footwear that looks like noodles:
A photo of heels has created a buzz on social media for its design like noodles. The photo of the heels was shared by a Diet Prada, a page known for calling out plagiarism in the fashion industry.
Also Read: It's viral: Check out this footwear that looks like noodles; sandal design will make you go crazy!
10. Akshay Kumar's bottle cap challenge:
An extremely amusing challenge was started in 2019 which also made Bollywood to participate. Akshay Kumar was the first who started the Bottle Cap Challenge after inspiring from Jason Statham. When Bollywood Khiladi took the video on Instagram, other celebs from B-town joined him and started accepting the challenge.
Also Read: 'The Real Hero': 15-year-old boy dares to fight with crocodile to save younger sister