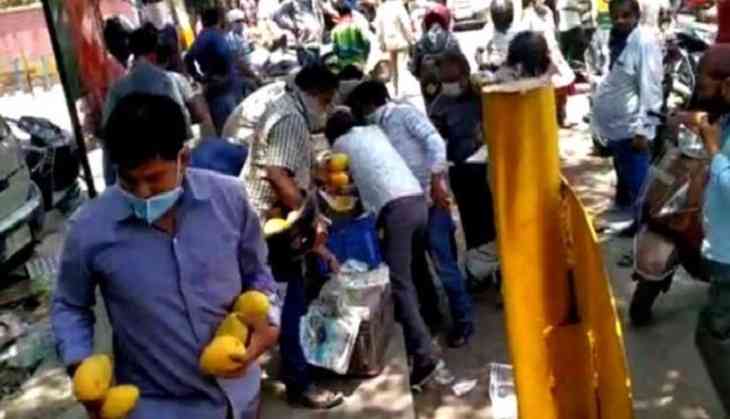 Amid lockdown, a queer video surfaced the Internet in which passerby looted the fruit seller in Delhi's Jagatpuri area.
In the video, people can be seen running towards the unattended crates of mangoes of a fruit vendor.
According to the reports in NDTV, all such thing happened after a squabble in the neighborhood, a fruit seller- Chhote said.
People have asked Chhote to move his cart, but all of the sudden crowd wearing masks took the advantage of the situation and came one by one to loot his mangoes from the crates.
Surprisingly, people are also inviting others to take mangoes from the crates. Even some of the men put mangoes in their helmets.
The video has proved that how Delhiites looted the poor vendor by taking advantage of his absence.
See video:

"I had 15 crates of mangoes here worth about Rs 30,000. They took everything," NDTV quotes Chhote as saying.
Reportedly, Chhote also filed a complaint about the incident but no action has been taken yet.
The incident has shaken our sentiments as to how inhumanely people robbed the vendor who has already been affected a lot due to the coronavirus lockdown across the country. Instead of helping them, people have dropped another bomb on their pockets.
Also Read: It's Viral! This image of migrant woman carrying dog on her back leaves netizens teary-eyed!