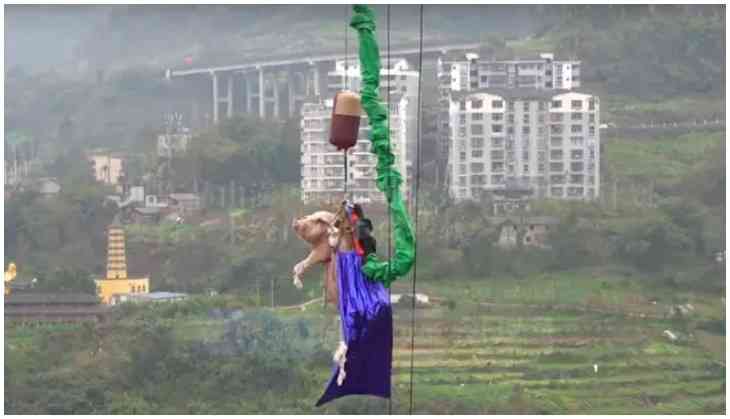 A theme park in China recently faced criticism after they forced a pig to bungee jump from the 223-foot high tower on Saturday. A video that is doing rounds on all social media platform left thousands enraged with this horrifying stunt.
As per NDTV report, the incident occurred at the Meixin Red Wine Town theme park near Chongqing municipality. In the video, we can see a pig tied to a bungee rope who was later pushed off the platform. The animal can be heard squealing as it struggled in the air while the onlookers are seen cheering from below. As per the reports, the stunt was part of the inauguration of new bungee jumping attraction at the theme park.
As per ABC News, the pig was seen lying semi-conscious on the platform below before the animal was dragged away and sent to the slaughterhouse. As soon as the video emerged online, people started criticising the stunt for being inhuman and called it animal abuse.
Also Read: Shocking! Motorcyclist permanently loses eyesight after egg thrown from oncoming car [PIC]
After seeing the uproar against them, the theme park official put out a statement apologising for the incident. "We sincerely accept netizens' criticism and advice and apologise to the public," the statement said. "We will improve our marketing of the tourist site, to provide tourists with better services."
Also Read: SpaceX CEO Elon Musk aims to launch NASA astronauts between April and June