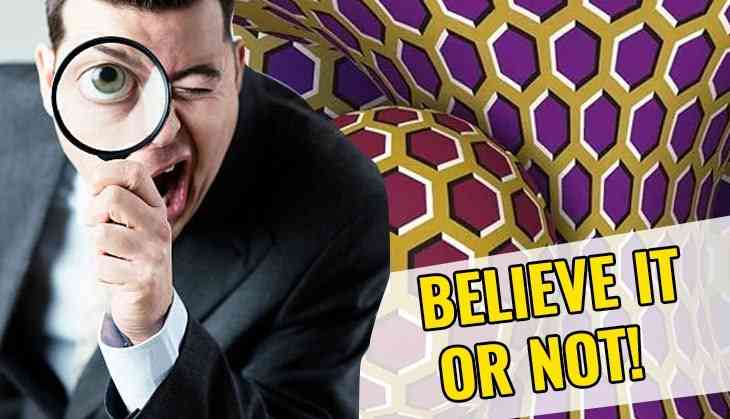 If you are fond of illusion images that will make your mind to think more or blow your fuse then, we have brought an interesting image that will make you see the image twice, thrice and so on. But you won't understand the illusion that how it works?
An optical illusion image is doing the round on social media for many days that breaks everyone's mind for 15 milliseconds.
The Pinna-Brelstaff illusion features a dot in the centre of the image with circles made of diamond shapes. Well, you must be thinking, what's different in the image that has become viral.
In this image, when you start staring at the dot and bring your head closer to the dot then, you will find that the circle starts moving to move clockwise. If you take your head back slowly from the dot then, you will find that circles are moving to an anti-clockwise direction.
See image:
This optical illusion breaks your brain for 15 milliseconds https://t.co/7ThwTYktXn pic.twitter.com/xBL4C3FNht

— New Scientist (@newscientist) February 19, 2019
Well, if you are thinking about the reason then, a study conducted by Scientists of the Chinese Academy of Sciences found that the brain experiences a delay when viewing some illusive images like Pinna-Brelstaff illusion.
In the study, a team of scientists found that the there is a 15-millisecond delay between the activity of the neurons that perceives global motion and due to which our brain finds the image is moving and when the neurons perceive the local motion then, in that case, we find no movement, explains New Scientist.
As per the reports of NDTV, 'Our brains probably have the same delay, which may seem like a flaw," explained Ian Max Andolina of the Chinese Academy of Sciences to New Scientist.
Besides, this is an amazing exercise for your eyes, doctors belief that staring at one point, is the best exercise for making your eyes muscles stronger.
So, try this at your home without any worry!
Also read: Weird! This woman has 500 holes in her eyes and the reason will give you goosebumps!