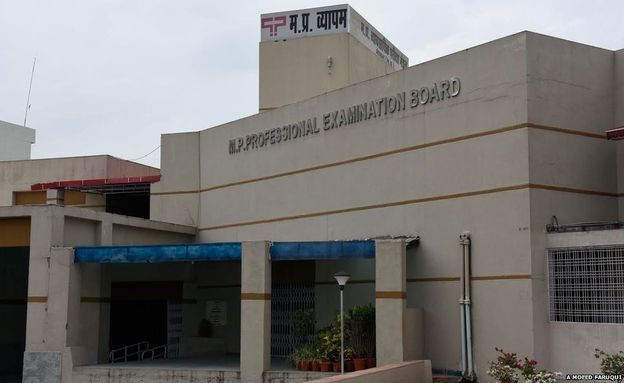 The Madhya Pradesh Professional Examination Board (MPPEB), popularly known as Vyapam, which conducted admission tests for the National Law Institute University (NLIU), Bhopal, since its inception in 1997, removed the names of those included in the merit list during 2001-2007. Only their roll numbers are available. This information was gathered from a reply to an RTI query.
According to Ajay Dubey, the whistleblower in the case, the names were removed to protect the beneficiaries.
What has the RTI revealed?
The merit lists of pre- BA LLB (honours) entrance tests from 2000 to 2007, obtained through an RTI application, has revealed that in 2000, the names of the candidates were mentioned on the list along with their roll numbers. However, from 2001 to 2007, Vyapam removed the names of the candidates from the list and only their roll numbers were displayed.
Vyapam conducted admission tests for NLIU till 2007, and from 2008, the admissions for the law institute came under the Common Law Admission Test (CLAT).
Under normal practice, names of the candidates and their father's name is put on the merit list, but Vyapam officials removed the names of the candidates from the list after 2000 because they didn't want to disclose their identities.
According to Dubey, the removal of names indicate that recommendations by influential people carried a lot of weight in the selection of candidates. He also added that all possible efforts were made to hide their identities.
Vyapam Scam
Over 1,000 financial irregularities were reported in Vyapam since 1970. The state has been mired in the Vyapam scam for years; the irregularities, however, eventually came to light when 20 people were arrested in 2013 for impersonating candidates appearing for the 2009 medical entrance examination.
Over 45 people associated with the Vyapam scam have died, mostly under mysterious circumstances. Following the series of deaths, the Supreme Court in July had handed the over the probe to the Central Bureau of Investigation.
The most recent death was of an Indian Forest Service officer, Vijay Bahadur Singh, whose body was found close to a railway track near Odisha's Belpahad station on 15 October. He was travelling by the Puri-Jodhpur Express. The CBI has started probing this death as well.