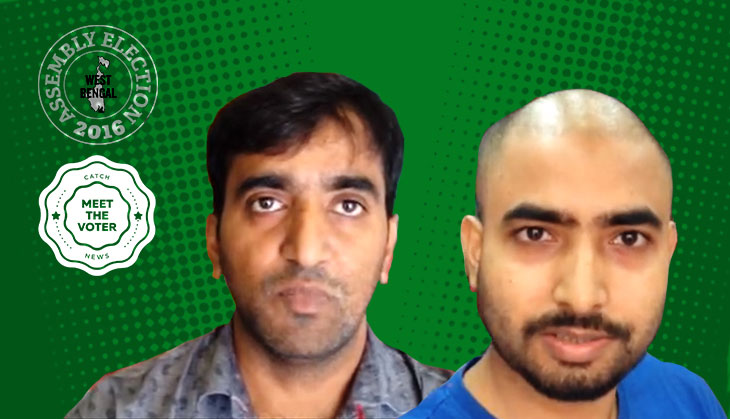 Elections are not just about politicians. They are about people and issues. And what really drives their vote.
Catch is, therefore, starting a 'Meet the Voter' series to capture what different impact groups in the poll-bound states are feeling. This is true insight into the upcoming assembly elections: up-close and hyper-personal.
The roads in Fancy Bazar, one of the trading hubs of Guwahati, are full of slush. It rained the previous night. "You won't be able to go inside the lanes. The condition of the road is bad," warned Nirmal Jain, a trader. "It's been years since they built these roads. And before that, it was repaired some 38 years ago," he continued.
Fancy Bazar is mostly inhabited by Marwaris, with a couple of Muslim pockets around. "This government does not do any work in this area because we are Hindi speakers," he says. "If you are an Assamese, then you are on top of their list. Bangladeshis come second, and we are the worst off," he complained. "It does not matter if you are a Hindu or a Muslim."
Marwaris have traditionally been BJP supporters. The BJP which had just polled 12% of the votes in the 2011 Assembly elections, went on to win seven of the 14 Lok Sabha seats in the state 2014. Its vote share also increased to a whopping 36%.
"We are looking forward to change," Jain says. A group of traders who run their businesses in the same building seem to agree.
The Muslims' dilemma
However, the Muslims in the city are apprehensive of the BJP coming to power. "We are confused as to who we should vote for this time," says Ruhul Amin, who owns a small shop in Laktakia, a Muslim neighbourhood in Guwahati.
"PM Modi has failed to inspire confidence. While some of the Muslims voted for him in the Lok Sabha elections, his failure to do anything against his party people who have been saying hateful things against the minority community has weaned away the little support he managed," Amin says.
More in Catch - Election 2016: Meet the man who might deliver Assam for BJP