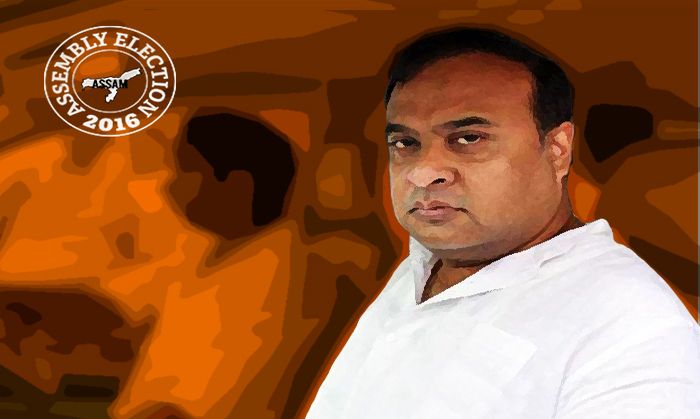 BJP and allies have won Assam Assembly elections 2016. This is one of the first major wins for the saffron party in north east India. Kunal Majumder caught up with the man who planned and plotted the win and is now expected to move to the Centre as Union Minister. Originally published on 30 March 2016. Some parts have been updated.

Assam election 2016 was about two people and their egos. Chief Minister Tarun Gogoi needed to prove he can still win an election without Himanta Biswa Sarma. And Sarma needed to prove he can win an election without being in the Congress. Rest are all were supporting characters in this high-voltage drama.
Chief Minister Gogoi has held the seat of Titabar since 1997. He is confident of winning again. And probably will. But you realise that things aren't exactly hunky dory when you attend political meetings by his once-confidante-and-now-bete noire, Sarma.
WATCH: Assam politicians must pay attention to children, says activist Miguel
In spite of pre-monsoon showers, the crowd eagerly waits to listen to BJP's campaign strategy chief. Sarma makes every minute's wait worthwhile by launching into a blistering attack on his former mentor. He is careful not to be disrespectful but doesn't spare Gogoi on issues of governance and dynastic politics. However, Gogoi isn't his main target. He is just a cartoon, Sarma tells this reporter later in an interview. His target is someone else.
Sarma's popularity is undeniable. Even his critics accept that he has attained a rockstar image across Assamese society. Whether it is among the youth in a posh cafe in Guwahati or businessmen in Sivasagar, capital of the erstwhile Ahom kingdom; or academics in Silchar, a hub of Bengali-speaking Assamese, Sarma has the image of a performer. A true middle-class hero.
The pragmatic politician
As the rain intensifies, so does Sarma's speech. It is now time for the 'us' and 'them'. Transformation has happened. Himanta Biswa Sarma is now a BJP politician.
Gogoi might have been the reason for him to leave Congress. Gogoi might have been the hurdle to his unfulfilled ambition. Gogoi might have done a grave injustice by sidelining him and promoting his own son, Gaurav (who, coincidentally, is also campaigning in Titabar across the town). But Himanta Biswa Sarma is a pragmatic politician.
Attacking an 80-year-old Gogoi won't get him enough votes to win an election in a culturally conservative state like Assam. The Chief Minister continues to command a certain amount of respect and popularity across generations. And perhaps the reason Congress seem confident of tackling 15 years of anti-incumbency. So targeting him isn't exactly working for the BJP.
However, what will probably work is the politics of identity. After all, if there is one issue that binds all Assamese speaking people, it is the fear of losing control of their state to 'outsiders'. Who else would know it better than Sarma? After all, he used the same issue masterfully in the last assembly polls to ensure a 78-seat win for the Congress. And thus the polarisation.
Sarma is the only BJP leader who is equally popular in both the Brahmaputra and the Barak Valleys
Badruddin Ajmal was once seen as Sarma's personal friend. On a flight from Guwahati (the state's capital) to Silchar (main town in Barak Valley which has a substantial Muslim population), Ajmal told this reporter that his friendship with Sarma ended the day he joined BJP. "At no cost will I ever support Sarma if he is part of BJP," he said. Ajmal ruled out any PDP-BJP kind of tie up post election.
Political commentators have been speculating about a possible understanding between AIDUF and BJP in case the latter fails to get enough numbers on its own. But they immediately add that such an arrangement is only possible if Himanta Biswa Sarma is the Chief Ministerial candidate. But he isn't.
And he doesn't seem interested in making any gesture towards during the campaign either. After all, you can't win an election in Assam beyond the 11 districts (which have substantial Bengali Muslims population) if you claim you are friends with the 'Bangladeshi'.
Instead, Sarma goes hammer and tongs after Ajmal. He is careful to point out that he is not against Muslims in general. To this reporter, he even claims he has nothing even against Bengali Muslims ("my own driver is a Bengali Muslim"). He says his concern is about Ajmal who is using the demographic strength to wrestle political power, which is seen as a threat by the majority Assamese speaking population.
WATCH: Himanta Biswa Sarma should be Assam CM, says Uber driver Bhairav
The Chief Ministerial ambition
In spite of the acrimony between Gogoi and Himanta Biswa Sarma, the former doesn't seem to be too critical of the latter. In a conversation with this reporter, Gogoi preferred to attack the BJP over Sarma. "He might be important for BJP because they do not have any base in Assam, " he said, clearly accepting the popularity of his protégée.
However expanding further, the CM claimed 'individuals' don't matter to the Congress party, grassroots workers do. Sarma, on the other hand, is quite critical of his former mentor. He blames him for promoting his son while ignoring his 20 years of grassroot politics and contribution to the party.
As the health and education minister in the Gogoi government, he is credited with significant progress in these two sectors that touched the daily lives of ordinary citizens. Bhairav, a taxi driver in Guwahati tells this reporter: "Even if Himanta Sir dies, we will always remember his ambulance service for ordinary people." Academics talk about his appointment of one lakh teachers. "For the first time, we didn't have to pay a single penny for a government job," says a beneficiary in Silchar.
He is perhaps the only BJP leader who is equally popular in both the Brahmaputra and the Barak Valleys.
Sonowal's politics is based more on the issue of Assamese identity
The party's chief ministerial candidate, Sarbanada Sonowal, who is a former Aasu and AGP leader, joined the BJP only a few years before Sarma. Unlike him, Sonowal's politics have been based more on the issue of Assamese identity. In fact, he is credited for the dismissal of the IMDT Act, which stopped the police from randomly picking up Bengali speakers on suspicion of being a foreigner. Many Bengalis in Barak Valley, across religious communities remain suspicious of 'Jatiya Nayak'.
There are other reasons which would have made Sarma a better chief ministerial candidate - like dealing with allies or making new friends across the political spectrum in case of a hung assembly. In a conversation with this reporter, former chief minister and AGP leader Prafulla Kumar Mahanta made it clear that Sonowal was the CM candidate only for the BJP, not the alliance. Sarma disagrees and says his party is directly dealing with AGP president Atul Bora and they are on the same page when it comes to this issue. (The gamble has paid off with AGP leading in 15 seats)

Sarma also agrees that a chief ministerial ambition at this stage is not realistic. "I joined the party just a few months before the election. How can you expect BJP to declare me as a CM candidate?" he asks. However he is confident that the saffron party will award him sufficiently if he manages to deliver.

How the entire issue rolls out also depends on BJP's electoral performance. There are a few conspiracy theories floating around. In an off-the-record conversation, a major BJP candidate told this reporter that there are actually two candidates based on how the party performs. "If the BJP manages to come to power on its own, it will be Sonowal. However if it doesn't and we need the help of allies, it is probably Sarma," he said.
Political quarters are abuzz with rumours like how Sarma is also working to ensure that the BJP doesn't cross the 40 mark. "Congress needs at least 50 to form a government but for the BJP, just 40 should be enough. In such a situation, Himanta Biswa Sarma would the ideal candidate to manage the rest of the numbers," says Dr Charbak, a political commentator.
Whether Sarma will be the chief minister this time or next, only time will tell. However what is clear is that he is an ambitious and very competent man, who knows he will reach there one day. He couldn't with the Congress, may not immediately with the BJP. But those observing him for years say it can happen anytime soon.
Hear the man himself talk about the various issues at hand:
If there is a hung assembly, will you think of going the BJP-PDP in Kashmir route, with the UDF?
Tarun Gogoi called you one of his top men after he had won for the 3rd time. What changed?
What are your views on Bangladeshi migrants?
Is this election basically a ego-clash between you and the Congress?
You had earlier remarked that you want to move to the Centre. What happens post-election?
The PM is talking development in his speeches but you bring up jaati, maati. Why?
More in Catch - Issue of secret killing is back in Assam election. But does it matter anymore?
Assam Election 2016: Illegal immigration, Bengali Muslims & the AIUDF factor
Assam Election 2016: Why Bodoland could hold the key to BJP's chances