The vigilance
By 22 March, about two weeks before the Assam polls, the Election Commission had already seized Rs 7.12 crore in illegal cash
It has set up 389 flying squads, 364 static surveillance teams and 355 check posts for vigilance
The reality
The EC\'s teams are helpless: they lack resources and time to fully check the illegal cash flow
The money brought in to the state illegally is then used by candidates to buy the support of organisations, and even opponents in some cases
More in the story
Where the money comes from and where it goes
How even VIPs\' vehicles are used to transport the money
In the run up to the Assembly polls in Assam, the Election Commission of India had seized Rs 7.12 crore in illegally-obtained cash till 22 March.
Chief Election Commissioner Nasim Zaidi told reporters that the amount seized was several times higher than previous elections in the state, and added the illegal movement of money had been checked.
The commission has set up 389 flying squads, 364 static surveillance teams and 355 check posts for the purpose.
The reality, however, may be quite different. This phenomenon is nothing new, but the amount seems to be increasing with every election, a middle-rung official of the state election commission said. He claimed that hundreds of crores have changed hands ahead of the polls, through a system that is 'extremely efficient'.
Internal flow begins in the hills
Interestingly, both the hill districts of Assam - Karbi Anglong and Dima Hasao -w become sources of cash whenever there is an election coming up. Both districts, which are ruled by autonomous councils under the Sixth Schedule, are well known for graft and misgovernance.
On 15 March, a senior politician from Dima Hasao came to Guwahati to deliver Rs 2 crore to another politician. He sneaked away undetected from the city in a hired taxi.
"We have been receiving regular inputs, but we are helpless, since we lack resources and time to gather evidence," the official explained, referring to the unsuccessful raid at the residence of agriculture minister Rockybul Hussain on 17 March.
After the raid, the official who had led the combined team of election expenditure observers and income tax department officers was immediately transferred.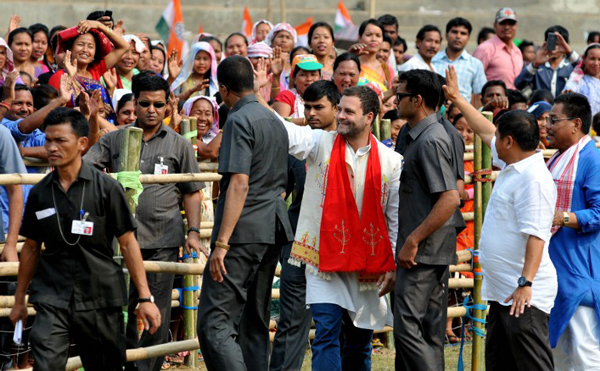 Photo: Biju Boro/ AFP Photo
External flow through hawala
Months before the elections, politicians in Assam knew the polls would be an expensive affair. According to informed sources, plans were firmed up and preparations to make cash available in Guwahati had begun as early as last November.
While one party was dependent on its high command in New Delhi for the contribution to its kitty, another party had generated its own resources from businessmen and functionaries, who had been able to get contracts in the past few years.
Yet another party, which was already facing a financial crisis, arranged funds from foreign destinations and sources outside the state.
The transfer of funds from other metropolises is done by businessmen from Fancy Bazar in Guwahati, through systems called 'hawala' and 'hundi'. The number of such agents seems to have increased this time around, informed sources said.
"Some of the most active agents are businessmen dealing in gold and diamonds, and their commission varies between 2-4%. These agents are part of a larger network that spans the entire country, including the other North-Eastern states," the official said.
Sources revealed that Kolkata is the most important hub for such deals. The agent gives a 'token number' to the party, which is to be revealed at the time of payment in Guwahati, which is done in installments. For instance, a transfer of Rs 10 crore could be delivered in as many as six installments.
Funds are then disbursed to different destinations in the state through an equally efficient mechanism that is able to dodge the layers of security and police pickets in the cities and national highways.
Currency notes are stacked in gunny bags with potatoes, onions and other items. The vehicles carrying them often bear registration numbers of neighbouring states.
At times, funds are also transferred in the vehicles of VIPs with high security, as they are not stopped or checked at the police pickets.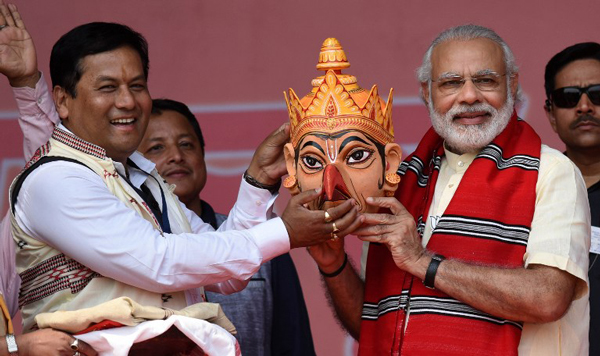 To avoid arousing suspicion, the movement of cash takes place during the day, after the cash is loaded onto trucks at locations in Guwahati that change frequently.
Occasionally, police personnel are bribed and given a small percentage of the total amount being carried in the vehicle.
Cash for votes and other 'services'
A businessman associated with a political party claimed that two politicians in constituencies not very far from Guwahati have spent "colossal amounts" in their efforts to woo voters.
The need for such a huge amount of cash is because of many factors - local leaders, organisations and clubs have to be paid, as they invariably come up with demands during elections.
There have also been instances when bargains have been arrived at with the rival political party to put up weak candidates in some constituencies. Sometimes, candidates have received money from opponents for losing the polls without the knowledge of the party high command.
Formal and informal alliances at such a scale had never been witnessed in Assam during the previous elections. Five smaller parties are also expected to win seats and put themselves on the electoral map of Assam.
Some of these parties were facing a funds crunch, and have reportedly been bailed out by the bigger parties. In return, they have entered into an alliance and have committed to offer their assistance in constituencies where they would be able to yield influence.