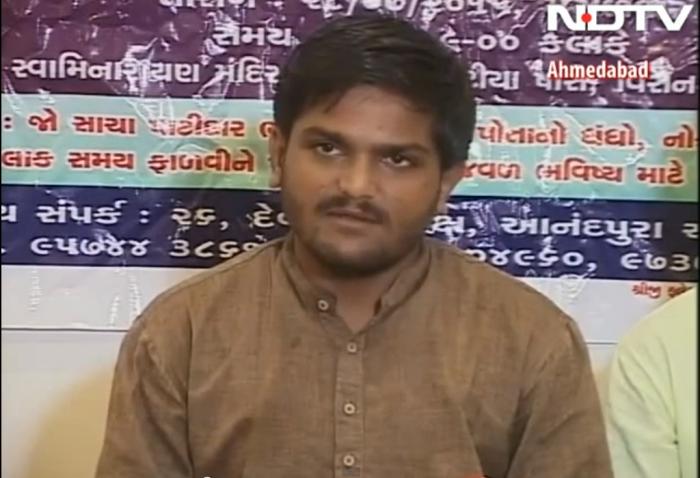 The Patel quota agitation leader in Gujarat, Hardik Patel, has been sent to a seven-day police custody by a court in Ahmedabad in relation to a sedition case.
Metropolitan Magistrate S J Brahmbhatt passed the order on an application of the probe agency seeking 14 days remand.
The 22-year old leader of Patidar Anamat Andolan Samiti (PAAS) was produced before the magistrate at his residence on 24 October night.
In a marathon hearing that lasted till early this morning, the probe agency said it needed to "know about the persons behind the quota agitation and the source of funding behind it".
Seeking a 14-day remand of Mr Patel, Crime Branch submitted that custody of the accused is needed to interrogate him to know who all have been supporting their agitation, whether PAAS is a registered organisation and how he was appointed as its convener.
It also sought the remand to know that who funded the accommodation of people who attended various public rallies of Mr Patel.
As Hardik Patel mentioned in a public rally here on 25 August that their agitation would give a blow to the present state government and will also harm the Centre, a probe is needed on this part to ascertain if he had hatched any conspiracy against the central and state governments, the plea said.
It said the emerging Patel leader had also incited members of his community to resort to violence across the state.
Opposing the remand application, Hardik's advocate B M Mangukia said the probe agency could not give any specific reasons in the FIR to establish the case of sedition and of waging war against the State.
Mr Mangukia also submitted that the city crime branch intercepted the phone calls of Mr Patel and other PAAS leaders illegally, hence breached the privacy of his client.
He said Crime Branch started intercepting phone calls in August only as it has been mentioned in transcriptions of phone conversation between Hardik and his aides, while the state's Home Department gave permission (to the intercept calls) on 3 October.
Crime Branch had filed a second case of sedition against Hardik and five others on 2 October.
-PTI