Meeting God: the day I sat seven metres from Pele & asked him a question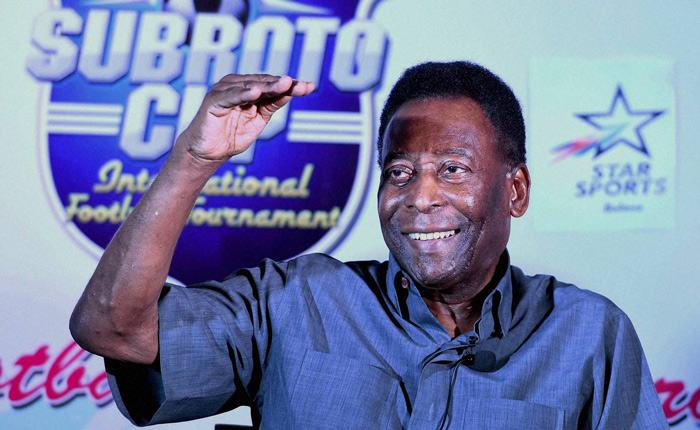 I braced myself. I repeated the same thing I had been telling myself all day - I would maintain my cool when he walked past me to take his seat on the dais. I would maintain my equanimity regardless of whether I got to ask him a question or not.
I was sure that the room was about to burst into pandemonium. Without realising it, I finished a whole bottle of water sitting in the third row of a hall full of journalists, young and old, eagerly awaiting the start of the press conference.
But nothing, nothing at all, could prepare me for the moment I saw him in flesh and blood.
There he comes
Here was Pele, the Black Pearl, the greatest footballer to walk the earth (apologies, Diego Maradona!).
There he stood, looking frail and limping slightly, his strut assisted by a walking stick. It looked terribly out of place next to the same limbs that had terrorised defences around the world.
Then, there came that famous million-watt smile. The shutterbugs followed his walk up the steps to the dais. In that instant, all my journalistic pretences fell away. I gushed, then gasped, then my heart skipped a beat as I realised - I was breathing the same air as Pele. Surely I needed to pinch myself. Or maybe not - if this was a dream, I didn't want it to end.
From folklore to flesh and blood
Growing up in the 1990s and 2000s, I'd heard the folklore surrounding this man from Brazil. He was so good at football that warring factions in the Nigerian civil war of 1969 decided upon a 48-hour ceasefire when he visited the country, just so they could watch him play in a friendly.
This was the man who scored 1,281 goals over a career spanning 22 years, and was declared a national asset by the government of Brazil so that he wouldn't leave the country to play for a big club in Europe.
And he wasn't mythical. He didn't exist in the fictional world, or merely in grainy YouTube clips. He was real, sitting seven metres away from me. I was sharing physical space with footballing divinity.
The gospel of Pele
The questions flew thick and fast, snapping me out of my trance. There was a job to do.
'What could be done to improve the state of football in India? What do you think of the Indian Super League? Why is the Brazilian national team not doing well?'
Pele made it a point to thank the organisers of his second visit to India, and then answered all the questions in the best English he could manage.
He spoke with the wisdom of having lived 74 years, with most of them spent playing, thinking or talking about football.
He cited 'grassroots development' as the most important aspect of the growth of football. Pretty standard stuff, nothing you hadn't heard before. But it was Pele speaking; the words could almost be gospel. As Britain's Sunday Times put it when Pele led Brazil to his third World Cup triumph in 1970: "How do you spell Pele? G-O-D."
The 30 seconds that made my life
Before I knew it, the moderator was motioning towards me to ask my question. In the following second or two, the entire range of emotions I had been feeling gushed through my system, with anxiety and the fear of embarrassing myself right at the top.
"Boa tarde, Pele." Portuguese for "Good afternoon". I had been practicing the pronunciation all day.
"Boa tarde!" he replied, pleasantly surprised.
"You joined the New York Cosmos in 1977, when football in America was not of a very high standard. Do you think Indian football is in a comparable state at the moment? How can we achieve the progress that America has?"
He paused for a moment, smiled, and asked me my name again, as I hadn't pronounced it clearly while introducing myself before the question.
"It's a good question, because when I joined the Cosmos, we lost the first few games. I started asking myself, 'what am I doing playing with these college graduates!' But the impact my time had over there was good, because it promoted the sport in the country. Hopefully, India will go down the same road."
In retrospect, this was hardly the answer to my question. But hey, I held Pele's attention for half a minute! I could die at this instant and still feel joyous.
The exit
Before I knew it, the session was over. In 45 minutes, Pele had become a lot more relatable, not just for me but for everyone else present in that hall.
The Black Pearl, in his grey safari suit, hobbled away, flanked by his entourage. He also left a tremendous buzz in the wake of his exit, just like the one that had greeted him.
Reporters lamented not asking him questions they wanted to, photographers cursed the quality of light in the shots they took of him.
But as I joined the throng of people exiting the doors of the hall, I was back to being just a fan, feeling blessed to have been in the presence of true greatness.