Kolkata's tryst with Pele: a customs officer recalls the madness of 1977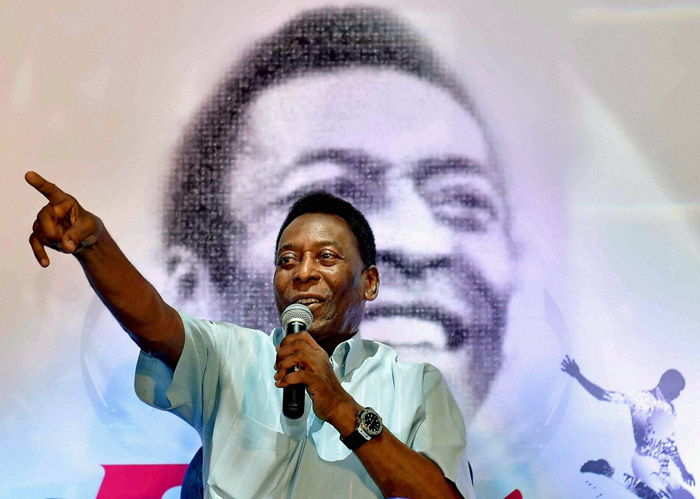 The legend
Brazilian football legend Pele is on his second visit to India
He is acknowledged as probably the greatest ever to play the beautiful game
The craze
Pele\'s first visit to India was in 1977, when he played for New York Cosmos against Mohun Bagan in Kolkata
About 80,000 fans attended the game at Eden Gardens, while thousands greeted him at Dum Dum airport
More in the story
A customs official who accompanied Pele on that night recounts the frenzy
How guards managed to keep even a state minister at bay
Edson Arantes do Nascimento is arguably the greatest ever to play the beautiful game of football. Haven't heard of him? You may know him as Pele.
The Brazilian legend is currently in India to witness Atletico de Kolkata's Indian Super League encounter against Kerala Blasters on 13 October, as well as the Subroto Cup final on 16 October.
This is Pele's second trip to India, having previously visited Kolkata with the New York Cosmos team in September 1977.
Cosmos played Mohun Bagan in an exhibition match, which was played in front of an 80,000-strong crowd at the Eden Gardens, and the result was a 2-2 draw.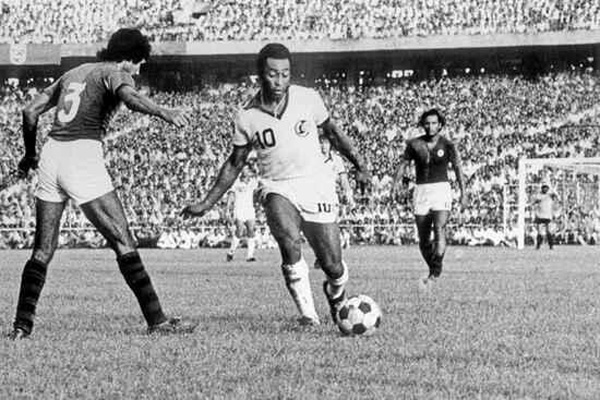 Significantly, it was Pele who convinced the Cosmos club management to add India to the list of its destinations in Asia. This was after his agents received a letter citing Mohun Bagan's role in India's independence, and how the country of Mahatma Gandhi was eagerly awaiting him.
But what was the fan frenzy like on that day? For one, it found a mention in this famous scene from the Bollywood blockbuster Golmaal:
Catch spoke to Soumyajit Bhowmick, former deputy commissioner of Calcutta Customs, who was on duty that day, to get a sense of what
Pele's last visit to India was like.
An unforgettable night at Dum Dum airport
I was on duty as a customs officer at the airport that night.
For hours before the arrival of the Cosmos team's flight, thousands of fans thronged the airport to get just one glimpse of the legend.
The security system at the airport was obviously not as stringent as it is in the present time. As a result, the customs and immigration area was also overcrowded.
Officials, their cronies, the fans who could manage entry, the press and many others - numbering no less than 2,000 to 3,000 - were present. Among them was Dhiren De, the then-secretary of the host club Mohun Bagan.
Many were depending on De, thinking that sticking close to him will take them closer to Pele. I noticed one Deputy Superintendent of Police (DSP) frequently requesting De not to forget to introduce him personally to the legend.
When the plane landed, the crowd ran to the bay where the plane was to be parked. Security men stood around helplessly.
After the ramp stairs were attached to the doorway, I went atop first, followed by De, two or three more officials and the DSP.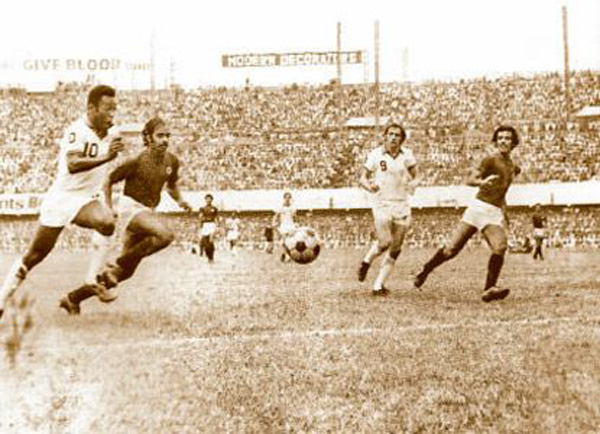 The first glimpse of the legend
Pele came out first. When Mohun Bagan officials were introducing themselves to Pele, I noticed the DSP was nudging De to give his introduction.
De was obviously irritated at the total chaos and, to everyone's surprise, he pointed towards the DSP and said: "Mr Pele, meet my bodyguard!"
The scenario inside the customs and immigration area was worse. Everybody was pushing and shoving to get near Pele. He was visibly getting irritated. Anybody who managedto come near started introducing himself, only to see a tired smile on Pele's face.
An Indian great and a minister who was thwarted
Only when we introduced Mr Leslie Walter Claudius to Pele did he start talking with interest. After all, Claudius was a great sportsman in his own right -a four-time hockey Olympian, who won three gold and one silver medal for India.
We decided to seclude both of them inside our station duty officer's room. I grabbed Pele by his shoulder to escort him inside the room. I should have been expecting it but still ended up surprised - his shoulders were rock hard.
We posted two tough-looking sepoys in front of the door to bar any entry to the room. A state minister, who was a Mohun Bagan fan, was continuously trying to slip past the guards and enter the room. They thwarted his every attempt.
He ultimately said that he was a minister. The sepoys were already irritated by the unruly crowd and retorted: "To meet Pele, everybody will be a minister today. Now get out of sight or we will throw you out!"
Today, when I saw Pele on television, he looked a bit exhausted. But the baritone is still the same and the smile is still the same - charming as well as radiating intelligence. It's been 38 years, but there are somethings that haven't changed about him. It's great to have him back here.