Kohli becomes first Indian Batsman to score 900 points mark in ODIs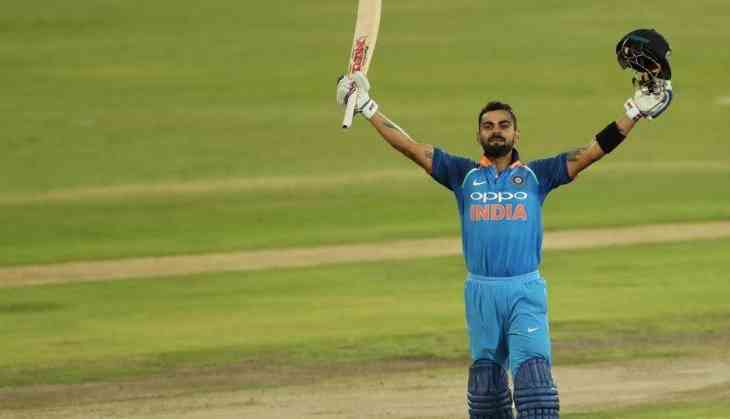 Cricketer Virat Kohli has made it a habit to make and break records, the recent one is remarkable. India skipper Virat Kohli has received the highest batting ratings for ODIs in the latest rankings revealed by the ICC and he sits on the top with 909 points — the highest for any player in the last 27 years. He's the second player after AB de Villiers to have over 900 points in Tests and ODIs at the same time.
He is also the only batsman to find a place in the Top 3 slots across all formats. While he sits at the top position in ODIs, he is second in the Test rankings behind Australia's Steve Smith (947) with 912 points. In T20Is, Kohli is third behind Babar Azam (786) and Aaron Finch (784) with 776 points.
He broke all the previous remarkable rankings of several players across the world including Australia's Dean Jones in 1991.Vivian Richards (935 in 1985), Zaheer Abbas (931 in 1983), Greg Chappell (921 in 1981), David Gower (919 in 1983) and Javed Miandad (910 in 1987) have received a higher rating than Kohli. He is the first Indian player to go into the 900 points mark.
Interestingly, he is just 130 runs away from accumulating 1000 runs on a single tour. He has made 870 runs from 13 innings at an average of 87.00 and a strike rate of 82.38. He has also hit 7 sixes and 91 boundaries. He has also hit a purple patch in South Africa as he has 4 centuries and 2 fifties after 10 games (3 Tests, 6 ODIs and 1 T20I).
West Indian legend Richards Vivian achieved the feat in 1976 when he amassed 1045 runs in England. While Richards had scored 216 runs in ODIs, he hit 829 in four Test matches. He is the only batsman in the history of the gentleman's game to score 1000 runs on an international tour.
Kohli scored 286 runs in the three-match Test series with a hundred and a fifty, 558 runs in the 6 ODI innings with 3 hundred's and a fifty and 26 runs in the first T20I at the Wanderers Stadium in Johannesburg on Sunday.