Brazil legend Ronaldinho bids adieu to football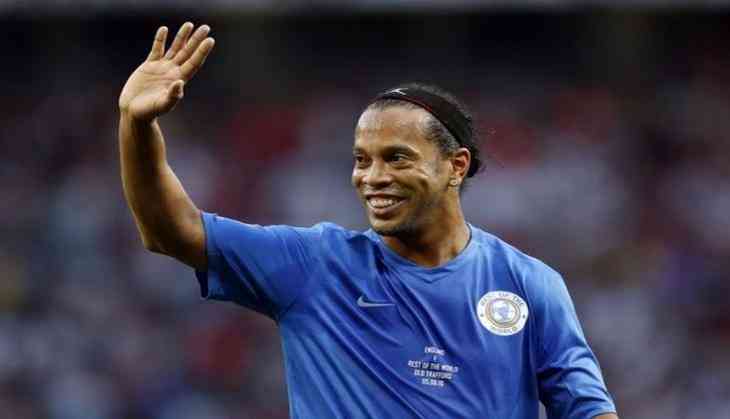 Brazilian football superstar Ronaldinho, who was part of the triumphant Brazil 2002 World Cup squad, has bid adieu to his illustrious career at the age of 37.
Confirming the news, Ronaldinho's brother and agent Roberto Assis said that the Brazilian World Cup winner's career as a professional footballer is over.
However, he hopes to schedule some farewell matches for Ronaldinho after the World Cup in Russia, which ends July 15
"He has stopped, it is ended. Let's do something pretty big and nice after the Russia World Cup, probably in August. We will do various events in Brazil, Europe and Asia and, of course, we are arranging something with the Brazilian team as well," the Guardian quoted, Assis as saying.
Meanwhile, Ronaldinho, who has not played for a professional team since leaving Fluminense in 2015, had said on the sidelines of a friendly match in Chechnya that he was too old to be back in action.
The 37-year-old, who had excelled as an attacking midfielder, winger and forward, began his decorated career with Gremio in his home country before he moved to Europe to be with Paris Saint-Germain (PSG) in 2001.
After Ronaldinho's performances alongside Cristiano Ronaldo and Rivaldo at the 2002 World Cup drew interest from Europe's elite clubs, he moved to Barcelona in 2003 and went on to spend five years at the Camp Nou.
The Brazilian, meanwhile, also experienced disappointment on the international stage, failing to perform well at the 2006 World Cup besides missing out on selection in 2010, despite guiding Milan to the Serie A title in 2010-11.
Ronaldinho, who earned the last of his 98 Brazil caps against Chile in April 2013, won one World Cup title (2002), one Champions League victory (2006) and two Spanish league titles with Barcelona, and two FIFA world player of the year awards (2004 and 2005) in his decorated career.
--ANI