Vijayadashami: RSS chief Mohan Bhagwat lauds gau rakshaks, quotes Iqbal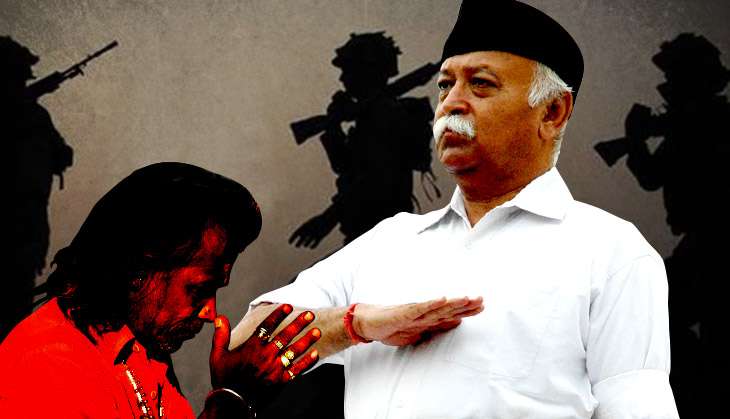 For the the third time in a row, since Narendra Modi government coming to power, the annual Vijayadashami address of RSS' Sarsanghchalak - Mohan Bhagwat was telecast live by the national broadcaster Doordarshan.
The 2014 speech was about a 'new hope' (Modi government's coming to power) and the need to celebrate and honour India's diversity, and the 2015 speech about rising Muslim population and BR Ambedkar.
Bhagwat's 2016 address was about asserting India's domination over not just Kashmir but over Pakistan occupied Kashmir (PoK), about defending gau rakshaks who were criticised recently by PM Narendra Modi, lauding India's armed forces in the wake of surgical strikes and advising a relook at TSR Committee report on the New Education Policy [NEP].
This was also the Sarsanghchalak's first speech in the RSS new uniform, after khakhi knickers were replaced by trousers.
RSS Twitter
BJP has put in all it has to win the UP polls. From conducting Brahmin sammelans, marching Buddhist Monks throughout the state (to attract Dalit and OBC votes), promoting the wife of Dayashankar Singh (to attract Thakur votes), carrying out internal surveys and simultaneous marches from four corners of the state (Parivartan Yatra), to even celebrating Dusshera in Lucknow (first time in years a PM is celebrating Dusshera not in Delhi but Lucknow).
But the party knows that it cannot succeed without the support of the huge network of RSS cadres, a lot of who were resentful after Modi called 80% gau rakshaks fake and outlaws.
In this context one can understand Bhagwat's defence of gau-rakshaks and his praise for the army's retaliatory 'surgical strikes'.
"Gau mata hai, aur iska kaam karne wale saare gau rakshak saare bhale log hai jo kanoon, samvidhaan ke andar rehke kaam karte hain...main abhinandan karta hun sena ne jo sahas dikhaaya...updraviyon ko sanket mila hai ki sehensheelta ki bhi seema hoti hai." (Cow is our mother. Cow protectors are good people, who work within the framework of the law and Constitution...I thank the army for its bravery...they showed the terrorists that even tolerance has its limits).
By speaking of soldiers and gau rakshaks in the same breath, Bhagwat gave complete legitimacy to the latter, thereby overruling the PM's criticism.
In one stroke, the Sarsanghchalak established the primacy of the Sangh and swayamsevaks over political leaders, boosted their morale, and gave his cadre the issue on which to work without grudges for the BJP.
In another aspect, the RSS is likely to help BJP sell 'surgical strikes' and 'diplomatic isolation' of Pakistan, among the electorate.
Unfinished agenda in Kashmir
Bhagwat also spoke about Kashmir. He said that everyone in the world knew that the separatist elements in Kashmir are supported by powers on the other side of the border. But he asserted that there is a need to assert that not just Kashmir, even the Kashmir occupied by Pakistan belongs to India.
"The entire Kashmir is ours including Mirpur, Muzaffarabad and Gilgit-Baltistan." Interestingly just a few days ago 'Gilgit' and 'Baltistan' were also referred to by Narendra Modi during his speech at BJP's national executive in in Kozhikode.
Bhagwat said that now that peace had been established in the Valley again, there was a need to reinforce the ideas of nationalism in that region. But he also criticised the BJP-PDP state government in J&K, by saying "there are some deficiencies."
RSS Twitter
He also talked about speeding up the work of rehabilitation of Kashmiri Pandits.
"Raj aur kendra ki neeti mein kuch kotahi barti gayi hai...logon mein bhaavna hai ki hame kuch nahi milta..ye Rajya sarkar ko dekhna padega." (There are some shortcomings in the policies of the Centre and state...There is a sense among people that they aren't getting anything. The state government has to address this.)
Bhagwat also went on to talk about the issue of Hindu refugees from PoK, saying that despite assurances, their third generations were living in the state without any citizenship and that the government should urgently look into this."
New Education Policy
The other issue that Bhagwat raised in his speech was about the New Education Policy. He said that the new policy should have enough stress on moral education and it should ensure that education doesn't just become a business.
Education has been one of the focus areas of the Sangh. It is one of the areas where the RSS has exerted itself quite forcefully. Senior functionaries of the Sangh have held several rounds of meetings with HRD minister Prakash Javadekar and before him, with Smriti Irani, to reportedly influence the New Education Policy.
In a recent meeting with Javadekar, RSS joint secretary Krishna Gopal, party president Amit Shah were also present.
Suggestions for NEP were given by TSR. Subramanian committee which already has incorporated a lot of RSS suggestions already.
According to reports the committee has accepted Sangh's demands to add value education in schools, give preference for teaching in mother tongues, repeal the no-detention policy, promote of Sanskrit as a living language and introduce yoga across the educational spectrum.
Talking about the NEP, on Tuesday, the Sarsanghchalak said, "ab prateeksha bohot hui." Showing RSS' impatience with the pace at which government is working to implement the NEP.
Towards the end, while praising Indian civilisation, Bhagwat quoted, interestingly Allama Iqbal, who many Pakistanis consider to be their spiritual father. From his famous patriotic nazm 'Saare jahan se acha.'
'Yunan-o-Misr-o-Roma sab mit gaye jahan se ab tak magar
Hai baki naam-o-nishan hamara,
Kuchh baat hai ke hasti mit'ti nahin hamari'
The Sarsanghchalak chose his words very carefully. Through his Vijaydashmi address the head of RSS addresses lakhs of his cadre and gives them a roadmap for the next year. Therefore his choice of words, and the poet, could not have been a matter of chance? One can only speculate, whether he chose Iqbal to reach out to a wider audience, not just in India, but to the people in PoK. And whether this might signal a shift in government's foreign policy.