Samsung Gear Fit 2 Pro review: An all-out fitness tracker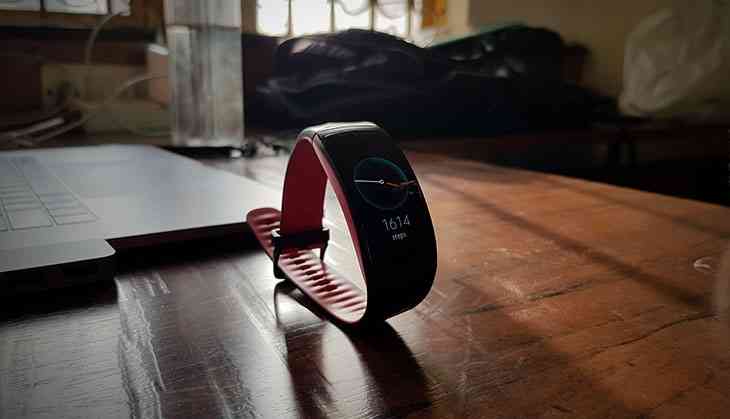 Samsung ended 2017 with a bang, launching wearable devices Gear Sport and Geat Fit 2 Pro.
The Gear Sport is, a smartwatch at its core, adds features not found on pure fitness bands. It's priced at Rs 22,990 and is one of the best wearables one can buy on the market. You can read the full review here (http://www.catchnews.com/science-technology/samsung-gear-sport-the-best-android-fitness-smartwatch-on-the-market-right-now-93116.html)
The Gear Fit 2 Pro, on the other hand, is an out-and-out fitness band with barely any smartwatch features. It's priced at a much more modest Rs 13,590 and primarily competes against the likes of the Fitbit Charge 2. Does Samsung have what it takes to knock the Fitbit out of the park? Read on to find out my thoughts after two weeks of solid usage.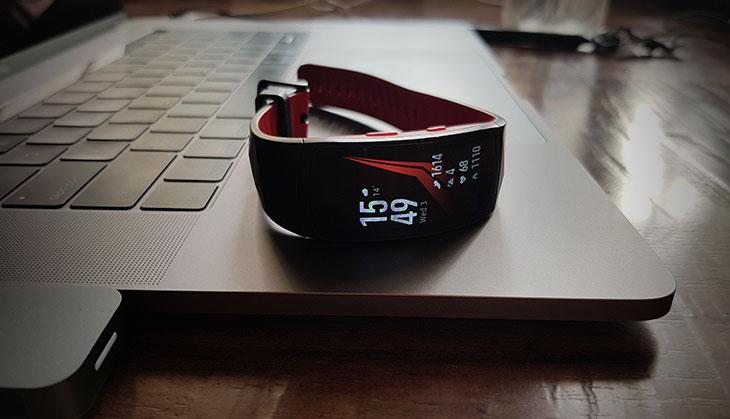 Arya Sharma/Catch News
What is Samsung's Gear Fit 2 Pro?
If you've never heard of Samsung's Gear Fit 2 Pro, then you are not alone. The likes of Fitbit's Charge on one end and Xiaomi's Mi Band on the end dominate the wearable market. Samsung's Gear Fit 2 Pro is based on the South Korean company's very own Tizen OS.
The device is compatible with both Android and iOS platforms. It comes with everything you'd expect in a fitness band and has built-in GPS. Furthermore, the Gear Fit 2 Pro is waterproof up to 50 meters and has a dedicated swim mode.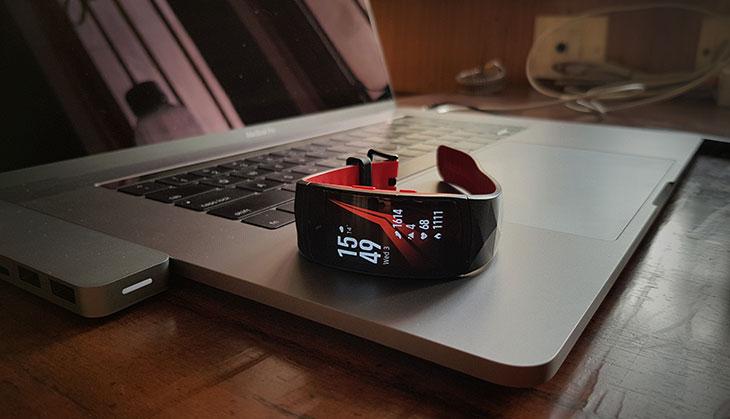 Arya Sharma/Catch News
Where does the Gear Fit 2 Pro sit?
Smartwatches are for those who want a second screen for their smartphones. For those who are constantly tired of picking up their smartphone and checking their endless stream of notifications. These smartwatches typically lack a long-lasting battery.
Then there are the fitness bands. These are primarily focused on getting you on your way to being fit. From tracking steps to telling you how efficiently you sleep, fitness bands are way more accurate than smartwatches. What if there is a device that does both, albeit with one being better than the other.
That, in essence, is the Gear Fit 2 Pro. It's an excellent fitness band and a not-so-good smartwatch coming in at a not so cheap price of Rs 13,590. It is much more expensive than other fitness bands from Intex and Xiaomi. Let's talk about design, specifications, performance and software. Then we'll get a good idea if this is the one to buy above all else on the market.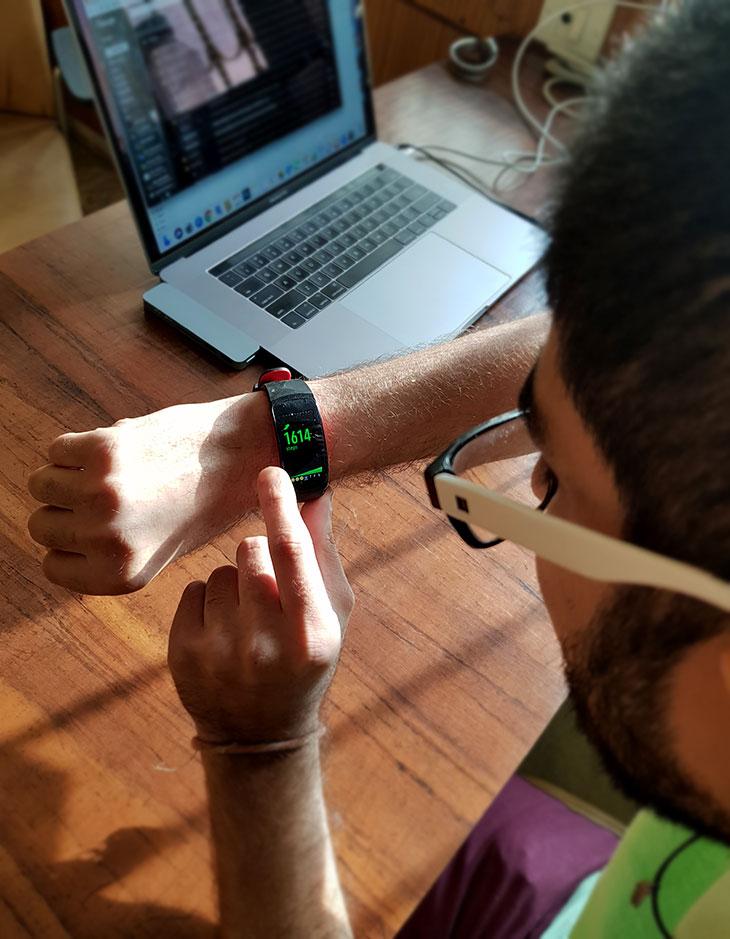 Arya Sharma/Catch News
Design & Durability
Immediately jumping at you is the gorgeous 1.5-inch curved Super AMOLED screen (216x432 resolution) from Samsung. Their displays are the best on the market and time and time again they prove just why. No matter what angle you are looking for, the colours will jump out at you. The text is sharp and there is never a moment where you'll get tired of looking the screen. The two buttons - power and back - on the right fit in well with the overall design.
The device fits comfortably on my wrist. It's small and compact. At times, it felt like it wasn't even on my wrist. That's a testament to just how light the band is. Because of its curved nature, it sits closer to the skin than many other fitness bands. It manages to do that without tightly clenching the wrist like many other fitness bands with heart rate sensors. The device is protected by Corning Gorilla Glass 3.
Durability is the name of the game for the Gear Fit 2 Pro. I've accidentally dropped it more than once and I've even worn it during my morning showers and its come out without a single scratch or drop in screen quality.
There is a multitude of watch faces to suit everyone's needs and each is very easy to navigate. Swipe left to see your notifications. Swipe right to see all the fitness stats you need plus all the other widgets.
With a flick of the wrist, the screen wakes up and shows you the main page of the watch face that you have chosen. Similar to the Gear Sport that I used last month, the flick of the wrist is a hit or miss, especially when lying down. It takes some serious practice to get it on with each flick but even then, at times, it'll just stay off no matter how many times you flick your wrist.
There are two colour - Red and Black - options available.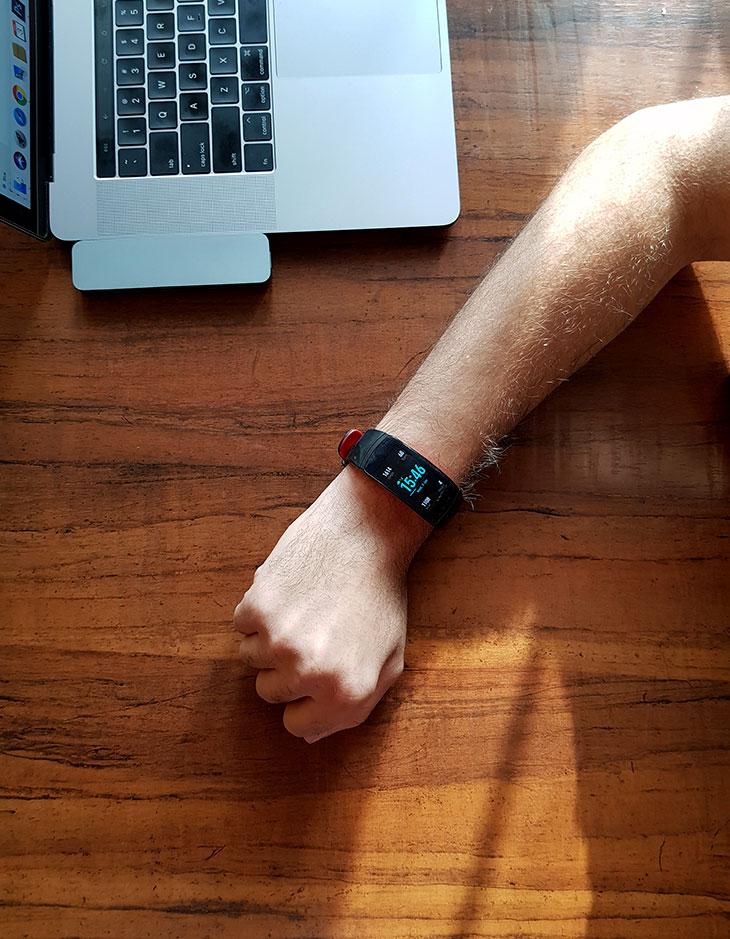 Arya Sharma/Catch News
Performance & Software
The Gear Fit 2 Pro comes with a heart rate sensor, a pedometer, Bluetooth 4.2, Wi-Fi and GPS connectivity. It's powered by 512MB RAM, 4GB of internal storage. It comes with a 200 mAh battery. The device can be charged via the wireless magnetic charger. Using the wall-adapter, the Gear Fit 2 Pro takes just an hour to go from 0% to 100%.
Let's first talk about battery life. The device lasted me two full days comfortably but never into the third morning. The likes of Fitbit and Garmin and even my Up24 from a couple of years ago lasted longer. With the power saving mode, you can squeeze more life out of it, but not by much.
Samsung isn't new to fitness trackers and with the Gear Fit 2 Pro, the South Korean company has proved its metal. Its accuracy in step-tracking, heart-rate monitoring and auto-sensing of exercises is simply ahead of all the competition in this very segment. Saying that, on my way back from Neemrana Fort to my home in New Delhi, I noticed an increase of a couple of hundred steps. This when I didn't even get out of the car. Still, miles ahead of my 20,000 step increase while wearing Xiaomi's Mi Band 2 and even the 1,000 step increase while wearing a Fitbit.
At the core of the Gear Fit 2 Pro is the fitness. The South Korean company does it with aplomb. Beyond these core fitness tracking features, lies its ambition to be a jack-of-all-trades. That's where it doesn't live up to the task.
The Fitbit doesn't pretend to be a smartwatch. The Garmin doesn't try harder than it should. It's Samsung's whose ambitions are more than its capability. Whilst notifications from the phone appear on the Gear Fit 2 Pro, they don't always appear. I've noticed a fair few problems with regards to the Bluetooth connection. At times, I have to switch the Bluetooth on and off, and then reconnect the device.
On the other hand, there isn't much one can do with the notifications and that's a shame. There is no built-in microphone, so I can't take calls with the device. This is acceptable within the price range but I was hoping to reply more than 'yes' or 'no' to the barrage of WhatsApp notifications I keep getting.
The sleep tracker was a hit or miss. If it recognised I was sleeping, the Gear Fit 2 Pro would record my efficiency without fail. If it didn't recognise I was sleeping, then it would lose out on about an hour or two of my sleep. Sometimes it would even say I woke up in the middle of my sleep when I most definitely didn't.
Being Samsung's own Tizen OS means that the Gear Fit 2 Pro misses out on the plethora of Android apps. This isn't a deterrent though as you hardly use more than a handful of apps on a fitness band, and the core apps Samsung has covered.
Should you buy this smartwatch aspiring fitness band?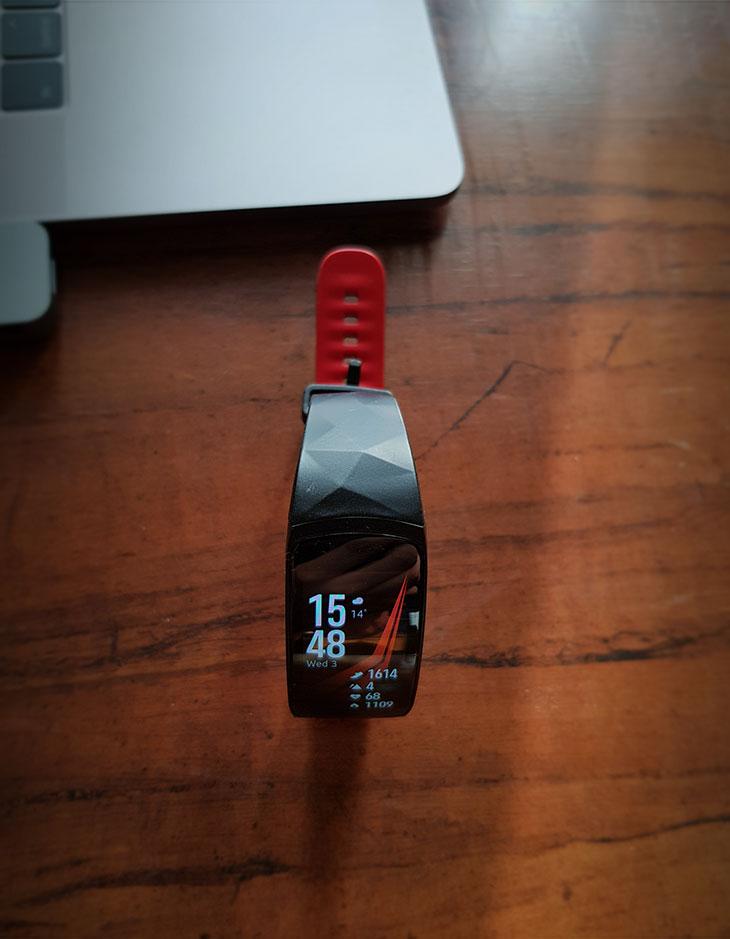 Arya Sharma/Catch News
Yes. The answer is yes. Mostly for its excellent display and accurate fitness tracking. If you want more out of the fitness band though, then, unfortunately, you'll have to shell out more money for something like a Fitbit Ionic or Samsung's Gear Sport.
If apps and widgets are your things, then you're better off with an Android Wear device. Lastly, if pure tracking is all you're after, then the Fitbit Flex 2 at Rs 9,499.
fI you're in the market for a fitness band then please don't go for anything under Rs 5,000. I've tried a number of those and the basic step-counting on them is way off the mark. Out of the others, unless you're really on a tight budget, the Gear Fit 2 Pro's display might just sway your decision. Do walk into a Samsung store (there are many all over India) and try one on. Comfort plus the quality of display makes this a winner in the crowded fitness band market.
Smartwatch is not. A fitness band it is. Samsung's Gear Fit 2 Pro may fail to live up to its aspirations, but that's not a wholly negative attribute.