Nokia 5.1 Plus is a cheaper Nokia 6.1 Plus alternative. It's also more value for money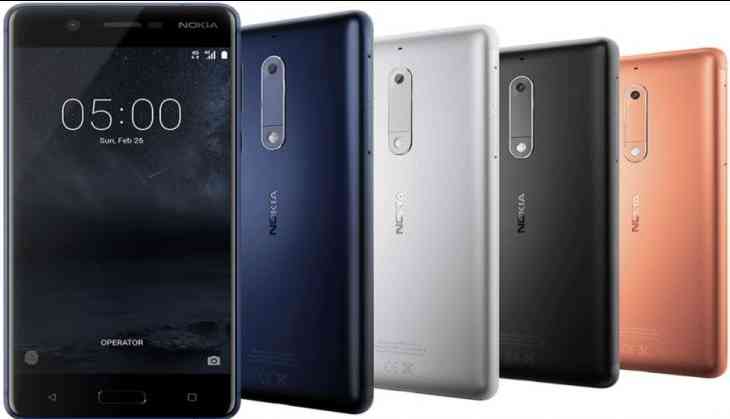 It's called the trickle-down effect. Chinese electronics maker Xiaomi knows
that very well when manufacturing smartphones. You can add HMD Global to
the list. The Nokia 5.1 Plus is basically a Nokia 6.1 Plus at a cheaper
entry point.
Like the Nokia 6.1 Plus, the Nokia 5.1 Plus from HMD Global is another
solid offering that ticks off a lot of boxes. When I reviewed the Nokia 6.1
Plus, I lauded the design and hardware. In fact, much of what I said in my
review (http://www.catchnews.com/science-technology/nokia-6-1-plus-review-an-android-one-smartphone-with-a-great-design-letdown-by-an-underwhelming-camera-132419.html)
of the Nokia 6.1 Plus can also be said of the Nokia 5.1 Plus.
The Nokia 5.1 Plus retails for Rs 10,999 and will be on sale starting from
1 October. There will only be a single variant on sale - 3GB + 32GB
(expandable storage via microSD card) and can be bought in offline stores
or on e-commerce platform Flipkart.
I'm not going to delve deep into what the Nokia 5.1 Plus has to offer. What
I'm going to do is tell you why the cheaper sibling is much more value for
money for the consumer.
Both smartphones - just like the entire Nokia lineup from HMD Global - are
Android One handsets. This means that they get the stock Android experience
with frequent updates (Android P is shortly on its way). They both share a
similar design language. Since there isn't a whole lot different under the
hood, the real world usage is almost similar between the two handsets.
The Nokia 5.1 Plus has a wider notch and a larger screen-to-body ratio,
following all the traits of a modern smartphone. Looking at the
specifications, one can see small differences in the chipset and size of
the battery. Even the cameras differ.
Nokia 5.1 Plus versus Nokia 6.1 Plus
Design: At the moment, there is no smartphone under Rs 11,000 that looks as
good as the Nokia 5.1 Plus. The glass back may make the phone slippery and
prone to fingerprints and smudges, but that is the case with a lot of
smartphones in the market. Slap on a clear case and you still get to see a
design that is appealing on a daily basis. The notch may be larger but the
debate on whether it is "attractive" or not still rages on. Either way, it
isn't intrusive and one gets used to it quite quickly.
Compact: After using the smartphone for a few weeks, I can tell you with
confidence that this is one of the most lightweight and compact smartphones
I have used so far in 2018. It bucks the trend of going big. The vertically
aligned camera juts out a little but it doesn't ruin the aesthetics of the
smartphone. There are no silver accents around the camera, fingerprint
sensor and the side buttons - like on the Nokia 6.1 Plus - but after a few
days, you don't even miss it.
USB-Type C: Another positive is that alongside the headphone jack and
speaker is a USB-Type C port, something that is unseen in this price range.
The day of the old micro-USB port seems to be finally coming to an end.
Display: The Nokia 6.1 Plus offers a 5.8-inch FHD+ display and the Nokia
5.1 Plus has only a 5.8-inch HD+ IPS display. Using both phones
side-by-side, playing all the same games and watching countless YouTube
videos, I didn't notice any degradation in the quality. The videos were
still crisp and the games were smooth. The displays are bright - with
punchy colours and come with good viewing angles.
Processor: The chipsets are different. Nokia 5.1 Plus has a MediaTek Helio
P60 under the hood and the Nokia 6.1 Plus has Qualcomm's Snapdragon 660. In
day-to-day usage, both smartphones lagged to a certain extent. Both
suffered random app crashes (rare but noticeable). Both smartphones though
were champions of multi-tasking. The Helio P60 is a very underrated
chipset. Try it once and you'll realise it is no slouch.
Battery: The battery capacity - 3060 mAh - is the same in both the
smartphones. Having the slightly less-demanding display means the Nokia 5.1
Plus outlasts its elder sibling by about an hour on average.
Camera: The camera setup on the Nokia 5.1 Plus is slightly different to the
Nokia 6.1 Plus. Comparing photos side-by-side and you won't be able to tell
a major difference. In-depth reviews might try to sway you towards the
Nokia 6.1 Plus with its warmer colours and slightly better details, but for
daily social media updates, the Nokia 5.1 Plus will more than just suffice.
Outside the house
Over the past two weeks, I've been travelling on the Delhi Metro, going to
many events all over Delhi and just sitting at cafes with both the Nokia
6.1 Plus and Nokia 5.1 Plus sitting side-by-side. I've had numerous people
come up to me and ask as to why I have bought two of the same smartphones
and using them side-by-side.
They were shocked when I told them that both were mine and that one wasn't
a gift for a friend or family member. They were even more surprised when I
told them that the two smartphones were different and that there was a
significant price difference - Rs 5,000 - between them.
Verdict
In the end, with everything so similar in real-world usage, the Nokia 5.1
Plus lives up to its billing and comes out the much-preferred sibling for
the price-conscious Indian consumer. With HMD Global going for an Helio P60
chipset, the only question mark is that of software updates. With HMD
Global's positive track record, it shouldn't be a problem.
With timely software updates, robust hardware, and a great design, the
Nokia 5.1 Plus is well positioned to take market share away from its
rivals. Come 1 October, there is a new and worthy challenger in the market.
HMD Global is continuing its positive upward trend and the Nokia 5.1 Plus
shows us why. Go out and buy it and you will not be disappointed.