Yoga Day: How can an ideology of divisiveness promote the philosophy of unity?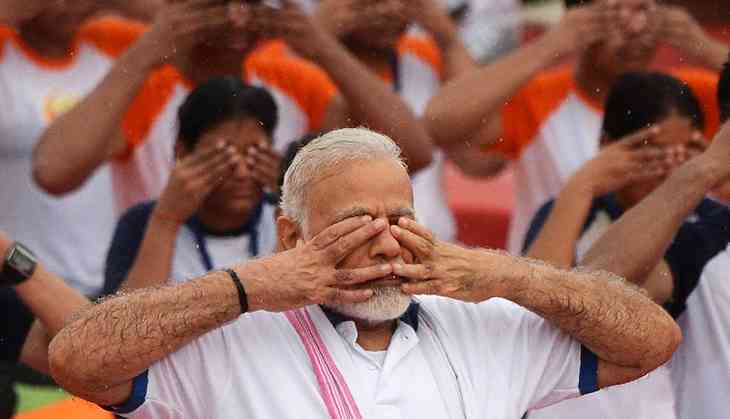 (AFP PHOTO/SANJAY KANOJIA)
Funny yoga pictures have become routine now. A wide range of such pictures surface every year on International Yoga Day, capturing the typical pot-bellied neta making a caricature out of himself attempting an asana.
This year, however, there is a different yoga picture that is likely to catch your eye.
The image is from Uttar Pradesh and it features an upright Prime Minister Narendra Modi shaking hands with a much-bent police officer. Behind them is UP Governor Ram Naik, and behind him are a whole bunch of babus and cops looking on. Most have no expressions on their faces; some are grinning and others appear to be looking at Modi and the policeman with adulation written across their faces.
#PMModi congratulates Lucknow sub-inspector for writing poem on #Yoga

Read @ANI_news story -> https://t.co/QfQIxWuaZH pic.twitter.com/9PpaFSAlfn

— ANI Digital (@ani_digital) June 21, 2017
In the history books
What did a sub-inspector in UP police do to deserve this handshake from the Prime Minister?
The act of gallantry for which the cop got this honour was his contribution to the great cause of yoga, by, hold your breath, writing a poem on it.
Sub-inspector Kuldeep Singh's poem reportedly describes the benefits of yoga. He also reportedly thanked Modi for "getting June 21 recognised as the Yoga Day on an international level".
Little did Modi know that his seemingly small gesture would register Singh's name in the annals of the state's history as "the first sub-inspector of Lucknow to have been greeted by the Prime Minister in such a manner".
Larger than life
The importance of this picture lies in what it betrays. It shows how intent Modi is on creating this impression that he is the biggest ambassador of yoga since Vedic times.
This is the third year since the inception of International Yoga Day in 2015. With every passing year, the Modi government is making the celebrations in India bigger than before. Modi himself led the festivities from Lucknow, performing an 80-minute yoga session with around 60,000 participants.
His lieutenant, BJP chief Amit Shah, was in Ahmedabad, leading the function in the Gujarat capital with businessman Ramdev and Chief Minister Vijay Rupani.
Several ministers of Modi's cabinet had also fanned out in different cities across the country to lead the performances. Its surprising that the government did not call for a special sitting of Parliament to begin yoga celebrations, with the knock of a giant gong from the Central Hall.
A taste of irony
For all the energy Modi is investing in popularising yoga, does he realise the irony behind it? As an instrument designed to achieve union of the body and the mind, yoga is the embodiment of a philosophy of unity.
But is that Modi's philosophy? Is that BJP's philosophy? Is that the Rashtriya Swayamsevak Sangh's philosophy?
The answer is well known. RSS, even by its own admission, stands for a much divisive concept of a theological state. What else is a Hindu Rashtra if not an excuse to divide people on the lines of religion? Isn't it clear from the communal actions and the vitriolic statements of the Sangh Parivar's proponents what kind of hatred they harbour for non-Hindus?
Even within the Hindu-fold, they treat lower castes and liberal Hindus irrespective of their caste with contempt. In fact, so limited is the RSS' worldview that it stands for only Hindu, upper-caste men. Women too are not the Sangh's lookout.
So deeply ingrained are these beliefs in RSS men that even those among them who are sent into the BJP, its political arm, do not break out of that mould. In fact, they actively propagate that worldview with the added support of electoral politics. BJP brings RSS' divisiveness to mainstream politics and when it wins votes in elections, divisiveness becomes a state policy.
This is why BJP's celebration of yoga is ironic: it essentially amounts to the propagation of a philosophy of unity by an ideology of divisiveness. The two just don't go together.
One can only hope that just like Newton discovered gravity only after it made an apple fall on his head, it dawns upon the leaders of RSS-BJP one day while doing yoga that they have been wrong all along.