Why Muslims and Dalits need to be scared of BJP. Mayawati lists the reasons at Ghazipur rally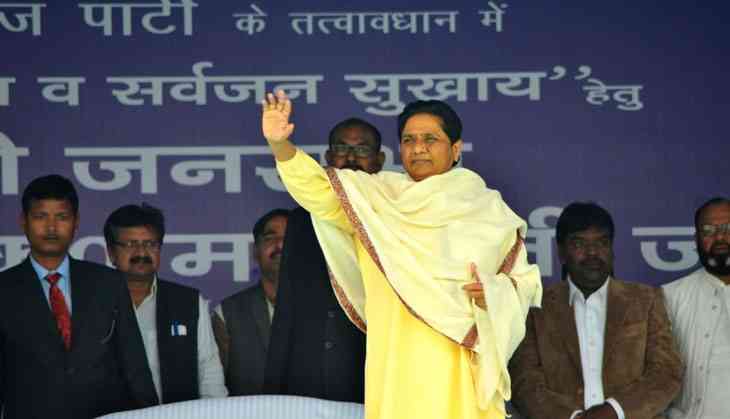 (Sachin Saini/Hindustan Times/Getty Images)
Bahujan Samaj Party (BSP) supremo Mayawati may not be as accomplished a public speaker as many of her rivals – she still reads her speeches awkwardly – but she certainly knows how to press the right buttons with her constituents.
And they love everything about her. Her dramatic entry at Ghazipur's Lanka public ground – already a sea of blue with BSP colours – yes, in a blue helicopter, has all her supporters standing up to applaud her.
The Dalit women sitting right at the front in her public meeting do not fail to notice how publicly obsequious the men are before her. All the bearded and mustachioed men touch her feet when she comes on stage.
They may be dressed in rags compared to Mayawati's off-white salwar suit but there is pride in their eyes. One presumes that some of that admiration is certainly for turning the caste pyramid upside down as well as overturning patriarchy, even if temporarily.
Mayawati takes their adulation in her stride. Beaming, she waves at her supporters. And without much ado begins exhorting them to vote en bloc for BSP.
She has arrived three hours late and has little time to waste in an election campaign that has everyone guessing about its outcome. The crowd is also impatient having shouted for hours "Chalo chalen sarkar banayein, haathi wala button dabayen (Let's go form the government by voting for the elephant)" and "Bachcha bhachca Bheem ka, BSP ki team ka (Everyone is for Bheem – a reference to Dr Bheemrao Ambedkar – and everyone belongs to the BSP team)".
The BSP leader gets down to the business of the day pretty quickly with all seven candidates for the Ghazipur district listening to her respectfuly and with rapt attention on the dias.
Her message is pointed and explained several times over in her speech by her constantly paraphrasing it by saying "arthaat (in other words)" and explaining how Dalits and Muslims are threatened under the rule of the Bharatiya Janata Party (BJP) and other parties.
The best use of "arthaat" was when in an earlier speech she talked of BJP President Amit Shah – saying "Bhajpa adhyaksh mananiya Amit Shahji sabse bade Kasab hain – arthaat aatankwadi hain (The honourable president of the BJP, Amit Shahji, is the biggest Kasab – in other words, a terrorist)".
For the residents of Ghazipur, the home turf of notorious politician Mukhtar Ansari, who is in jail and merged his party with the BSP on election eve, her message is crisp and clear.
She begins by dismissing the alliance of the Samajwadi Party and Congress by equating them with former minister Gayatri Prajapati, a rape accused. "Don't even think of voting for an alliance with a daagi chehra (a blemished face)," she tells the audience.
Don't trust Narendra Modi and his promises, she tells them next. He has not fulfilled his two important electoral promises – of bringig back black money hoarded abroad and distributing it among the poor; and writing off farmers' loans.
"Then if he says he is the adopted son of UP, tell him that UP has decided to choose its own daughter over him," she declares.
Next, she calmly warns them of the various pitfalls they must avoid in this election – explaining each with great patience like a school teacher:
One, do not let the Muslim vote split and vote en bloc like the Dalits for the BSP. "Those Muslims of Ghazipur, who vote for the Samajwadi Party, will be helping the BJP and not the SP. The SP is split into two factions and they are trying to defeat each other. They are not working for victory," she said. Arthaat, "do not let the BJP slip through".
Two, the central government is following the agenda of Rashtriya Swayamsevak Sangh (RSS) to do away with or dilute reservations for Dalits. Arthaat, "If the BJP comes to power even by accident in UP, it will either erode the reservation for SC/STs or make it ineffective", she warns them.
Three, In states ruled by the BJP, the party has been outsourcing government work to the private sector, which has no reservations for SC/STs. Arthaat, "the quantum of reservation for SC/STs will decrease in the government as government jobs shrink" she tells them.
Four, if the BSP is elected in UP, it will go for reservations for low-income group minorities and upper castes. Arthaat, the poor among the upper castes and Muslims will be much better off with a BSP government in UP.
And five, the BJP government in Delhi is biased against minorities and this is evident from its "step-motherly treatment" towards them. As an examples of this she cites actions such as trying to take away the minority status of Aligarh Muslim University and Jamila Milia Islamia, insisting on the need to introduce a Uniform Civil Code and blowing up triple talaq as an issue, spoiling public discourse in the name of cow-protection, love-jehad, linking the minority community with terrorism and ignoring the Sachar Commission recommendation. Arthaat, don't expect anything positive from the BJP if you are a Muslim.
Mayawati reminds people that the BJP has ruled UP for six years in the past and changed nothing. "They are now promising rivers of doodh, dahi aur ghee (milk, yoghurt and clarified butter) but why did they not do so in the six years they were in power? Why could the BJP not convert Uttar Pradesh into Uttam Pradesh (Ideal State) then?" she asks to thunderous applause.
She vigorously defends the local political muscleman Mukhtar Ansari by describing him as a "samaj sewak" (social worker), while claiming that the other parties pamper dons like Raja Bhayya or Raghuraj Pratap Singh (currently in SP) whom she had jailed.
Because of Ansari, a hoard of his supporters have joined the BSP. They were there in her public meeting with blue safas tied around their heads.
Besides Muslims, the crowd consisted of Dalits who had walked miles to see Mayawati and listen to her. Shivpujan, a chamar from Karanpur village of Ghazipur says wryly, "What am I going to get from voting fo the BSP? Perhaps nothing. But Behanji is from our caste and I am willing to die for her."
"We got no justice from the upper caste parties when the BSP was not there. Now we get respect and we have a party of our own to vote for," says Angad Ram, another Chamar from Nauli village of the district.
Nandlal Bind, an OBC from Ghazipur says that he had been with Kanshi Ram and has been with the BSP all along.
Why? "For restoration of the principle of humanity enunciated by Mahatma Phule, Babsaheb Ambedkar and Sri Narayana Guru. I trusted Kanshi Ram and I trust Behan Mayawati. You will see we will be the number one party in the state," he predicts without batting an eyelid – a prediction which will only be tested on March 11.
Meanwhile, all that one can say is that election fever is infectious and everyone in Ghazipur seems delirious with it.
Edited by Joyjeet Das