Why Congress's steadfast refusal to back AAP is a damaging manouvre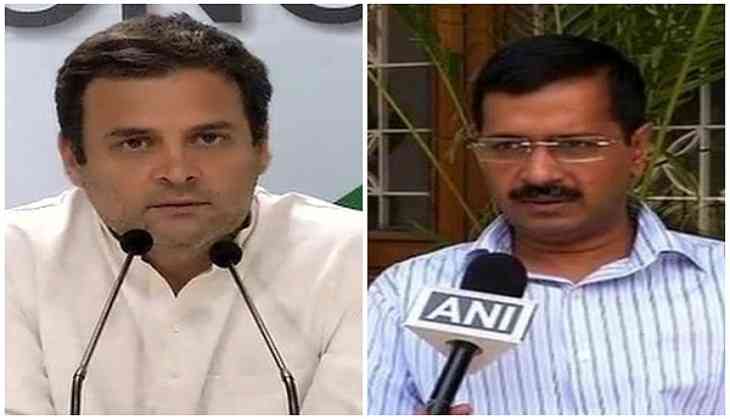 It has been quite a spectacle to see Congress spokespersons bickering with a senior journalist on social media over the latter's advice for their party to back Delhi Chief Minister Arvind Kejriwal.
He is on a sit-in at the office cum residence of Lieutenant-Governor Anil Baijal. He is demanding that LG should order Indian Administrative Service (IAS) officers in the Delhi government to end their strike and resume their work.
The Delhi CM's demand has found widespread support among top leaders of the Opposition as well as the Bharatiya Janata Party (BJP)-led National Democratic Alliance (NDA). Apart from four CMs who visited Kejriwal's residence (Mamata Banerjee, HD Kumaraswamy, Chandrababu Naidu and Pinarayi Vijayan) and expressed their support for his struggle, many others have backed the AAP chief.
Communist Party of India (Marxist) General Secretary Sitaram Yechury, Rashtriya Janata Dal (RJD) leader Tejashwi Yadav, rebel BJP leaders Yashwant Sinha and Shatrughan Sinha and Dravida Munnetra Kazhagam Working President MK Stalin have also expressed support.
Support was also forthcoming from Shiv Sena, a BJP ally, former diplomat KC Singh and former Union Health Secretary K Sujatha Rao. The Congress party continues to steadfastly refuse to be a part of this long list and is slamming Kejriwal day after day.
Congress spokesperson Priyanka Chaturvedi has asserted that her party "isn't obligated to support AAP" and that democracy gives her party the "right to choose who & what to support". She's right on that count but what she has cleverly tried to hide in that repartee that it is not Congress's obligation but priority that is being questioned in this debate.
It is important to filter through the theatrics to clearly see what is at play here. For over three years now, the AAP-led government in Delhi has suffered at the hands of a malicious campaign run by the BJP-led Union government.
The LG vs CM standoff, being discussed right now because of Kejriwal's dharna, is only one facet of this multi-pronged campaign. The complete set of instruments to perpetually trouble AAP and its government have included:
Using the LG to obstruct decisions of the AAP-government using the same office to curtail the elected government's power to appoint and direct its own officers
Using the Delhi Police to arrest and file a barrage of frivolous cases against AAP MLAs
Using the CBI to file and pursue cases against ministers and bureaucrats carrying out the elected government's orders
Visible attempts to engineer rebellion within AAP with an aim to split the party, and
Using even Constitutional bodies like the Election Commission to thwart the party's elected leadership.
At the foundation of the present impasse is allegation by Chief Secretary Anshu Prakash that AAP MLAs assaulted him at CM's residence in the latter's presence. Prakash made the allegation nearly four months ago, leading Delhi Police to promptly lodge a case and initiate a probe.
In an unprecedented spectacle, a posse of policemen even raided the CM's residence to, ostensibly, seize CCTV footage. For all their diligence, police are yet to even file charge-sheet in the case, let alone prove conclusively that the assault did take place.
However, this has not deterred IAS officers posted in the Delhi government's various departments from stopping work in protest, demonstrating blind faith in Prakash's allegation. By their own admission, since February, they have been consistently refusing to attend several meeting called by AAP ministers.
They say they do not feel safe attending these meetings. In any other state or in a Union government department, such a conduct by any bureaucrat would have attracted initiation of disciplinary action. Bureaucrats are Constitutionally bound to serve elected governments, but not in Delhi.
Prime Minister Narendra Modi, otherwise, sings paeans to co-operative federalism but does not believe that this engineered paralysis in Delhi is an assault on the spirit of federalism. What is an embattled chief minister to do, in such a situation?
The Congress party is afraid of AAP and it has its reasons. AAP was born out of a movement that was essentially anti-Congress. When the movement transformed into a party and also came to power, it didn't just send the Congress out of power in Delhi, it reduced the Congress to zero in the state assembly. Voter groups that had been die-hard Congress supporters for decades abandoned the party and adopted AAP overnight.
It is this fear that is generating the Congress's inability to see that in not supporting AAP even amid this turmoil, it is essentially supporting the BJP's excesses. How will this approach enable the Congress to seek public support in its own fight against the BJP?
Party after party and leader after leader in the Opposition camp has demonstrated on multiple occasions now that the presence of AAP in their ranks is not only desirable but necessary. However, the Congress has consistently resisted this nudge, with even Sonia Gandhi and now Rahul Gandhi refusing to invite AAP for Opposition gatherings hosted by them.
For a united Opposition to take on BJP effectively in the 2019 Lok Sabha polls, the Congress' hostility towards AAP will have to end. However, any indication of that happening anytime soon is not in sight.