Who said what at Sharad Yadav's "Saanjha Virasat Bachao" event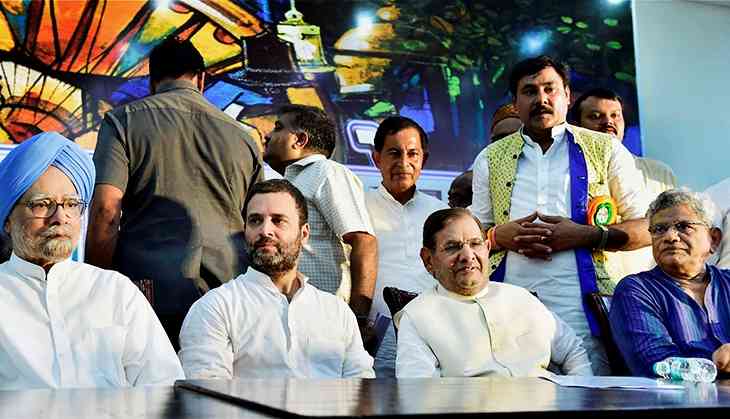 Veteran socialist leader Sharad Yadav's convention on "composite culture" turned out to be a grand platform for Opposition parties, with a range of leaders coming down heavily on BJP and RSS. Leaders like Rahul Gandhi, Ghulam Nabi Azad, Farooq Abdullah, Sitaram Yechury, Babulal Marandi and Prakash Ambedkar - lashed out at the Sangh Parivar for trying to destroy the country's basic character.
Here's a look at who said what at the convention:
Azad calls Yadav leader of "real" JD(U)
Azad, Leader of Opposition in the Rajya Sabha, congratulated Yadav for his defiance of his party chief Nitish Kumar's decision to ally with the BJP. He said Yadav was the leader of the real JD(U) while the party in Bihar was BJP's JD(U). He noted that today's era was not much different from the period during the freedom struggle. The difference, he said, was that today the Britishers are not there but their supporters are.
Azad stressed that the Congress was always pulled up for the Emergency, but even Emergency required formal authorisation by the President. What is in place right now is an "undeclared Emergency" or "Emergency ka baap". He also said that minorities have always lived under a lot of difficulties but today's tragedy was that even secular Hindus are feeling cornered.
Rahul Gandhi calls for "Sach Bharat", not just "Swachh Bharat"
Congress Vice President Rahul Gandhi explained that there were two ways of looking at the country – this country belongs to me or I belong to this country. He elaborated that those who profess that this country belongs to them want something in return from the country and therefore are not true patriots. However, those who believe that it is them who belong to the country have selfless-devotion towards the country and are real patriots, he added.
Gandhi said this is what RSS has been telling Muslims, Dalits and farmers, that the country belongs to it and not them. He also said that RSS was placing people adhering to its ideology in all institutions, from the bureaucracy to the press and even the judiciary, because its ultimate objective was to destroy the Constitution's One Man, One Vote principle. Slamming the government as a government of lies, he said while Modi wanted Swachh Bharat, "we want Sach Bharat".
Farooq Abdullah asserts Muslims more Indian than 'them'
Farooq Abdullah, National Conference leader and former chief minister of Jammu and Kashmir, sought to defend Kashmiris and Muslims against the Sangh Parivar's onslaught. Objecting to constant questioning of their love for the country, Abdullah proclaimed, "We are more Indian than 'them'". He told the gathering that when militancy broke out in the valley in the 1990s, his party's workers died at the hands of militants, holding the national flag in their hands.
He said yes he was a Muslim but he was proud to say he was a Hindustani Muslim and not a Chinese Muslim or a Pakistani Muslim. Abdullah said Muslims had a choice between India and Pakistan at the time of Independence and more Muslims chose India than Pakistan. He lamented that neither Pakistan nor China could do as much damage to the country as those people within the country who were now destroying the country's harmony.
He also slammed majoritarian politics by saying that a garden with only one kind of flowers is of no good and people flock to only those gardens that have many kinds of flowers.
Jayant Chaudhary: Staying mum will be biggest sedition
RLD leader Jayant Chaudhary too talked about the dangerous environment prevailing in the country and asserted that ground was being laid not just for a "Congress-mukt" but a "vipaksh-mukt" Bharat. Taking a dig at BJP, he said the party came to power in UP on the slogan of Ram Rajya but forced children in the state to meet "Yamraj" instead.
He also noted that the young have been especially duped as unemployment levels are still high and jobless youth are misused by luring them to commit arson for easy money. Chaudhary said BJP keeps mocking others as anti-national but "if any of us stays quiet at this juncture that will be the biggest sedition". He urged all present to take this campaign down to the level of every polling booth in the country.
Sitaram Yechury: People are coming out against this regime
Yechury informed the gathering that he had discussed the idea of organising an event of this nature with Yadav three months ago and the fact that the venue was choc-a-bloc proved that people are now beginning to come out on the streets.
Talking about "composite culture", he said when the first battle for Independence was fought in 1857, many Hindu kings and queens like Rani Lakshmibai recognised a Muslim king – the last Mughal Bahadur Shah Zafar – as their leader. Yechury added that such was Zafar's love for India that he wrote upon his death bed in exile in Rangoon,
"Kitna Hai Badnaseeb Zafar Dafn Ke Liye,
Do Gaz Zameen Bhi Na Mil Saki Ku-e-Yaar Mei!"
(How unfortunate are you, Zafar, that you will not get to be even buried in your beloved's land)
And to think that such people are called anti-nationals today, Yechury went on. He stressed that two Indias were being created – a shining one for a few rich and a deprived one for the poor. Yechury urged people to resolve to take the country "towards the future's light and not the darkness of the past".
Among others, Dalit leader and BR Ambedkar's grandson Prakash Ambedkar told Yadav that this role that he has assumed should have been performed by the Congress. He lamented that had a meet like this been organised before the Presidential polls, the situation today could have been very different. Ambedkar promised Yadav that if the latter continued to carry this mantle till the Gujarat polls, then he will surely deliver the state for the Opposition.
CPI's D Raja warned the gathering recalling BR Ambedkar's words that if the Hindu Rashtra ever became a reality, it will be a calamity for the country. He said it was unacceptable that the RSS had become an extra-constitutional, nay an unconstitutional authority.
JVM(P) chief and former CM of Jharkhand Babulal Marandi said the tribals of the country were among the worst sufferers under this regime as their resources like minerals and mines are being exploited while they are being denied of their rights. He said freedom of expression was already threatened but now the BJP-government in Jharkhand has made a law that will regulate even the people's choice of religion. We must unite to overthrow these forces, he declared.
JD(S)'s Danish Ali too defended Muslims, saying, "Our ancestors didn't recognise Jinnah as our leader. They chose Gandhiji". He warned that the Opposition had only one year to prepare to defeat BJP as the next Lok Sabha polls will be held in 2018, not in 2019. He urged the Opposition parties to stop fighting among themselves and focus their energies into the fight against the BJP.