Uttarakhand polls: BJP has the highest number of criminal candidates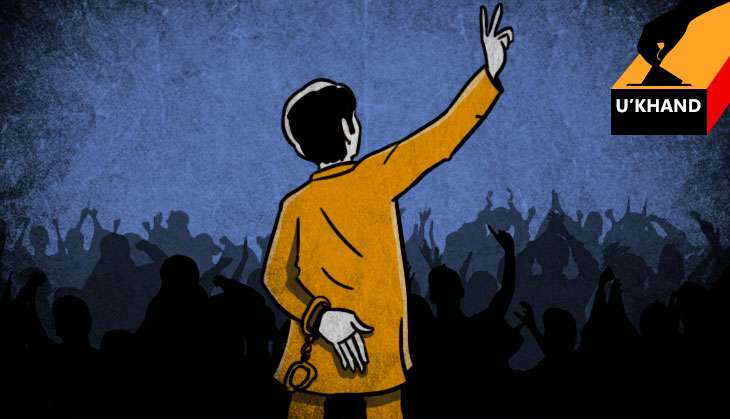 The hill state of Uttarakhand that goes to polls on February 15 has 14 per cent candidates who have criminal cases against them. Out of the 637 candidates in the fray, 91 have criminal cases against them.
It is the Bharatiya Janata Party that tops this list. According to the Association for Democratic Reforms (ADR) that brings out the National Election Watch report, 19 of the 70 candidates fielded by the BJP have criminal cases against them. In terms of percentage the figure stands at 27%.
The Congress is only marginally behind, having fielded 17 candidates (24%) with criminal cases against them.
The BSP, that is fighting on 69 seats, has seven such candidates and the regional force Uttarakhand Kranti Dal (UKD) has four. The UKD is contesting 55 seats. Similarly the Samajwadi Party that is contesting on 20 seats has two candidates facing criminal charges. Among the 261 independents in fray 32 have criminal cases against them.
In terms of the assets declared in their election affidavits, 34 candidates out of 637 have assets amounting to more than Rs 5 crore. 73 have assets between Rs 2 crore to Rs 5 crore. The largest chunk of candidates -- 189 in all -- have assets between Rs 50 lakh and Rs 2 crore. 162 candidates have assets between Rs 10 lakh and Rs 50 lakh. At the lowest rung are 179 contestants whose assets are less than Rs 10 lakh.
In all, 200 candidates or 31 per cent, are crorepatis. If looked at in terms of different political parties 52 of 70 candidates from the Congress, 48 out of 70 candidates from BJP, 19 of 69 candidates from BSP, 13 of 55 candidates from UKD, 4 of 20 candidates from Samajwadi Party and 53 out of 261 independent candidates have declared assets worth more than Rs 1 crore.
According to the ADR, "The average assets per candidate contesting the Uttarakhand assembly elections is Rs 1.57 crore. Among the major parties, the average assets per candidate for 70 BJP candidates is Rs 4.20 crores, 70 Congress candidates have average assets of Rs 3.08 crores, 69 BSP candidates have average assets worth Rs 1.55 crores, 55 UKD candidates have average assets worth Rs 77.07 lakhs, 20 Samajwadi Party candidates have average assets worth Rs 50.32 lakhs, and 261 independent candidates have average assets of Rs. 1.04 crore."
The wealthiest candidate in fray is BJP's Satpal Maharaj who is contesting from Chaubattakhal. His assets amount to Rs 80,25,55,607. The second wealthiest is Mohan Prasad Kala of the Congress who is contesting from Srinagar seat and has assets worth Rs 75,79,26,000
Ironically Sunil Kumar of Bahujan Mukti Party who is contesting from Manglore and Rajendra Singh, an independent contesting from Lohaghat have declared their assets at a little above Rs 500. Rajendra does not even have a PAN card. In fact, 68 of the total candidates in fray across the state have not declared their PAN details.
There are 279 who have not declared their income tax details. There are three candidates who are at the top in terms of assets but have not declared their income tax details. These include Nav Prabhat of the Congress who has assets worth Rs 9,73,20,060 and is contesting from Vikas Nagar, Rajendra Pal Singh who is the Congress candidate from Gadarpur with assets worth Rs 8,10,73,412 and independent candidate Vichitra Singh from Rampur who has assets to the tune of Rs 5,47,20,000.
BJP veteran Harbhajan Singh Cheema from Kashipur is the candidate with highest liabilities of Rs 21,65,65,000 of which disputed liabilities account for Rs 17,41,00,000.
The candidates' educational qualifications is another aspect that the voters, particularly the youth are interested in. Forty per cent of the total candidates have declared their educational qualification to be 'between class five and class 12 pass'. Their number is 256. Meanwhile 340 contestants or 53 per cent of the candidates are graduates and above.
Similarly, 393 candidates are in the age group of 25 to 50 years while 238 have declared their age to be between 51 and 80 years.
The participation of women in the polls as contestants remains low in the state with only 56 women candidates contesting he polls. This comes to a mere 9 per cent of the total candidates. It is also a stark contrast of sorts because women have a large contribution in the state's economy, particularly in the hill districts where they do maximum work both in the fields as well as homes. Women have also participated in a big way in all the social movements in the region be it the Chipko Movement of the 1970s or the agitation for statehood. Although Uttarakhand has had women ministers and representatives, their number remains very low.
The average assets of the 60 MLAs who are re-contesting the polls in the state have gone up from Rs Rs 1,85,41,331 in 2012 to Rs. 3,62,66,619 in 2017. This is 96 per cent increase and raises a lot of questions about the rising levels of affluence of the political class.
While the assets of 29 BJP's re-contesting MLAs went up by 85 per cent those of 28 Congress MLAs shot by 105 per cent. The two independent MLAS who are once again in fray saw their assets increase by 210 per cent while one re-contesting BSP MLAs assets went up by 175 per cent.
The MLA who tops the list of re-contesting MLAs with maximum assets increase is Shailendra Mohan Singhal from Jaspur. He won on a Congress ticket in 2012 and is now contesting on a BJP ticket. His asset worth rose by Rs 32,43,96,572 in the last five years.