UP poster war peaks: some hurt others pleased
Catch Team
| Updated on: 10 February 2017, 1:48 IST
It's all about Mission 2017. Political parties across Uttar Pradesh are occupied with covering the social landscape with their political strategies. All parties - BSP, SP, BJP and Congress - are trying their best to win. However, the level of their language has stooped so low that they have become a target of public criticism and disapproval.
Our country is the world's largest democracy and for many countries it is a model. Unfortunately, the kind of depths our politics has sunk to, has disfigured our behaviour. And this is clearly reflected in the ongoing poster war in UP. Through it, they not only throw garbage on one another, but also try to please their political masters. The whole of UP is gradually turning into a gallery of the absurd. Let us travel through it to know how the "artistic" side of UP politics.
Mayawati, Surpanakha; Swati, Durga
First, enter gallery through the main entrance where the focus lies currently. It is between Mayawati and Dayashankar Singh of the BJP. A poster in Allahabad depicts BSP supremo Mayawati as Surpanakha, and Divya, wife of Dayashankar, as Durga.
Earlier, there was a poster in civil lines in Allahabad on Sonia Gandhi. It read, 'Beti ke sammaan, mein samaaj utara maidan mein', in other words, 'in honour of the daughter, the entire community is in the electoral fray'. This was put up by student leader Anurag Gupta of the organisation called 'Reservation-free Highbattle'. It targeted Mayawati, Naseemudin Siddiqui and former BSP leader Swami Prasad Maurya.
Attack on Modi via a cartoon
This was done in Kanpur where along with the posters. rallies were organised by the name of 'pol- khol' (expose). During these rallies, workers held demonstrations on roads, under the Congress leadership of Bithur.
They also displayed hand-held banners and posters recounting the plans of PM Modi.
Congress put 'chal, charitra and chehraa' on show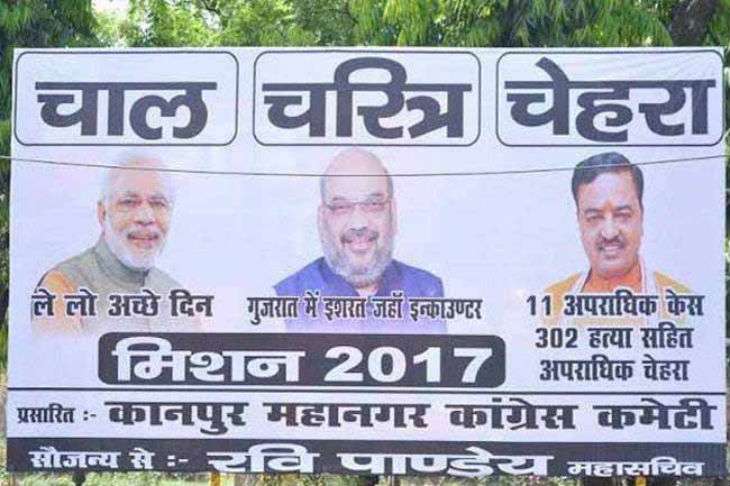 BJP had made arrageents to welcome Keshav Maurya to Kanpur. Right there, Congress hung posters with pictures of PM Modi, BJP national president Amit Shah and Maurya carrying the inscription of 'chal, charitra, chehra' (behaviour, character and face). After this. politics between them heated up.
Keshav P Maurya in the form of 'Arjun'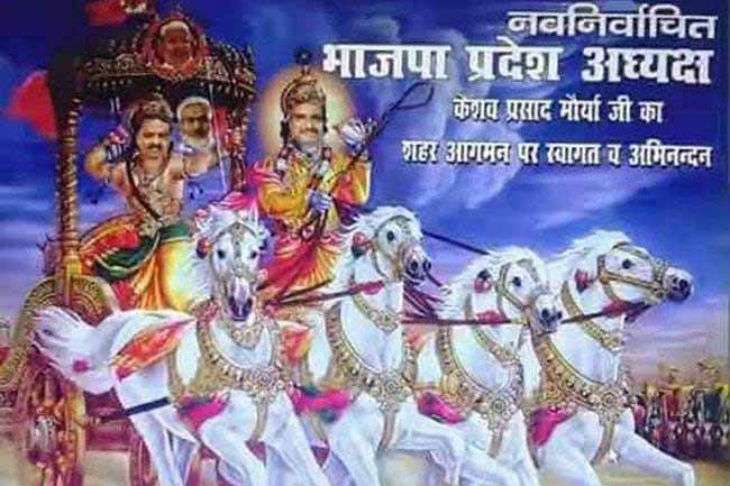 There was a controversial poster of Maurya in Allahabad. Later, as the poster gathered acrimony and rising displeasure of people, Keshav announced that he has nothing to do with the dispute. He said that he and the party had nothing to with the poster.
There was another poster in Allahbad that asked Keshav how he had become a millionaire from a tea vendor. This poster targeted the BJP as well. It became quite a dispute. The BJP held demonstrations and registered a case.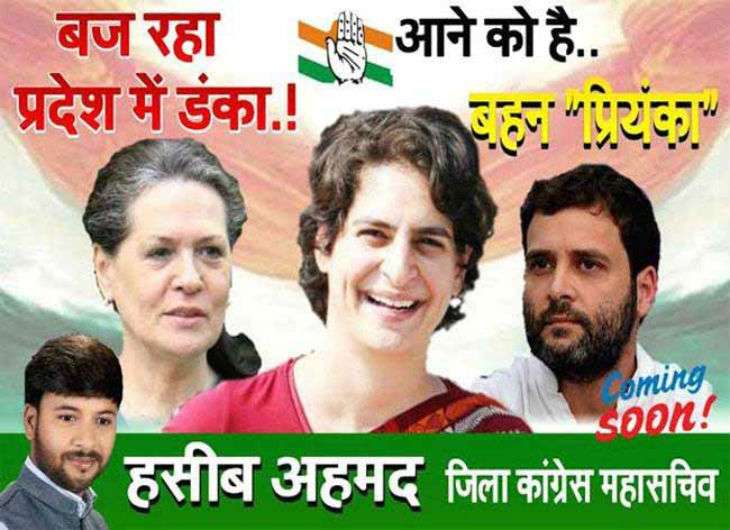 A poster announcing the arrival of Priyanka, to the Nehru-Gandhi family's hometown of Allahabad, to take over the reins of UP, did the rounds on social media. Congress workers had announced that Didi was coming soon to the state. Haseeb Ahmed of Congress had uploaded posters of Priyanka, Sonia Gandhi and Rahul Gandhi on the site. On the social networking site. an intense campaign was run. Congress workers even requested Sonia Gandhi, when she arrived in Allahabad, to allow Priyanka to come into active politics.
Rahul Gandhi's avatar bold and fearless avatar in in Gorakhpur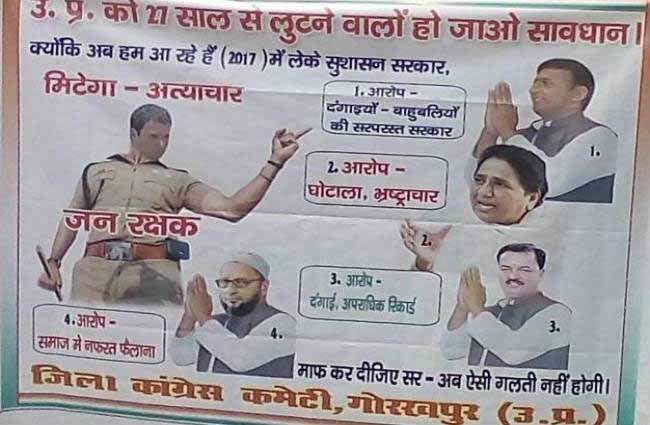 In the battle of posters, one was put up in Gorakhpur, in which Rahul Gandhi is seen in his avatar form as a strong, fearless, invincible Rahul. In this avatar, Rahul is projected as a savior of the people who will fight for their interests against those who have continued to loot them for the last 27 years and that he warns them to be aware of his coming. This poster shows the present government as a sort of a rioting mafia. It targets the other political parties too and one of them as someone who spreads hatred.
While Yogi rode a lion; Akhilesh, a donkey
BJP minority front came up with a poster of their firebrand leader Yogi Adityanath to counter Rahul. From the back of a lion, he was a person who leads the people out of all danger toward development. while other leaders were shown riding a donkey, including CM Akhilesh Yadav. The poster carried the line 'Abki baar Yogi Sarkar'. The posters intended to hit Mayawati-Akhilesh and showed Rahul as the man who divided the nation while Asaduddin Owaisi as misleading Muslims. The posters wanted Yogi to be declared the CM candidate. These controversial posters were put up in Varanasi and Allahabad.
Mayawati given the form of 'Mother Kali'
In trying to show the others down, one poster which remained in constant controversy, was of BSP's Mayawati. At the time of Ambedkar procession at Hathras police station of Sadavad area, 'Ma Kali' appears on the poster representing Mayawati. She is shown holding the head of slain human resource minister Smriti Irani while Prime Minister Narendra Modi is standing with folded hands in front of Kali and praying to the BSP supremo.