Swati Maliwal just upped the ante. Here's how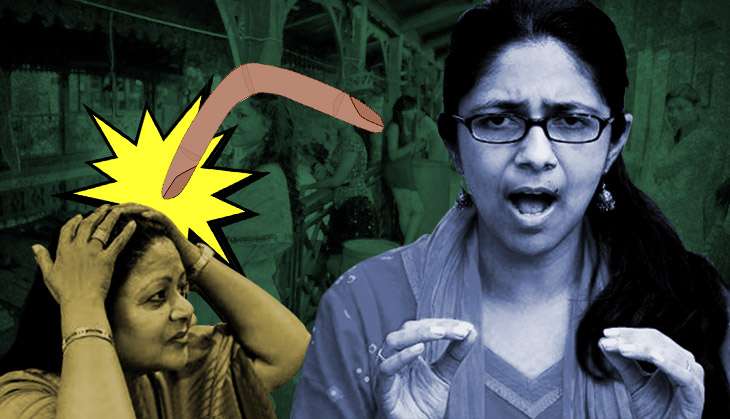 It took two days of fact-digging and fire-fighting for Delhi Commission for Women (DCW) Chairperson Swati Maliwal Jaihind to unearth some alarming allegations against the two national parties that challenged her honesty and integrity.
On Thursday the DCW broke the news of a Delhi Union Minister sanctioning and profiting from the GB Road's brothels.
Although Maliwal is yet to name the minister she announced that her commission was onto unearthing some ground breaking connections between the city's political power circles and the GB road flesh trade business which is known to generate thousands of crores each day.
"Girls as little as 8 to 10 years are made to sleep with as many as 30 men each night," said Maliwal alleging that her trusted sources have told her that these activities have been going on for a while under the patronage of a Union minister in the Narendra Modi Government.
Maliwal on
Friday
released her letter issued to the
Anti Corruption
Branch (ACB) asking them to arrest former DCW chairperson Barkha Singh Shukla and former Chief Minister Sheila Dixit on grounds of mismanaging public funds.
Allegations
"DCW has filed a complaint with the ACB attaching a 128-page evidence of how DCW funds were swindled, how corruption took place and how Rs 50 lakhs were blown up in the name of Nirbhaya's death. We have evidence of huge spendings towards paid news and interviews and other methods of self glorification. Sheila Dixit used to write to DCW asking it to give particular funds to particular companies, using no due diligence. The DCW has investigated all this. An immediate FIR should be registered against them and they should be put in jail," stated Maliwal in an audio byte issued to all journalists over the DCW Whatsapp Media group on Friday .
In the letter to the ACB Maliwal has mentioned a detailed break up of unnecessary expenses such as spending Rs 48 lakh on International Women's Day celebrations in 2010 and Rs 50 lakh to organise a Nirbhaya silent march organised on 2 January 2013 to express solidarity with the women of Delhi.
The commission then had a total budget of Rs 4 crore, which was only recently increased to Rs 7 crore after Maliwal took charge. DCW alleges that the commission had no mandate to spend in such a manner.
Putting DCW's work in context
On 20 September 2016 Maliwal was about to release the commission's first annual report, put together with great pride, after its first year of operation. It was at that moment that the commission faced an unsurprising attack. Barkha Singh Shukhla accused Maliwal of corruption.
An FIR was filed under Section 13 and 409 of the Prevention of Corruption Act and section 120 B of the Indian Penal Code. The charges were criminal misconduct, criminal breach of trust of a public servant and criminal conspiracy.
Shukla's complaints to the Centre-appointed Anti Corruption Bureau was primarily about the hiring and nature of contracts of staff appointed by the DCW. Shukla complained that all 90 appointments were made with no ads and only references and they all were AAP associates.
Speaking to Catch Maliwal elaborated on the nature of appointments, "We have changed nothing in how the DCW has been mandated appointment. We have issued tenders, ads and have followed all due procedures. A lot of short-term appointments were made to meet an immediate contingent demand for a short span of time. How else can we tackle the thousands of cases we take on each day?" she asks.
What is the role of a small recommending body like the DCW?
Why does it even need 90 people for when most government-appointed commissions constitute of just a handful of people?
Here is a snapshot of all the work the DCW has done in the past one year:
1. The DCW's 181 helpline received 2.2 lakh calls between February and July this year. That's up to 1,800 calls per day. 39 staff members take care of the 181 helpline.
2. The DCW's mobile helpline received 66 calls between February and July this year. 22 staff members handle 18 calls received each day.
3. The commission dealt with 11,268 complaints between August 2015 and July 2016. Compare this to 3,498 complaints dealt by the previous commission in a one-year time frame.
4. The lawyers of Rape Crisis Cell of the Commission in courts attended 6,588 effective hearings from August 2015 to July this year.
5. 2,250 cases of rape were dealt with by the counsellors of the Crisis intervention Centre of Commission over the last one year.
6. The commission undertook 7,561 field visits in the past one year.
7. Of the 487 cases dealt with by the chairperson, in 208 of the cases the chairperson took suo motu action. The DCW members attended 9,806 of hearings and conducted 204 visits and inspections.
8. 55 policy-level recommendations were made to the Centre and the state.
Maliwal said the commission's tireless work speaks for itself. The only question that perhaps triggered the FIR, according to Maliwal, is just how a small handful of people serving the commission could accomplish so much?
If one understood the quantum of work undertaken by this so-called "small recommending body" one would see the potential in keeping women in the Capital safe from crime, feels Maliwal.
Amid this ugly war of complaints and FIR exchanges, any regrets then?
"None whatsoever. Even if I go to jail over this I will use my time to conduct a study on the status of women in prisons and fight for their rights once I'm out. I have always been a fighter and I always will be," Maliwal says confidently.
Edited by Jhinuk Sen