Maha rift in Bihar's Mahagathbandhan? RJD & JD(U) struggling with internal squabbles
N Kumar
| Updated on: 10 February 2017, 1:45 IST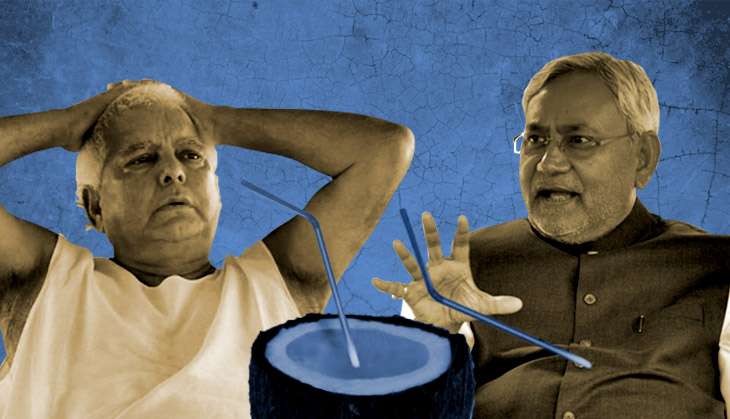 The politics in Bihar is headed towards an interesting phase. Although there is no imminent danger to the Nitish Kumar government, the rift between Rashtriya Janata Dal (RJD) and Janata Dal United - JD (U) - is widening with each passing day.
The top leadership of both the principal partners of the grand alliance, the Mahagatbandhan, are silently working against each other while their foot soldiers squabble.
While Nitish Kumar is desperate to salvage his reputation that has been dented by a series of recent developments, his efforts are not going down well with the RJD supremo Lalu Prasad.
A muted Lalu is active behind the scenes to checkmate the chief minister through his trusted lieutenants.
Witch hunt & controversial leaders
The fissures were out in the open after tainted RJD legislator Shahabuddin got out on bail. He is now behind the bars after the apex court order, but this incident gave RJD's Siwan unit a chance to make a song and dance about how their controversial leader, Shahabuddin, was made a target of a 'witch hunt'.
Whole of Siwan city was shut down to protest the cancellation of Shahabuddin's bail. Large-scale protests were organised across the region with RJD workers shouting slogans in favour of Lalu and Shahabuddin and openly criticising the chief minister.
Besides, Shahabuddin's hardcore supporters, leaders of the stature of RJD MLA Harishankar Yadav, were at the forefront of these demonstrations.
When it was pointed out to Harishankar Yadav that he was protesting against his own government, he replied, "Shahabuddin is God. We will support him till our last breath, whatever the circumstances."
And he is not the only one in RJD to have similar sentiments.
"Our leader has signalled through his silence that we are free to wage political attacks against Nitish Kumar. This is the reason several senior party leaders have openly come out against the chief minister," says another RJD leader.
And there are more
The dust has barely settled down after the controversy regarding Shahabuddin's bail, and now yet another controversial leader with RJD moorings has come out of jail to haunt the grand alliance.
Raj Vallabh Yadav, an MLA from Nawada constituency, was released from jail last Saturday after spending nearly six months behind bars. He was accused of raping a schoolgirl in Bihar Sharif on 6 February.
The state government made clear that they would oppose Yadav's bail on the day of his release. They eventually filed a petition in the Supreme Court on Monday, seeking cancellation of his bail.
However, Raj Vallabh Yadav went straight to Lalu's residence in Patna after coming out from jail. The RJD chief reportedly held a closed-door meeting with the tainted leader for hours.
This has not only embarrassed the state government but also given fresh ammunition to the Opposition to target Nitish Kumar's commitment to providing a clean administration.
Raj Vallabh, on his part, insisted that it was an informal meeting and he met Lalu only to extend Dussehra greetings. Unlike Shahabuddin, he adopted a conciliatory approach towards Nitish Kumar claiming that the chief minister was his "friend."
"It is not Nitish Kumar, but the state government that has approached the Supreme Court against my bail. The government and its system are separate from the individuals," he insisted.
Family support
Meanwhile, Lalu's son and Deputy CM Tejaswi Yadav has defended his father. "The meeting should not be politicised. The law is taking its own course and it is not our job to pass judgements," he stated.
The reverberations of the meeting between the two Yadavs was also palpable in the JD(U) quarters.
"The alliance is a separate matter. Morality also has a place in politics. No criminal is going to be spared by the virtue of his sycophancy for political leaders or visiting their places," said JD (U) state spokesperson Neeraj Kumar.
Opposition strikes
The meeting has also given BJP an opportunity to target the ruling alliance. Senior party leader Sushil Kumar Modi alleged, "Lalu has no time for common people. But, he spends hours in the company of a rape accused. Nitish Kumar is not presenting the case against Raj Vallabh Yadav with full force in the Supreme Court as he is under pressure from Lalu."
"It is ironical that Lalu is sheltering a man that Nitish Kumar is opposing in court," said BJP state president Mangal Pandey.
BJP leaders are not expected to say anything different. However, it is the open revolt against Nitish Kumar government in the RJD camp that should worry the JD(U). Lalu's silence well might be the sign of an approaching political storm in the grand alliance.
Edited by Jhinuk Sen
Also read: #BiharResults: Here's all you need to know about Lalu Prasad and Nitish Kumar's relationship
Also read: Lalu endorses Nitish as PM candidate in 2019. What's his play?
Also read: Bihar polls: 10 things that work for Nitish Kumar and 10 that don't
Also read: Mahagathbandhan 2.0: Are Nitish Kumar & Prashant Kishor working to form a party before 2019 polls?