Losing steam? On grandest UP campaign stage, Modi could only muster cliches & platitudes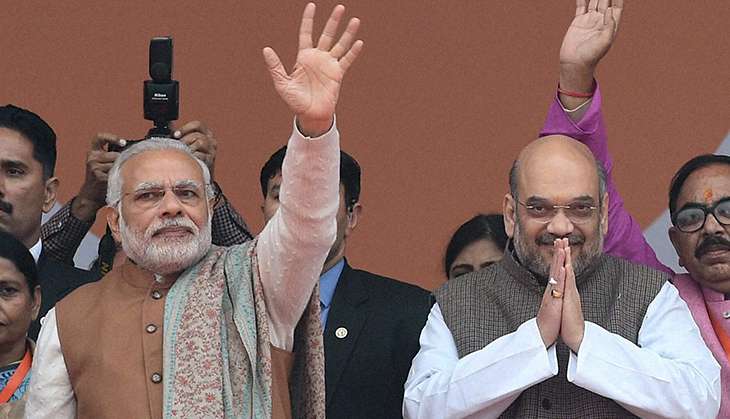 For the first, and perhaps last, time in BJP's Uttar Pradesh campaign, Narendra Modi witnessed the entire strength of his party's state unit. He admitted, as he began delivering the speech to mark the end of the Parivartan Yatra, that he had never addressed a crowd this big.
And the moment was ripe - SP is tearing itself apart, the Congress has given up already and the BSP is fighting mainly for survival. All that Modi had to do was issue one new slogan, one fresh idea, one catchy phrase. It would have infused new life in the leadership and supporters of the party in UP.
Modi could have reached out to the Yadavs, whom his party has ignored till now, as infighting continues in the ruling SP. He could have made an appeal to the Dalits to counter any hopes of a Dalit-Muslim alliance that Mayawati is trying to stitch together.
But all that he came up with was cliches - "Duusre dalon ki daal galti nazar nahi aa rahi" - platitudes - "Kya aap gundaraaj khatm karna chahte hain?" - truisms "Kaala dhan aur bhrashtachaar band hona chahiye; sabka vikaas hona chahiye" - and stock promises - "Gareebon ki sarkaar aani chahiye".
Speaking from as grand a stage as any, in arguably the most important poll-bound state, he was nowhere near his characteristic ingenious as he was in Kozhikode, or at his sentimental best as in Goa.
Somewhere there was a hint of classic Modi, though, not least in his appropriation, yet again, of an Indira Gandhi slogan, "Wo kehte hain Modi hatao, main kehta hun kaala dhan hatao." This was perhaps the best part of his 45-minute speech. But, overall, there was nothing that would stick with his cadre long after the address concluded.
Also Read: BJP's Parivartan Yatra ends on a lukewarm note in Lucknow. Note ban effect?
If, at all, the workers and the people of UP left with anything, it would be doubt. Modi betrayed some nerves as he urged, "Is parivartan ke kaam ko adhoora mat chodna", hinting how discomfiting the prospect of a hung assembly was for him.
BJP workers have poured their hearts into the Parivartan Yatra - running four simultaneous yatras in the state and gathering crowds for several high-profile rallies, including Modi's, over the last nearly two months.
Modi was originally supposed to deliver the conclusive Parivartan Yatra speech on 24 December. But as is now widely known, not enough people could be gathered in time. So, for the last two weeks, the BJP workers were in an overdrive to put together the biggest assembly for Modi.
Yet, when he spoke, so bereft of ideas the tallest leader of the BJP seemed that he had to borrow from his previous public speeches. Beginning with his New Year's Eve address address: "We have launched an app named after Babasaheb Ambedkar because he was India's foremost economist."
He dropped references to Atal Bihari Vajpayee, whom he had quoted in the previous speech and earlier as well in the context of Kashmir. Modi recounted the "glorious" tenure of the BJP regime of Kalyan Singh in UP, something his lieutenant Amit Shah had done in a rally in October.
One wonders if Modi has emptied himself out and lost steam already? For one, nothing explains the timing of his New Year's Eve address. And nothing explains the lack of substance in today's speech. Still, this isn't the last time Modi will speak in UP this election season. In a few days, formal notification for election is expected to be issued, and with that the party's campaign could become more aggressive. It will certainly be interesting to watch.
Also Read: Let-down: Modi spoke much in his New Year Eve speech, but said little