Let journalists get raped and killed. Govt just doesn't care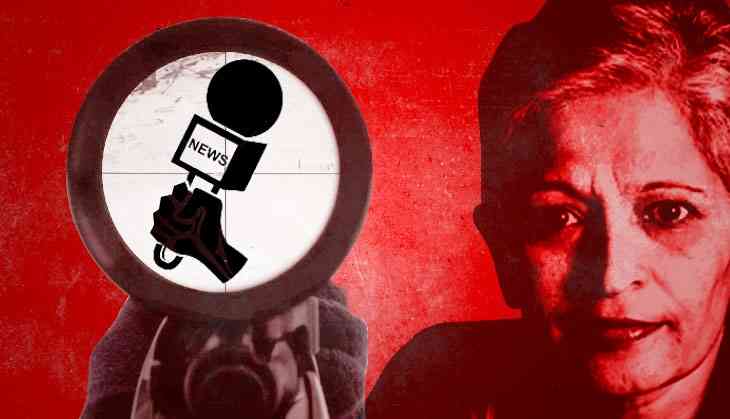 NDTV's Executive Editor Nidhi Razdan has become the latest entry in a long list of journalists to face criminal intimidation. Razdan recently announced on twitter that she got a death threat via Instagram, the photo-sharing website owned by Facebook.
Just days ago, her former colleague Barkha Dutt also tweeted that she received "veiled threats" that "sections of the Establishment" will "use any tool" to stop her from working.
https://mobile.twitter.com/BDUTT/status/1004609085533122561?p=v
I got a death threat on @instagram via a pvt msg: "I will hang you,I will execute you". I reported the account to @instagram. They replied that it does not violate their guidelines. Shame on you @instagram. Am deleting my account. And yes, I'm filing an FIR

— Nidhi Razdan (@Nidhi) June 10, 2018
Just days ago, her former colleague Barkha Dutt also tweeted that she received "veiled threats" that "sections of the Establishment" will "use any tool" to stop her from working.
Received chilling veiled threats and "messages" from powerful people in the Establishment today that my family and I are under surveillance - and that I will be smeared & maligned to stop me from starting any new projects. Was advised to get my house debugged. Is this my country?

— barkha dutt (@BDUTT) June 7, 2018
Another senior journalist Ravish Kumar, also working for NDTV, has been saying for at least three years now that he regularly receives death threats. Kumar said just last month that the threats have now gone up manifold.
Independent journalist and author Rana Ayyub has also reportedly received multiple threats earlier.
The most chilling evidence of what these threats can transform into was the assassination of senior journalist Gauri Lankesh in Bengaluru, in September 2017. The entire conspiracy behind her murder is yet to be unraveled but Karnataka police have made some key arrests.
For several years, India has figured low on global indices of press freedom and the ranking fell further this year. The increasing incidence of intimidation that journalists keep reporting would have been a cause of alarm for state machinery in any responsible democracy.
However, the NDA government under Prime Minister Narendra Modi is yet to take any cognisance of this trend. The Union Home Ministry and the organisations under it have not even announced any move to tackle this threat, let alone take any action.
In stark contrast, Union Home Minister Rajnath Singh promptly convened a high-level meeting of the security establishment following unconfirmed reports of vague death threats to the PM. Pune police claimed that they recovered a letter purportedly written by Maoists, talking about a "Rajiv Gandhi type incident".
The police did not reveal what was done to establish authenticity of the letter and identity of its writer and addressee. The letter didn't even mention Modi or PM but it was enough for leaders of the governing BJP across the country to stir up emotions in the name of a concocted plot to assassinate the PM.
The Home Minister has even announced that the PM's security will be stepped up. Having witnessed the assassination of not one but two prime ministers, India can not afford to take even a hint of a death threat to the PM lightly. However, this phantom that the regular intimidation of journalists in the country has is no less deserving of prompt attention.
Yet, the PM, the Home Minister and all those who have been feeling alarmed over the purported death threat to Modi have been consistently silent on the murder and intimidation of journalists. Is it because all these journalists do not hesitate from pointing out the Modi government's failures and the governing party's divisive agenda?
Is it because that these journalists do not toe the government's line, unlike many of their colleagues in other organisations who are carrying out the government's propaganda day in and day out? If yes, then the government should clearly spell that out so that the threatened journalists do not live in any false hope that the State and its agencies will protect them.
If no, then the State must intervene immediately and tackle the intimidation of journalists seriously. Most of the threatened journalists have lodged FIRs that are calling out loud for attention and follow-up. Prompt action must be initiated to conduct professional and time-bound probe and identify those guilty.