Jokes apart, Bhagwant Mann leads the race to be Punjab CM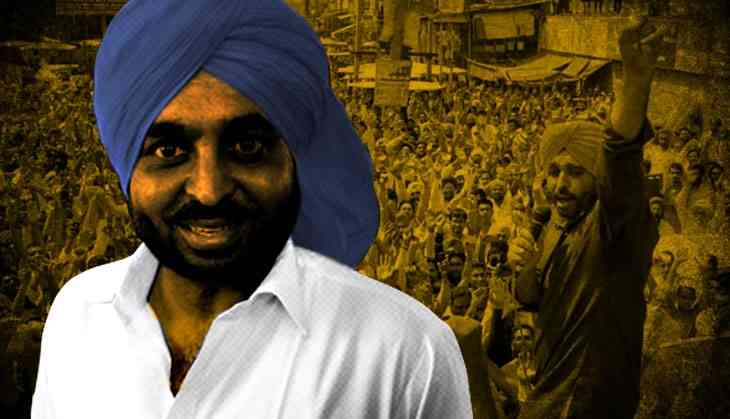 In the event of an Aam Aadmi Party (AAP) victory in Punjab on 11 March, Bhagwant Mann, the party's MP from Sangrur and its campaign committee chief, seems to be the prime contender for the chief minister's post.
Though there is no formal stamp of approval yet, the how and why of Mann's sudden prominence needs to be examined.
A star campaigner
The main reason cited for Mann's emergence as the frontrunner for the CM post is his emergence as a poll phenomenon for the party. As a prime star campaigner, he pulled massive crowds, which in turn gave other AAP members a psychological edge over their rivals.
When it has come to AAP's campaign in Punjab, it has been ironical that voters have not been familiar with candidates across the state. More often as not, voters have supported the party as they see it as a change, and have identified the party as 'jhadu party' or the 'topi waali party' (party of caps).
But most know of Mann well because of his previous avatar of a comedian. His appearance at rallies did the trick for the party at many rallies and the masses weren't left disappointed, as his political speeches have been marked by strong political satire. Mann regaled the audiences while driving home the political messages.
"Elections make or break personalities in terms of their coming out as a political phenomena. And Mann was the AAP phenomena in these elections. State convener Gurpreet Singh Waraich aka Ghuggi also had a similar platform, but it was Mann's show all along," said an AAP affiliate.
Mann was also the only AAP leader, who despite being a candidate in a high profile constituency like Jalalabad where he took on deputy Akali chief minister Sukhbir Badal and Congress' Ravneet Bittu, came out of his den to tour the state to take part in over 370 rallies.
"Other AAP top shots in the state mainly confined themselves to their constituencies trying to ensure their victory. It was Mann who was out with party's national convener and Delhi chief minister Arvind Kejriwal moving from one constituency to another," says an AAP functionary.
The Malwa connect
The Malwa region plays an important role in Punjab with a concentration of 69 seats out of 117. It is in tis very region that Mann has emerged as a hero.
"Now if you [AAP] come to power, can you deny the opportunity to the man who has given you Malwa? The drawing room discussions in Delhi or Chandigarh have no place in such a scenario when the elections have thrown up a mass leader," says another AAP affiliate.
According to party members, there have been several indications over the past six months that Mann would be placed in the forefront.
The first was when the central party leadership made him the campaign committee chief. "This came at a time when the party did not make other strong contenders like HS Phoolka a part of campaign or screening committee," said an observer.
Later, when the party was tossed into an internal crisis when its state convener Succha Singh Chhotepur was sacked and there was a fiery debate over 'outsiders' running the show in Punjab, it was Mann who was persistently underlined that the party's chief ministerial candidate would be from Punjab.
According to him, AAP's decision to field him against a heavyweight like Sukhbir indicated as much.
'Tallest leader'
More lately, Mann's close proximity of Kejriwal is being seen as another indicator in the direction. Along with Kejriwal, his wife, party's organisational affairs head Durgesh Pathak and Punjab in-charge Sanjay Singh, Mann attended a detoxification camp at Bengaluru after the Punjab polls.
Even the recent thanksgiving event for volunteers organised by the party at Nakodar on 26 February is being seen as a party' thanksgiving to Mann, who emerged as the tallest leader at the meet. Sanjay Singh called him the 'Hero of Punjab' and said his contribution to party's 'victory' was the biggest.
Accusations
Mann, however, continues to face attacks from his opponents for his 'drinking'. The last barb once again came from senior Shiromani Akali Dal (SAD) leader Harsimrat Kaur Badal who is also a union minister when she lashed out at Congress leader Manpreet Badal and Mann.
In her reference to Mann, she said it is condemnable that Mann was talking about being stoned if AAP did not fulfill its promises to the people of Punjab. "Instead of day dreaming about an AAP government Mann should be ready to be stoned by the people of Sangrur whom he has deserted. Mann has failed to do anything for Sangrur. He has not brought even a single project to his constituency," she said.
She pointed that Mann is desperately trying to project himself as a chief minister in waiting and had even gone in for a detoxification exercise at Bangalore to give the impression that he was turning over a new leaf.
According to her, Mann's recent actions, including 'hallucinations' of becoming the chief minister, indicated he had not been cured of his drinking habit.
"In fact it seems to have become worse. He should first worry about not appearing drunk in parliament instead of dreaming about being at the helm of an AAP government in Punjab," she added.